How to Ask for Payment Professionally: To ask for payment professionally is a science as well as an art. It takes skill and expertise, especially when you are dealing with difficult clients.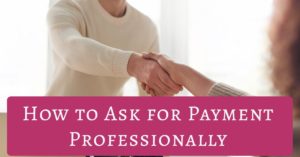 May I invite you to read along as we explore professional ways to ask for your payment?
It is instructive to note that payment requests should be polite but direct.
To ensure that the client is given a chance to respond to your payment request, you should verify that they have received the invoice in question first. Send a brief email requesting payment, and if the client continues to refuse to pay the outstanding invoice, the company should call the client before taking legal action or cutting off future work for the client.
Before we explore how to ask for payments professionally, let's examine top strategies for getting paid on time.
Top tips and strategies for getting paid on time
If you're unsure whether a client you're working with will pay you, taking precautions may be a better strategy than chasing them down after you've finished and delivered the project.
Here are some top strategies for increasing the likelihood that a client will pay you for your work:
1. Keep and provide clients with precise records of your work
If you keep precise and transparent records of the work you do for a client, you'll always have proof that they owe you money.
By doing so, you'll be providing the clients with a clear overview of the work you've completed for them, concrete proof that you finished on time, and the exact amount they owe – all of which is data that lends credibility to your invoices.
2. Consider using a great payment processor
To make payment even easier, choose a payment processor that is both efficient for you and simple for the client to use.
PayPal is an efficient, standard option, but there are other useful payment processors you can try out, depending on your preferences, the convenience of your clients, and the region you live in.
3. Invoice effectively
A professional-looking invoice will increase your chances of getting paid – and there are numerous invoicing tools available to help you with this.
These tools assist you in organizing and keeping track of your upcoming payments and invoices.
Furthermore, most of these tools will send you reminders when an invoice is overdue, so you won't have to worry about missing a payment because you were disorganized or simply forgot to send an invoice.
4. Draw a legal contract for your jobs
It's sometimes best to put your rights and obligations in writing – a contract may not be the most important aspect of your work, especially if you run a small business, but it can help tip the scales in your favor.
When creating a contract, make sure to include the following components:
The contract's participants
The exact project delivery and payment schedule
A paragraph clarifying issues of intellectual property upon project completion.
A paragraph stating that your work is your intellectual property until full payment is made
A paragraph mentioning a penalty fee if the original payment date is missed; and
A section that clarifies what should be done in the event of a disagreement.
You can also get advice from a legal entity on what else you should include in your contract.
Even if the contract cannot guarantee that the clients will pay you, it may encourage them not to delay their payments for too long.
5. Ask for an advance deposit
Asking for an advance is another element you should include in your contract, but it deserves special attention because it helps you separate the serious clients from the ones who are likely to default.
If a client is willing to pay a portion of the agreed-upon amount in advance, he or she is likely serious about paying you in full at the end of the project – otherwise, they will likely frown upon this section of your contract or refuse to sign it.
If you believe that a large advance deposit will deter first-time clients who may be skeptical of your work, you can request that smaller payments be made to you when you reach certain project milestones.
Some software that can help you get paid
How to Ask for Payment Professionally
Follow these steps to ask professionally ask for your payment: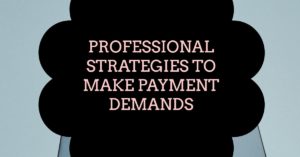 1. Check the Client Received the Invoice
It is critical to ensure that there was no misunderstanding or error in the invoice before requesting payment.
Make sure to send a polite email to your client informing them that the payment is now past due and requesting confirmation that they received the original invoice.
2. Send a Brief Email Requesting Payment
The best way to follow up if you do not receive a payment within a reasonable amount of time after your first check-in or if your client acknowledges that they received the invoice but still do not pay promptly is to send an email.
The invoice's due date and how many days ago it was due should be stated. Late fees, if included in your payment terms, should be made known also.
Remind them of the various payment options and, before sending the email to the client, reattach the original invoice.
3. Speak to the Client By Phone
If your email requests for payment fail to persuade the client to pay your invoice, the best course of action is to call your client to resolve the underlying issue.
When you call, identify yourself and explain calmly and politely that you've followed up on the late payment multiple times via email.
If at all possible, try to secure payment by credit card or direct transfer over the phone.
If that isn't possible, get a firm commitment on the payment date and method.
Make sure you maintain a professional and friendly demeanor throughout the call and thank the person for their time.
Conclusively, when talking to the client over the phone, make sure you tick the following boxes:
☑ Introduce yourself and explain why you're calling
☑ Be clear, concise, polite, and short
☑ Speak clearly
☑ Don't use slang words and expressions
☑ Don't make direct accusations about the client not paying you
☑ Maintain an impersonal and polite tone that gives your client the benefit of the doubt
☑  Summarize all details agreed upon before the conversation ends.
You may also choose to send your client a text message if you can't put a call across to him at the moment.
Sending a text could feel more approachable than having a direct phone conversation, and it puts clients who don't like talking on the phone at ease.
Once the client understands who you are, you will most likely receive a call or a message indicating when it would be a good time to call back.
4. Consider Cutting off Future Work
If your client fails to honor the payment promise they made over the phone, or if you've had to chase down payment from this particular client several times before, you may want to consider cutting ties with the company and refusing future work.
If you've already started working on other projects, you may want to stop working before the project is completed if you're contractually allowed to.
Cutting off work until you receive payment can encourage your client to pay you quickly so that the work they rely on you can be completed.
Cutting off work can also protect you from future losses if you are no longer confident in the client's ability or willingness to pay you.
When letting the client know you're refusing new tasks, be polite but firm. Explain why you're taking this step calmly.
You need to be aware that even if you handle this situation professionally, it may irritate the client and heighten tensions. So be prepared.
5. Research Collection Agencies
If you've tried to track down a client who owes you money and have been unsuccessful, you may want to consider hiring a collection agency to help you get your money back.
Recouping even a small amount of money from a debtor can be better than getting nothing at all, even if you have to pay a collection agency as much as 50 percent of the amount they collect.
Be sure you do your research well before hiring a collection agency by checking out Better Business Bureau reviews of local agencies and by ensuring the agency is a member of the Commercial Collection Agency Association.
6. Review Your Legal Options
If, despite your best efforts, you are still unable to obtain payment from the client, it may be time to consider your legal options.
You have a good case for a lawsuit if you have a legally binding contract in place with the client that outlines the work you were obligated to complete, the payment amount due, and the payment deadline and includes both of your signatures.
You can take the client to small claims court for smaller outstanding invoices, or you can file a civil case against the client if the amount owed is larger.
Learn About: Facebook Pay | How to Send and Receive Money Via Facebook Messenger (Meta Pay 2023)
When to send a payment request email to a client?
You should not delay too long.
You should send a series of shorter emails before and after the payment due date, preferably:
#1 payment reminder letter – one week prior to the payment due date
#2 payment reminder letter – the due date of the payment
#3 payment reminder letter – one week after the payment is due
#4 payment reminder letter – two weeks after the due date
#5 payment reminder letter – one month after the due date
If you send your invoice emails at regular intervals, you will not only remain polite and patient, but you will also demonstrate to your clients that you are professional when it comes to invoices and payment.
You'll also demonstrate that you value your work, which will encourage the client to value it as well.
Professional Payment Request Email Templates
Below is a collection of sample email templates for a professional payment request.
Note: Your first emails should be friendly, short, informative and with a clear call to action.
Emails sent weeks after the payment due date should be informative, with a firmer tone, with an emphasis on the time the invoice is overdue and must include a copy of the invoice in the attachment.
Make sure you are direct and have a clear call to action. Also, ask the client to confirm they receive the invoice email. Be professional and kind, and don't make it personal.
First Email Payment Request Template
Subject: [Your Business's Name]: [Invoice Number] Past Due

Hi [Client's Business Name],

I hope you're doing well. This is a reminder that Invoice [Invoice Number] was due on [payment due date] and has now been overdue by one day.

I know I sent the invoice at a busy time, but I wanted to make sure you got it. The original invoice is attached to this email.

You have the option of sending a check or making a direct transfer. If you have any questions about the invoice, please let me know.

Thank you very much.
[Your Name]
[Your Company's Contact Information]
Second Email Payment Request Template
Subject: [Your Business's Name]: [Invoice Number] Past Due

Hi [Client's Business Name],

I hope you're well. I'm contacting you in regard to invoice [Invoice Number]. This is a friendly reminder that the payment was due on [payment due date] and is now two weeks past due.

Please, send payment as soon as possible by check or direct transfer.

As per my payment terms, you will be charged a late fee of [percentage in the contract term, say 2%] per month for overdue payment.

I've attached the invoice to this email for your reference. Please let me know if you have any questions.

Can you please confirm that you've received this email? Looking forward to hearing from you.

Kind Regards,
[Your Name]
[Your Company's Contact Information]
Conclusively, professionalism, politeness and firmness remain your sure bet in asking for payments.
We hope that you now know how to ask for payment professionally.
With the guide provided, you will be able to deal effectively with difficult clients and get your money from them.
Let us know how helpful this information is to you by hitting the comment section.
Recommended:
30 Ways to Become a More Likeable Person
Surge Mastercard Login and Payment @ www.surgecardinfo.com (2023 Guide)
How to Use Google Pay (Online, in Stores and at ATMs 2023)