Have you ever wanted to send money to a friend or make an online payment for a business or product but didn't know how? Facebook Pay is a great option for you. Facebook Pay is a seamless, secure way to pay on the Meta apps you already use.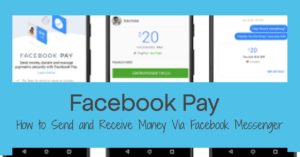 While there are many ways to pay online or send and receive money from friends or loved ones, some of them require a lengthy procedure that can be discouraging and frustrating at times.
To assist in addressing some of these issues, Facebook has launched its own Pay feature, popularly known as the Facebook pay app.
The Facebook pay feature sends and receives money via the Facebook Messenger app and Whatsapp. It works flawlessly on both the Facebook Messenger app and the Facebook web Messenger. In addition, Facebook Pay enables you to make secured payments on Facebook, Instagram, Messenger, and WhatsApp.
In this article, I'll show you how to use Facebook Pay to send and receive money, buy products from businesses on Facebook and Instagram and support your friends' fundraisers causes on Facebook and Instagram.
Facebook Pay App
Facebook Pay is a service offered by Facebook Company. The service is currently rolling out in select countries on Facebook, Messenger, Instagram and WhatsApp. Check the availability in your country here.
Facebook Pay is a great payment option for shopping on Facebook Marketplace. Use Facebook Pay to buy and pay whatever catches your eye on Facebook Marketplace.
Facebook Pay allows you to give what you can. Use Facebook Pay to donate to Facebook Fundraisers to show your support for charities, non-profits, or personal fundraisers that matter to you.
In addition, use Facebook Pay to access entertainment and experiences. Purchase games, tickets to events, or premium content on Facebook Watch.
How does Facebook Pay work?
Facebook Pay is a simple and secure payment method available on Facebook, Instagram, Messenger, and WhatsApp.
Enter your payment card or account information once and then use Facebook Pay within the apps to make purchases, send money, or donate. Individual payments can be secured with a PIN or biometrics.
Facebook Pay also allows you to view payment history, manage payment information, and contact customer service. Facebook Pay is currently available in a limited number of countries.
Check available countries here.
Facebook Payment Account Setup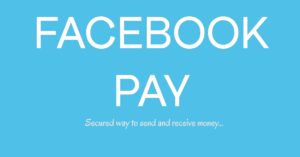 There is no Facebook Pay app, as it were. Facebook Pay is a secured payment option available on all Meta apps. It allows users to make payments across Facebook Messenger, WhatsApp, and Instagram.
You can easily pay with your debit or credit card using the Facebook pay platform.
Facebook Pay app can also be used on Messenger to make payments for things like fundraisers, in-game purchases, person-to-person payments, event tickets, and a few pages on Facebook Marketplace.
You can start using Facebook Pay on Facebook, Messenger and Instagram with just a few taps:
Go to Facebook or Messenger
Go to Settings
Click Facebook Pay
And add your preferred payment method – credit card, debit card, or PayPal (options dependent on product)
Complete the payment setup.
For added security, you have the option to create a PIN or use your device biometrics, and you can do so when making a payment where Facebook Pay is available.
If you already have payment methods on file, those payment methods will be available to use with Facebook Pay immediately.
Sending and Receiving Money with Facebook Pay
One advantage of using the Facebook pay app to send and receive money is that it is stress-free.
If you've only used the Facebook Messenger app to chat with friends and family, you've been missing out on a lot because it's packed with features.
Facebook pay is available on both the Messenger web and app. it is also available on Whatsapp, Instagram and the Facebook app.
This means you are no longer limited to using Facebook Pay on a mobile device and just on Messenger.
How to Send Money with the Facebook Messenger
Follow the steps below to send money using the Facebook Pay platform:
Start a conversation with whomever you want to pay on Facebook Messenger.
Select the dollar "$" icon.
Enter the amount to be paid.
Tap "Next," and the funds will be transferred to the recipient's account.
Please contact Facebook customer service if you can't find the $ icon.
In addition, the first time you make a payment, you must provide funding information.
While you are going through the payment process, it is very simple to submit this information. You can also change the funding process by changing your payment preferences.
During the transfer, you will use either your credit card, debit card or your PayPal account.
Must Read: Hide One Friend from Another on Facebook – Easy Ways to Hide your Friend List on Facebook
How to Receive Money With Facebook Messenger
Receiving money through Facebook Messenger is also simple and cost-free.
When a friend sends you money via Facebook Messenger, you will receive an immediate notification from Facebook.
If you have a PayPal or debit card linked to your Facebook account, your funds will be transferred immediately.
If you don't, Facebook will request that you provide these details, and then your money be sent to you.
How secure is Facebook Pay?
Facebook (Meta) uses cutting-edge technology to keep payment information safe.
Facebook Pay is protected and secured by:
Anti-fraud technology is used to monitor purchases and detect unauthorized activity on the Facebook Pay systems.
For payment card and bank account information, advanced data storage and encryption are used.
Notifications are sent when unusual activity on your account is detected.
When sending money or making a payment, you can also add a PIN or use your device's biometrics for added security.
Facebook does not receive or store biometric information from your device.
How to Create a Free Facebook Account
To set up Facebook Pay on Facebook, you need a Facebook account. But you will be able to set up Facebook Pay directly within other apps like Instagram and WhatsApp.
As previously stated, both the sender and the receiver must have a Facebook account in order to send money via Facebook pay.
If you or the person to whom you want to send money is not already on Facebook, you should consider creating one for free.
To create a free Facebook account, follow the steps below.
Visit facebook.com.
Select "Create new account."
Enter your name, email address or mobile phone number, password, birth date, and gender.
Click the Sign-Up button.
To complete the process, check your email or phone inbox (depending on how you created the account) and confirm your new Facebook account.
Start using the platform to meet new people, chat, share photos and videos, buy and sell, use Facebook Pay and much more.
---
That's all there is to it when it comes to sending and receiving money via Facebook Messenger (Facebook Pay).
Please share this article with your friends by clicking on one of the share buttons below. Thank you.
Recommended:
How Does Facebook Marketplace Work
What Happens When You Accept an Offer on Facebook Marketplace – Facebook Marketplace