Business to start with 100k:
You can actually start a profitable business with 100k.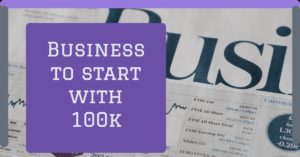 The great thing about wealth and income is a lot has already been written and studied about the topic…
Sources of Wealth and Income
The truth is there are only 3 sources of income right now:
#1 Business and side hustles – selling a product or a service for a profit.
This is by far the greatest generator of income for ordinary people because you don't have to quit your job to get started.
#2 Real Estate.
In order to be successful in real estate, you have to educate yourself and learn from the best. People who are actually successfully doing it, not talkers or dabblers.
#3 Technology.
This is right now the greatest source of millionaires and billionaires. People from all over the world are flocking to Silicon Valley to find venture capital to finance hundreds and thousands of ideas based on technology.
The good news is, with 100 thousand naira, you can start a profitable business and start making wealth and income.
By now, you understand if you keep your eyes on the ball you can eventually grow your income even in a bad economy:
Commit to improving your financial condition no matter what.
Learn what you need to get started.
Take action.
In times like this, there is only one direction. Forward.
Businesses to start with 100k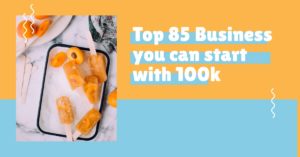 There are a lot of businesses you can start with 100k depending on your available skills and interest, location and available resources.
Let's explore the abundance of options available for you.
1. Livestock Farming
Below are 10 lucrative livestock farming and business opportunities you can venture into with 100k in Nigeria:
i. Poultry farming – egg production, meat production, hatchery or day-old-chicks production, Broiler farming.
ii. Cattle Farming – Dairy production, beef
iii. Rabbit Farming
iv. Goat Farming
v. Fish Farming
vi. Piggery
vii. Snail Farming
viii. Quail Farming
ix. Dog Breeding
x. Animal feed retail
2. Food Processing Business
The food industry is a sure bet for any willing entrepreneur. Select from the list of business opportunities below and start building your dreams with as small as #100,000 only.
i. Production and sales of organic drinks
Because of the rise in stroke, diabetes, and high blood pressure, people are becoming more aware of the health implications of processed foods and soda. This has resulted in a steady shift away from soft drinks and toward naturally made drinks and fruit juices that are free of sugar and additives.
So, anyone who produces and sells naturally made drinks now stands to make a lot of money. Smoothies, fura da nunu, tiger nut drinks, and freshly made fruit juice are some examples of naturally made drinks.
To turn this business idea into a profitable venture, all you need is a blender, desired fruits and ingredients, plastic bottles, and a refrigerator.
ii. Grilling Business
Suya, grilled fish, chicken (barbeque), goat meat (asun) processing.
Asides from having a permanent stand, you can go to grill at parties, dinners, birthdays, etc. and make some cool cash.
All you need for this business is a griller, desired 'protein' and spices.
iii. Frozen food
iv. Yogurt production
v. Vegetable oil production
vi. Groundnut processing
vii. Fruit juice production
viii. Rice milling
ix. Zobo drink production
x. Soya Milk drink
xi. Sales of original honey
xii. Retail sales of palm oil
xiii. Fresh foodstuffs sales
xiv. Fresh fruits business
xv. Cooking and delivery
xvi. Weight loss consultancy
3. Baking and Confectionery Business
Baking and confectionery business is one you can start with as low as 100k. Some of the options are:
i. Cake
ii. Meat pie
iii. Bread production
iv. Pop-corn production
v. Catering Services
Must Read>>> Lucrative Businesses in Nigeria.
4. Agro-products and Plantation Farming Business
The agro sector can be a great option also. Consider:
i. Garri Processing
ii. Oil palm business
iii. Sale of Plantain
iv. Yam Business
5. Transportation business
Driving of Keke, bike, taxi, bus or inland waterway transport.
Read More>>> Money-Saving Tips You Must Master in Life
6. Beauty and Cosmetic Business
Check out these amazing options below:
i. Barber's Shop
It is a necessity for males and females on low cut to trim or get a haircut regularly. There is a ready market for this business.
All you need to start the business is a shop, clippers, small combs, sterilizers, etc.
ii. Production and Sales of Organic Skincare Products
Recently, there has been this rave for organic skincare products.
Starting a skincare business is very affordable, as all you need are your materials and containers.
iii. Braiding
iv. Home Barbing
v. Make-up Artiste
vi. Mobile Cosmetic shop
7. Clothing and Accessories Business
Cloth is a necessity. Everyone wears clothes. This business sector is lucrative. Some of the options available for your business choice are:
i. Jewelry making and accessories
ii. Mobile Boutique
iii. Fashion Design
iv. Bead making
v.Ankara Business
vi. Used clothes or Recycled clothes, otherwise called Okrika
vii. Sales of bedsheets and pillowcases
viii. Sales of boxers and underwear.
ix. Sales of maternity, baby, nursing mother wears.
8. Events, Decoration and Garden Maintenance Business
Interestingly with 100k, you can venture into any of the below business opportunities:
i. Interior Decoration
ii. Painting business
iii. House Cleaning
iv. Fumigation and Pest Control
9. Manufacturing Business
Your inherent skills and expertise is needed in this sector. Not to worry, you can learn any of these skills online:
i. Production and sales of hand sanitizers
All you need to start your hand sanitizer business is ethanol, hydrogen peroxide, glycerol, sterile distilled or boiled water and other technical know-how.
ii. Toothpicks; Tissue paper & Serviette
iii. Chalk production
iv. Paint Making
v. Production and sales of detergent and liquid soaps
vi. Air freshener
vii. Perfume Making
viii. Candle Production
ix. Matchsticks Production.
x. Nylons and polythene bags
Additional>>> How to Ask for Payment Professionally – Top Tips and Strategies
10. ICT Business Opportunities
Here are the top 25 ICT business opportunities:
i. Mini importation business
With your smartphone and internet, you are good to go. Start mini importation of products from countries like China, Turkey, etc. to Nigeria with as low as one hundred thousand naira only.
ii. Dropshipping
iii. Graphic Design
iv. App Development
v. Web Consulting
vi. Video Editing – Training and Certification
vii. Digital Photography – Training and Certification
viii. Shadow e-Commerce
ix. Freelancing
x. Information Marketing
xi. Blogging/Content writing
xii. Cryptocurrency
xiii. Digital marketing services
xiv. Search Engine Optimization services
xv. Amazon kindle ebook publishing
xvi. Affiliate marketing
xvii. Web design
xviii. Social media management expert
xix. Digital marketing expert
xx. Banner design services
xxi. Sales of Computer Accessories
xxii. Phone Repairs
xxiii. Laptop Repair
xxiv. Bulk SMS services
xxv. Online registration of exams such as JAMB, WAEC, NECO, and GCE.
Other Business opportunities – Business to start with 100k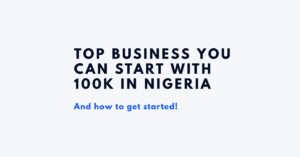 i. Football Viewing Centre
Football fans will go to great lengths to see their club, country, or favorite player on the field. As a result, this business idea is a profitable venture, as the football sport has a large fan base worldwide.
All you need to start a football viewing center is a good location, a generator, at least a 32-inch flat-screen television, and a Dstv or Gotv decoder.
You can also make extra money by selling chilled drinks and grilled 'protein' in your viewing center.
ii. Phone Charging Business
It is no longer news that having a stable and constant power supply is a challenge in Nigeria.
All you need for this business is a power source and a large wooden board with lots of switches to accommodate lots of phones.
iii. E-payments/POS Business (Agent Banking)
You can become a banking agent and own an e-payment outlet. To become an agent, go to any bank of your choice and register to become one of the bank's agents.
After registration, you would be given a POS machine. While some banks give their POS for free, some charge a small fee for it.
Must Read>>> Starting a POS Business in Nigeria.
iv. Daycare service
v. Laundry service
vi. Car wash service
vii. Sales and distribution of cement
viii. home tutor
iv. Retail of cooking gas
x. Delivery services
xi. Pure water and water dispenser business.
xii. Sale of data and recharge card.
Conclusion:
In conclusion, we have explored over 85 business options you can start with 100k. But the truth is that no financial guide can make you rich. They can only offer valuable advice.
Putting those ideas to work and developing a profitable system that can be replicated anywhere is the key to your financial fortune.
You can have access to all the internet resources in this world, but if you don't implement those ideas, you'll remain flat-broke all your life, and none of your allies can help you.
This is where common sense comes in.
Hope you have picked up a business idea you can run with. Let me know your preferred business idea from the list above in the comment section.
Related:
Yahoo Small Business Website Builder | Grow Your Business Online