Grocery Stores that Accept Google Pay: One may ask, can I use Google Pay at the grocery store? Yes. Google Pay is accepted at major Stores.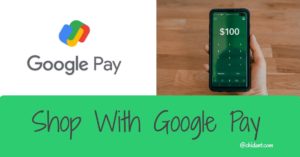 In this article, I will show you the list of grocery stores that accept Google Pay. But before then, what is Google Pay?
What is Google Pay?
Google Pay is a quick, simple, and secure way to pay with your Google Account cards on websites, apps, and in stores.
"With Google Pay, you can pay for anything, at any time." – this is Google Pay's tagline.
In general, Google Pay works with contactless payment terminals in stores.
Google Pay is now widely accepted in over a million stores across the United States, the United Kingdom, and other countries where it is supported. This is due to an increase in the number of stores accepting mobile payments. NFC terminals are now used in a large number of stores, primarily by major retailers.
To use Google Pay to pay in stores, you'll need an Android phone.
Why use Google Pay to pay in stores?
You get the same benefits using your card through Google Pay as you would with your usual payment option.
With Google Pay, you can also save your loyalty cards, gift cards, and tickets and pay for transit using your phone.
Uses of Google Pay at Retail Stores
With Google Pay, you can do a whole lot. The following are what you can do with Google Pay in stores:
1. Check out
Google Pay allows you to do checkouts in stores easily.
There's no need to dig out your wallet. All you need to do is unlock your phone, hold it close to the terminal for a few seconds, and follow the instructions to check out in supermarkets, pharmacies, and other stores.
2. Use loyalty & gift cards
With Google Pay, you earn points and redeem gift cards at your favorite stores.
3. Use flight or event tickets
You can add flight or event tickets directly to Google Pay.
4. Pay for transit
With Google Pay, you can save your train or bus tickets.
Where is Google Pay Accepted:
Google Pay is accepted in more places than you think. In fact, there are millions of stores that accept Google Pay.
Google Pay is accepted at selected supermarkets, pharmacies, restaurants, clothing stores, gas stations, beauty salons, and other retailers that accept mobile payments.
Note: To use Google Pay to make contactless purchases, you must have an Android phone with Near Field Communication (NFC).
Below is a comprehensive list of countries that use and accepts Google Pay (arranged in alphabetical order).
Austria
Australia
Belgium
Brazil
Bulgaria
Canada
Chile
Croatia
Czech Republic
Denmark
Estonia
Finland
France
Germany
Greece
Hong Kong
Hungary
India
Ireland
Italy
Japan
Latvia
Lithuania
Netherlands
New Zealand
Norway
Poland
Portugal
Romania
Russia
Singapore
Slovakia
Spain
Sweden
Switzerland
Taiwan
Ukraine
United Arab Emirates
United Kingdom
United States and outlying territories
How Secured is Google Pay?
One may ask, is Google Pay secure? Yes. Google Pay is one of the most secure online payment platforms.
Google Pay secures your payment information with multiple layers of security, leveraging one of the world's most advanced security infrastructures to keep your account safe.
The system is safeguarded by powerful built-in security technologies that detect and prevent threats such as spam, malware, and viruses from reaching you.
When you pay in stores using Google Pay, you can rest assured that your card number isn't shared.
At checkout, Google Pay shares the virtual account number assigned to your card with the retailer. They use this number to get the payment from your bank. Your physical card number isn't shared with the retailer.
Furthermore, your info is delivered to the payment terminal only.
Google Pay sends your payment information to the retailer via near-field communication (NFC). NFC only works when two devices are within a few inches of each other. This prevents your information from being stolen.
How to Install Google Pay on Your Smartphone
To pay in stores using your phone, you'll need to make sure Google Pay is downloaded and set up on your phone first.
Get the Google Pay app on your Android phone by clicking here.
Setting up Google Pay on your phone takes only a few minutes.
To get the app set up, you'll need your credit or debit card information.
Google Pay in-store payments are currently only available on eligible Android phones.
Steps to get started using Google Pay in stores
Are you ready to start using Google Pay to make in-store purchases? Do you want to learn how to set up Google Pay and begin making purchases with it?
The setup is simple and should only take a few minutes.
Simply follow the steps outlined below:
Step 1: Set up the app
Make sure your phone is running Android Lollipop (5.0) or higher and meets the requirements to pay in stores. Read the requirements here.
Download the Google Pay app.
Open the app and follow the instructions.
Step 2: Add a payment method
Here's how to add a payment method:
Open the Google Pay app.
At the bottom, tap Payment.
Tap + Payment method.
Choose the type of payment method.
Take a picture of your card. You can also enter the details manually.
Note: If you're having trouble adding a card, make sure it's on the list of supported cards.
Step 3: Add passes
You can add loyalty cards, gift cards, offers, and tickets to your Google Pay.
How to add loyalty or gift cards to Google Pay
Open the Google Pay app.
At the bottom, tap Passes.
At the bottom, tap + Pass.
For loyalty cards, tap the Loyalty program. For gift cards, tap Gift card.
Find the merchant or program name and tap it.
Follow the onscreen instructions. Your loyalty card will show up in Google Pay.
How to add offers or tickets to Google Pay
If you see G Pay Save to Google Pay in a retailer's app or on their website, tap it.
Step 4: Make your first payment
The following procedure will guide you on how to make your first payment:
Shop at any store that accepts contactless payments.
When you're ready to check out, unlock your phone and press the back of it against the payment terminal screen until you see a blue checkmark.
Follow the instructions on the payment terminal if prompted.
How to Find Which Stores Support Google Pay
It is simple to locate locations where Google Pay is accepted.
Stores that accept Google Pay or mobile payments typically display stickers on their windows, doors, or payment terminal signs. The GPay logo, the contactless payment symbol, or both will be visible.
You can also use the app to see who accepts Google Pay. Here's how to go about it:
1. Add cards to your Google Pay account
Open the app and go to the Cards section. There you'll see a floating action button (+) in blue.
Then select the "add a credit or debit card" option.
You can either choose a card that Google already has on file or add a new card.
2. Find the Use Google Pay Nearby section
How to use Google Pay nearby:
Launch the app.
When you scroll to the bottom of the home screen, you will see the Use Google Pay Nearby button.
The app will suggest stores near your location where you can use the service.
You'll be able to see all of the nearby stores that accept Google Pay this way.
3. Tap See More
If you want a more comprehensive list of nearby stores, simply tap "See More."
What Grocery Stores Accept Google Pay
Here is a list of major grocery stores that accept Google Pay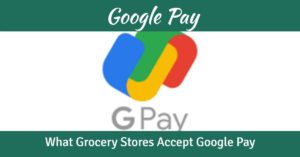 Do you want to know where Google Pay is accepted? There are far too many stores that accept mobile payments in the United States alone.
Below is the list of major stores that accept Google Pay:
Albertsons
Aldi
Costco
Food Lion
Fred Meyer
Giant Eagle
Hannaford
Harris Teeter
H-E-B
Hy-Vee
Kroger
Meijer
Publix
Safeway
Sam's Club
ShopRite
Stop & Shop
Target
Walmart
Wegmans
Whole Foods
American Eagle Outfitters
Barneys New York
Bloomingdale's
Brookshire's Food & Pharmacy
Crate & Barrel
Foot Locker
Macy's
McDonald's
Nike
Schnucks
Staples
Toys R Us
Walt Disney World
Sprouts
Additional Reading>>> Does Sprouts Accept EBT Cards? | Shop at Sprouts
Read More>>> Does Publix take EBT cards? | All about Publix
Top 5 Grocery Delivery Services and the Accepts Google Pay
Amazon
Instacart
Shipt
FreshDirect
Thrive Market
Banks that Support Google Pay
| | |
| --- | --- |
| Banks | Supported Cards |
| Wells Fargo | Business Credit Visa, Consumer Credit Visa, American Express, Consumer Prepaid Visa, Consumer, and Business Debit Visa |
| US Bank | Credit Mastercard cards, Debit and credit Visa cards, Consumer, corporate and small business cards |
| USAA | American Express Credit, Mastercard Credit, and Visa Debit and Credit |
| Regions | Personal Visa Credit, Small business and personal credit, and Now Banking Visa Prepaid |
| PNC | Visa Debit and Credit |
| NFCU | Visa Debit and Credit, Mastercard Credit |
| HSBC | Consumer credit and debit cards |
| Green Dot | SEIU Everyday Mastercard, Green Dot Everyday Mastercard |
| Discover | PBoA Debit Cards, Discover Consumer Credit |
| CITI | Citi MasterCard Debit and Credit, Citi Visa Credit, AT&T Mastercard, Costco AnyWhere Consumer, Hilton Visa Credit, and Expedia MasterCard and Visa Credit |
| Chase | Chase Visa business debit cards, Chase Visa consumer prepaid, debit and credit cards |
| Capital One | US Consumer MC Credit and Debit, US Consumer Visa Credit |
| BBVA Compass | Consumer BBVA Compass Visa debit, prepaid and credit cards |
| Barclays US | All consumer credit and debit cards |
| BAC |  US Trust consumer credit and debit cards, Bank of America small business debit and commercial credit cards, and Bank of America consumer credit and debit cards |
| AMEX | General-purpose prepaid cards, Consumer credit cards, Corporate cards, Gift cards, and mall business cards |
Aside from these, there are thousands of other banks and financial services that support Google Pay.
In addition, you can now also connect Visa Checkout and PayPal to your Google Pay.
Frequently Asked Questions About Google Pay
1. Are Google Pay and Samsung Pay the same?
No, they are not.
They function as both digital wallets and mobile payment apps.
Google Pay, on the other hand, works on NFC-enabled Android devices, whereas Samsung Pay is only compatible with specific Samsung devices.
2. When did Google Pay start?
Google Pay officially started on August 28, 2018. However, it was initially launched in India as a UPI-based app Tez on September 18, 2017.
3. Is Google Pay safe?
Yes.
Google Pay has multiple layers of security. The card information is not saved on your phone, and merchants are only given a virtual account number (not the actual number). Payment data is stored on secure servers.
4. Does Walmart accept Google Pay?
No, Walmart Pay is the only mobile payment method accepted at the moment.
Credit cards, debit cards, Walmart credit cards, Walmart gift cards, PayPal, Chase Pay, Amex Express Checkout, Affirm installment financing, and cash is also accepted at Walmart.
5. Can I use Google Pay at Costco?
Yes. Google Pay is accepted alongside Visa cards, debit cards, Costco shop cards, cash, personal checks, business checks, traveler's checks, EBT cards, Samsung Pay, and Apple Pay at Costco.
6. Is Google Pay accepted at Target?
Yes. Target stores accept mobile payment apps such as Apple Pay, Google Pay, Samsung Pay, and any other contactless digital payment app.
Google Pay provides convenience and ease of use.
Google Pay is collaborating with more banks and partners. Currently, this service is supported by thousands of banks.
With millions of stores now accepting Google Pay, it's likely that more will gain trust in this method of payment.
Google Pay brings convenience and eases to our fast-paced, modern world. With a few taps on your device, you can transact and shop.
Now you know all about Google pay and where and how to use Google pay. I hope you found this piece very informative.
If you have any questions or comments, don't hesitate to use the comment section.
Recommended: