Google One Benefits – In this post, we will discuss the motivations for the release of Google One, some of the benefits of Google One, who needs it, and how to sign up for the service.
Google One is the improved version of the popular Google Drive, offering much more than simply storage.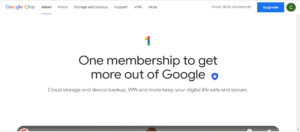 In essence, Google One is a high-end cloud storage service that allows users to access their data from any computer, tablet, or smartphone.
The current iteration of cloud storage is invaluable, especially for businesses and individuals whose data loads are so great that they can't afford to risk losing everything if their local hard drives fail.
Google One Benefits
In this technological era, the importance of highlighting the advantages of Google One cannot be overstated since countless businesses cannot function without cloud storage services.
If you haven't heard, every Google user gets 15GB of free cloud storage for media and document backups in Google Drive.
The premium Google One service was designed for those that want far more than 15GB of cloud storage, even if some users may never have a cause to deplete a fourth of that space.
Furthermore, as we will see in a moment, Google One is offered in various bundles.
How to Set up a Google One Account
A Google One subscription is only available to users logged into their Google Accounts. You'll need an account to continue, so create one now if you don't have one.
Follow the steps below to create your Google One Account successfully:
Sign into your Google Account via your browser or Google One app.
Click Upgrade.
Select your new storage limit.
Review the new plan pricing and payment date, then tap Continue.
Choose your payment method and tap Subscribe to confirm your Google One plan.
You can access Google One from any computer by going to one.google.com. You can also use the Google One app if you'd like.
Essential: You may not see the opportunity to upgrade if you bought your Google One membership elsewhere other than the Google One iPhone app.
Google One Plans – Google One Pricing
Google One provides various plan options, allowing you to select the one that best meets your needs. Plans are different in each country. Click here to see the Google One pricing in your country.
Meanwhile, the following table explains the Google One service's plans, costs, and applicable regions should you ever need more storage capacity than the 15GB provided.
Storage

United States

United Kingdom

Canada

India

200GB
$2.99 monthly

$29.99 annually

£2.99 monthly

£24.99 annually

CAD 3.99 monthly

CAD 39.99 annually

₹210 monthly

₹2,100 annually

2TB
$9.99 monthly

$99.99 annually

£7.99 monthly

£79.99 annually

CAD 13.99 monthly

CAD 139.99 annually

₹650 monthly

₹6500 annually

10TB
$99.99 monthly
£79.99 monthly
CAD 139.99 monthly
₹6,500 monthly
20TB
$199.99 monthly
£159.99 monthly
CAD 279.99 monthly
₹13,00 monthly
30TB
$299.99 monthly
£239.99 monthly
CAD 419.99 monthly
₹19,500 monthly
Please note that for those on the 1TB plan, we have some excellent news: your plan has been upgraded to the 2TB plan at no additional cost.
Positive Effects of Google One
Rewards for Members.
Constantly secure backups of your phone: Google One automatically backs up your contacts, photos, videos, app data, MMS, and SMS. Most android phones do this, but Google One collates your data into one app, making it more accessible.
What Member Benefits do I get with Google One?
Check the Google One website or contact a Google expert for the most up-to-date information on available benefits, as these may vary by country and are subject to change at any time.
Member rewards in the Google Store and Google Play credits are just two examples of the perks that members can enjoy.
In addition, change your email notification settings in the Google One app or website to learn about new features as they become available.
Can I share my Google One Membership with someone in a different Country?
Not necessarily; your immediate family members must be located in the same nation as you are to take advantage of your Google One membership and perks.
Who can I share my Google One Membership with?
Up to five additional family members can join Google One at no extra cost (so six total, including you). You can include or exclude certain relatives in establishing a new family unit.
Also, you can share the Google One plan within existing Google family groups if you currently belong to one.
The whole family can enjoy the perks of Google One without worrying about anybody else having access to private information. Everyone in your household can use the cloud storage capacity included in your Google One subscription.
However, unless you share your Google Drive, Gmail, or Google Photos with your loved ones, they will not have access to the files you keep there.
Also see: How to Use Google Pay | What Grocery Stores Accept Google Pay
I hope you find this information helpful. Please use any of the share buttons below to share this information.
Feel free to drop any questions or contributions regarding this article in the comment section below.