Discover it Student Card – The Discover it student card is one of the best student credit card options.
A lot of students have financial difficulties covering tuition and other essentials. Consider applying for a student credit card if this describes you.
In this piece, the Discover it student card, the application process, and its benefits will be thoroughly explained to you. Read on!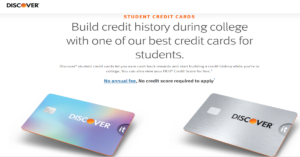 Discover it Student Card
Discover is a U.S.-based banking institution. The Discover Bank is a wholly-owned subsidiary of this bank holding corporation.
Also, you can get a loan, a mortgage, or open an account at this bank, among other services.
This bank does more than lend money to students; they also issue credit cards. The card allows students to establish credit while paying for essentials like tuition, books etc.
In other words, Discover student credit cards help college students build a credit history, earn cash back rewards, and learn healthy credit behavior while they're in college. In addition, students can view their FICO Credit Score at no cost.
Also, the Android and iOS versions of the Discover mobile app are available for download.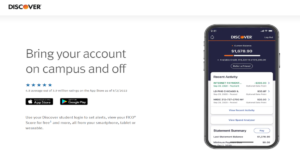 Benefits of Discover Student Card
There are two different student credit cards available from this bank. These cards' perks may be diverse, but they share one thing: cashback.
When it comes to credit cards, Discover Bank offers two distinct student credit cards options:
Discover it Student Cash Back Card:
Students earn 5% cash back with this card on regular purchases made during the academic year (and all year long) at various locations each quarter, including Amazon.com, grocery stores, restaurants, and gas stations, up to a quarterly maximum when activated.
Also, 1% cash back is still automatically earned on all other purchases without limits.
Discover it Student Chrome Card:
Earn 2% cash back with this card at gas stations and restaurants (including cafes and fast food) on up to $1,000 in combined purchases each quarter automatically.
Additionally, students earn unlimited 1% cash back on all other purchases like books, groceries and college staples with the student Discover card designed for students' lifestyles on and off campus.
Now, with your newfound knowledge of these two student credit cards, read to determine if you qualify and what you need to do to get one.
Credit Score for Discover it Student Card
If you're applying for this credit card, you might wonder if your credit score is good enough. The good news is that you can apply for one of these cards regardless of your credit score history.
However, you will only be asked for your credit score if it is relevant. Credit eligibility would be established based on the information you provided in the application.
Discover it Student Card Prerequisites
To apply for one of the cards, you must familiarize yourself with the prerequisites. It would be time-efficient to see if you already meet the prerequisites.
Prerequisites for Discover it student credit cards:
The minimum age to apply is eighteen.
Applicants must currently enroll in either a two-year or four-year college or university.
United States of America citizenship is a must.
Applicants must provide their Social Security Number (SSN).
Applicants must demonstrate financial stability by providing documentation of regular income.
How to Apply for Discover it Student Credit Card
Feel free to apply for any of the credit cards if you have already been preapproved for one. With Discover Bank's new application process, getting one of these cards is a breeze for students.
Applying is a breeze because you may do it entirely online. Check below for a comprehensive breakdown of the Discover it student credit card application process.
Note: No annual fee, No credit score is required to apply.
Follow the step-by-step process below to apply successfully:
Click here to visit the Discover it student card page.
View the different card choices on the page that has opened.
Find the Apply Now button below or next to the card that best meets your needs and tap it.
Pick your favorite student Discover it card design from the options presented on the page.
Enter your Name, Home Address, and Date of Birth in the corresponding fields.
Please ensure that your Year in College, Monthly Housing/Rent Payment, Total Gross Income, and Email address are correctly entered.
Please review the information shown on the page regarding the Terms & Conditions and the Interest Rates and Interest Charges for the Discover it student card.
Finally, double-check your information for accuracy.
Check all the boxes in the last section.
Then click the Submit button on the page's bottom.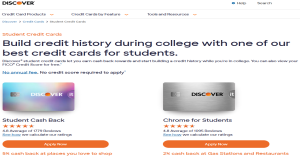 How to Activate Discover it Student Card
If you've been issued a Discover it student credit card, please accept our heartiest congratulations.
Nevertheless, note that activating the card is required before you can use it. See below for instructions on how to activate it:
Click here to visit the Discover it student credit card activation page.
You can proceed without Logging In or choose to Log In; it's your choice.
Input your Discover Card details (16-Digit Card Number, Card Expiration Date, 3-Digit Sequence ID).
Provide your Date of Birth and the last four digits of your Social Security Number (SSN).
Complete the form by entering the rest of the required information and then click the Continue button.
Proceed as instructed on the screen to finish the procedure.
Meanwhile, those who would rather not activate their cards online can reach Discover's card support staff via their customer service here.
How to Register Discover it Student Card for Online Access
You should register to access your account online immediately. This is because you wouldn't have to physically visit the bank to check your balance, make a payment, etc.
Follow these simple instructions below to register your Discover card online successfully:
Click here to visit the Discover registration page.
Go to the Credit Cards section and hit the Register Now button.
Fill out the Card Number and Expiration Date areas with your card information.
Enter your Date of Birth and the last four digits of your Social Security Number (SSN).
To finish registering your account online, stick to the rest of the prompts.
How to Login to your Discover it Student Card Account Online
After signing up for an account, you can access your financial records and make payments whenever it is most convenient for you.
This post will teach you how to easily access your student credit card account. To login to your online account, please do as follows:
Click here to visit the Discover official webpage.
Click the Log In button in the upper right corner of the screen.
Fill in your User ID and Password fields.
Click Credit Card under Select Account.
Then hit the Log In button.
What happens to my Discover Student Card when I Graduate?
Your student credit card will become a standard credit card once you graduate. The cash back program and card design will remain unchanged. And to make handling expenses after school easier, you might be eligible for a credit line increase.
Lastly, as a student, you could be debating whether or not you need this card. Discover it student card is a fantastic option if you are a student searching for a credit card. Consumers who use this card will get benefits as a result of their spending.
From what you have read in this post, you should now have enough information to apply for and receive this card and all its perks.
Also read: Mastercard MyDealZone Africa 2023 (How to Get Reward by Shopping With Mastercard)
We hope you find this information helpful. Please use any of the share buttons below to share this information.
Feel free to drop any questions or contributions regarding this article in the comment section below.