Hey there! Have you heard of the Mastercard Mydealzone Africa? Get all the necessary information here.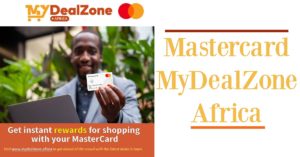 First of all, Mydealzone is exclusive to Mastercard.
The platform is built around the delivery of a wide range of goods and services across a wide range of categories. Mydealzone is a true one-stop-shop and offers massive discounts and rewards.
Mydealzone is available only to Mastercard PAN Africa cardholders.
To enjoy the amazing offers and discounts on Mydealzone, you will first need to register with the platform by creating an account.
Why Choose Mydealzone?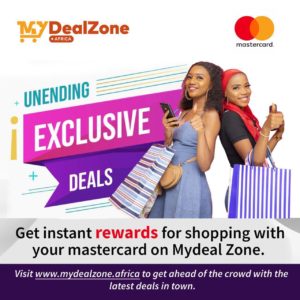 As a Mastercard holder, Mydealzone is your best e-commerce site. Discover a wide range of exclusive deals just for you on Mastercard Mydealzone Africa. There are amazing rewards of significant savings and discounts.
Not only that, but you can win $50 at checkout if you complete a transaction in 15 minutes or less!
Mydealzone Africa gets you ahead of the crowd with the latest deals in town.
How to Access and Enjoy Amazing Discounts and Offers on Mastercard Mydealzone Africa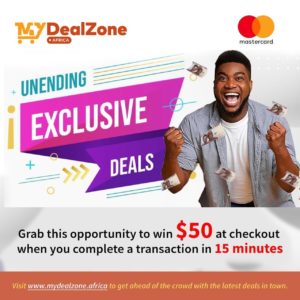 MyDealZone is your one-stop shop for the latest deals on goods and services.
Simply visit www.mydealzone.africa so you can enjoy exclusive deals with your Mastercard.
Get instant rewards for shopping with your Mastercard on Mydealzone. Visit Mydealzone.africa now. Click here to get started.
Read: How to Cancel Subscriptions on the Cash App
Mydealzone CashToken Rewards
The CashToken is a digital reward commodity that offers its beneficiaries an opportunity to win 'LIFE CHANGING CASH REWARDS.'
Each CashToken gives you a chance to win between USD 12 – USD 242,865 in the weekly CashToken Draws.
Customers receive CashToken as a gift in exchange for their business.
You have a chance to win between USD 12 and USD 242,865 for each CashToken you receive in the weekly national CashToken draws, which happen every Friday.
When you purchase a package on Mydealzone that includes CashToken rewards, you receive a CashToken. Examining the reward label on a box will reveal whether or not it contains CashTokens.
Mydealzone requires your phone number in order to gift you CashTokens.
The recipient of the CashToken normally receives an SMS or email.
When you get the CashToken message, you can check your reward summary on your Mydealzone dashboard. Also, keep an eye out for the CashToken Draw Show to find out if you won a cash prize.
Checkout: Great Reasons to Own Bitcoin
How to receive your CashToken wins
Follow the steps below in order to receive your Mastercard Mydealzone cash token wins:
Complete a purchase on Mastercard mydealzone.
On the payment page, please indicate your willingness to accept the CashToken reward.
Following the successful completion of the transaction settlement, the earned CashToken offers you a spot in a weekly draw where you could win up to 100 million naira.
The money from the CashToken weekly draw shall be deposited into your "available" wallet balance.
For Nigeria Customers – All customers in Nigeria shall be able to transfer this fund to their personal accounts using the Mastercard send service.
Non-Nigeria Customers: Payment for non-Nigeria is sent to their bank accounts or mobile money wallets of their choice.
Please note that Mydealzone holds the right to decide how the payment is made.
Mastercard Mydealzone Africa Sign up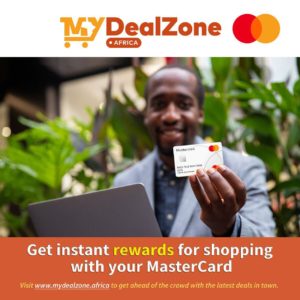 To enjoy these amazing offers and discounts on Mydealzone, you will first need to register with the platform by creating an account.
Create an account here.
After having an account with Mastercard Mydealzone, you will need to shop for goods and services on the platform.
About MyDealZone
Developed by CeLD Innovations, Mydealzone is a Pan-African e-commerce platform.  The platform is hinged on the delivery of a plethora of goods & services across a multitude of categories, a genuine one-stop shop, all accompanied with massive discounts and rewards.
CeLD Innovations Limited is a Business Development and Financial Technology Company focused on the delivery of bespoke Web Development Services, Digital & Value Added Services aggregations, and Financial Services Solutions.
Company Registration Number: RC 1443441
Registered Address: 177, Moshood Olugbani Street off Ligali Ayorinde, Victoria Island, Lagos State, Nigeria.
Contact Details:
Email: clientsupport@mydealzone.africa
Phone: 09122799472
---
Start using Mydealzone as a Mastercard holder today. Do this and thank us later.
I hope you enjoyed reading through this article. Do well to share it with your loved ones. Thank you.
Recommended:
Direct Express Pending Deposit: How to Track and Rectify Issue
Top 85 Profitable Businesses to Start With 100K