Yelp connects customers with fantastic local businesses. In this article, I will show you how to delete a Yelp account and everything you need to know about Yelp.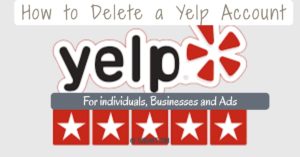 About Yelp
Because of the platform's extensive coverage of businesses, Yelp is one of the most popular online review forums.
Yelp, Inc. creates, hosts, and markets the Yelp.com website and the Yelp mobile app, both of which publish user-generated reviews of businesses. It also runs Yelp Reservations, which is a table reservation service. Its headquarters are located in San Francisco, California.
It is a fun and easy way to discover, recommend, and discuss what's great – and not so great – in San Francisco and beyond.
Yelp was created to assist business owners in listing their businesses so that potential customers or clients can easily find them. People leave reviews on Yelp about the business or services you offer.
Based on this, you are more likely to attract new clients or customers to your company, especially if the reviews are positive.
In addition to reviews, Yelp allows you to find events and lists and interact with other Yelpers.
It is very simple and free to set up a Yelp account. If you own a business, you can create a free Yelp account to post photos and communicate with your customers.
Yelp can be an extremely useful tool. Whether you're looking for high-quality restaurants in an unfamiliar area or simply trying to find trustworthy businesses near you, the reviews customers leave on the platform are frequently useful resources.
While many people find the app to be extremely useful, you may want to delete your Yelp account for a variety of reasons.
Please, keep in mind that if you close your personal Yelp account, you will lose everything associated with it, including your Yelp Elite membership and any reviews, photos, bookmarks, and tips.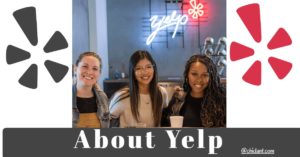 All content published through your account will be removed from the website permanently.
However, it is simple to delete a Yelp account. I will show you how to go about it here.
But before then, what are some guidelines that you don't need to violate if you don't want your Yelp account removed by Yelp?
Guidelines, when Violated, will necessitate Account Removal from Yelp:
There are certain standards that your business may violate, which will almost certainly result in your removal from Yelp.
The guidelines are as follows:
1. Online-only businesses
Your company does not have a physical location where customers can buy from you.
2. B2B businesses
Your company only sells to other businesses and not to consumers.
3. Direct-sellers
Your company is a direct seller with no formal physical location.
4. Timbuktu
Your company is located in a country that is not on Yelp's list of countries supported.
If your business falls into one of the categories listed above, you'll have an easier time deleting your Yelp profile.
Read More>>> How to fix Facebook Messenger Message Sent but not Delivered Issue.
How do I delete or close my Yelp account?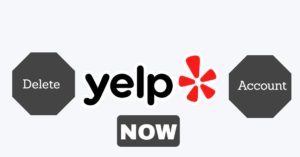 Yelp account holders fall into any of these three categories: Yelpers, Business owners and Current Advertisers.
To delete your Yelp account, follow the simple steps for the category you belong to.
How to delete a Yelp account – for Yelpers
Any content you've posted (reviews, photos, etc.) on Yelp as a customer is removed when you close your user account, and it can never be restored.
Do this by:
Signing in to your Yelp personal account.
Requesting your yelp account to be deleted. To do this simply click on the Yelp closure account link.
Thereafter, confirm your request.
Note: You will receive a confirmation email from Yelp on the email address associated with your Yelp account once your request to delete your Yelp account has been submitted.
Open the email and confirm that you want to delete it. Check your spam or trash folders if you can't find the email in your inbox.
How to delete Yelp account – Business Owners
If you're a business owner and you no longer need access to a business page that you've claimed, you can unclaim the page and close your business account.
However, keep in mind that closing a business account does not remove the business page from Yelp.
Follow the steps below to delete your Yelp business account:
Log in to your Yelp business account.
Go to this page yelp.com/support/contact/business_unclaim/
Find your business listing with the form provided.
Select the business.
Confirm the business is yours by checking the address.
Write a detailed explanation of why you need to close your Yelp business listing. Make sure to provide specific reasons.
Click Submit to submit your request.
A message will be delivered to the email address associated with your Yelp business account. To close your Yelp business account, follow the instructions in the email.
How to delete Yelp account – Current Advertiser
If you're a current advertiser, you'll need to contact Yelp Customer Success Team before canceling ads or closing your account on Yelp for Business.
How to delete your Yelp account on a computer
Open up a web browser on your Mac or PC and log in to your Yelp account.
After you log into your Yelp account, head to the Yelp Account Closure page 

to send in a request to terminate your Yelp account.

On the Yelp Account Closure page, enter an explanation message in the text box and click "Send."
Yelp will send you a confirmation email to the email address associated with your Yelp account once you click "Send."
If you created a Yelp account with your Facebook or Google account, Yelp would send an email confirmation to the email address associated with your Facebook or Google account.
Whether you're using the Yelp app, a mobile device, or a PC, if you carefully follow the steps outlined above, you'll be able to deactivate your Yelp account without difficulty.
I hope you find this guide to be extremely useful. Please let us know if you encounter any problems.
Recommended:
How to Turn Off Mouse Acceleration on Mac (2023 Guide)
How to Close Shopify Store or Swap Shopify Account
Google One Benefits – Google One Plans | Google One Pricing