If your Facebook account is hacked and the hackers changed your password and email address, it is possible to recover that account.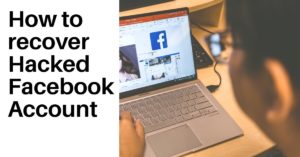 In this post, I will show you the detailed procedure to recover any hacked Facebook account.
As a way of laying the foundation, how does someone know that his account has been hacked?
How to know if your Facebook account has been hacked?
A hacked Facebook account doesn't behave like normal. If your Facebook account has been hacked, you can know by one or more of the following signs:
You found a post, message or event you didn't create.
You found an account that uses your name and photos.
People can see things that you thought were private.
Your email or password has changed.
Friend requests have been sent to people you don't know.
You found out that your profile name, profile picture or birthday have changed.
How to Prevent your Facebook account from being hacked
Sets up two-factor authentication on your Facebook account (click the link provided to get started). That way, it will be virtually impossible for someone to break into your account unless they have physical access to your phone or perform some SIM-spoofing attack.
Do not allow anyone access to your account without your permission.
Do not click on unverified links like Ponzi schemes.
Set a strong password: It's critical to use a unique, strong password for Facebook that isn't used with any other service.
Do not share your password with anyone.
Amazing Content for you: Superb Happy New Month Picture Images for August
How to recover hacked Facebook Account
What can you do when your Facebook account has been hacked? This will likely involve a change of e-mail address, password and phone number for the account.
You've got Facebook automated tools to help you out.
Persistence will be required from you throughout the process.
What then are the potential solutions to recovering hacked accounts?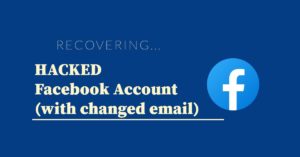 1. First, start with getting your friends to report that your Facebook account has been hacked.
This will prevent the hacker from scamming many people for sure.
2. Go to the Hacked Accounts Section on Facebook Help Centre.
Link: web.facebook.com/help/1306725409382822/?helpref=uf_share
You will be asked a few questions to ascertain that your account has been hacked and help find the right solution for you.
The help center provides you with guided tools that will help you retrieve your account.
The link will also show you how to lock down the account and teach you how to keep the account safe in the future.
This is the best way to get support for your hacked account.
Also Read: Funny Text Messages to Send to a Guy You Like
Your e-mail has also been changed
As you navigate through the recovery questions, click on the 'No longer have access to these?' option, and you'll be redirected to the 'How can we reach you?' page.
You can now enter your new email and phone number, with which you will receive further details about your account recovery process.
3. Check your e-mail address for any notifications from Facebook about an email/password change.
You should receive an email at the previous address whenever a new address is added to an account. As Facebook notes:
"If the email associated with your Facebook account has changed, you can reverse this. When an email is changed, we send a message to the previous email account with a special link. You can click this link to reverse the email change and secure your account."
Facebook's tools should allow you to reset your email and/or the phone number associated with your account.
3. You can also visit this website (facebook.com/hacked) to attempt to start regaining access to your account.
The link again: https://www.facebook.com/hacked
Follow through the self-help procedure, answer the necessary questions, and you will retrieve your account.
4. Also report to Facebook help center security check
The help center security check address link is https://www.facebook.com/help/contact/179049432194862?id=179049432194862
You'll be sure to find help here.
With the above tools, you will be able to get back into your account.
Though the process might ultimately require you to submit physical proof of ID to Facebook, and, honestly, it's a good thing to get to that step because it's probably the best chance you'll have of regaining access to your account.
Must Read Amazing Children's Day Quotes (With Picture Messages)
Other Recommended Recovery Support Systems
1. You might even have to pester Facebook elsewhere.
Using Twitter DMs or maybe Oculus support (if you pretend to be a customer who needs access to your Facebook account to use one).
2. Use the Help Me option when asked to provide a login code
If you're prompted to enter a login code because someone has enabled two-factor authentication on your stolen account, make sure you choose any "help me" options available rather than sending that code to someone else's device.
This should eventually lead you to the mechanism you'll need to use to prove to Facebook you're actually you.
PS: Try the above Recovery Process on a device you normally use or from the location (IP Address) where you normally access your Facebook account.
Because performing the recovery process from a recognized device or recognized location signals to Facebook that you are the true owner of the account, and they will assist you in recovering your hacked Facebook account more easily!
I  do hope this little guide helps you.
Also Read:
Dating Apps with Facebook – Facebook Dating Apk Download | FB Dating Site Free in 2021
Facebook Marketplace Categories
Top 35 Bookfi Alternatives – Best Alternatives to Bookfi.net
How to hide and unhide messages on Facebook Messenger
New Month Messages for Customers