How to Use Google Pay Online, in Stores and ATMs: We made this article specially for you, so you will know the process of using Google Pay.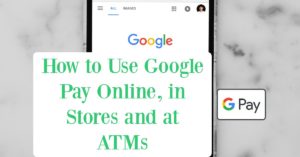 Google Pay is one of the best digital payment options. It has so many amazing features that you must learn how to use it effectively. Hence, the need to know how to make use of Google Pay.
To use Google Pay, you must first configure it before you can use it. This article will walk you through the process of setting up and using this payment service.
Read below to learn how to use Google Pay online, in stores and at ATMs.
How to Use Google Pay
Google Pay is a digital wallet associated with your Google account. This digital wallet allows you to request and send money to friends and family members. You can also use it to make online and in-store purchases.
It is a faster and more secure method of payment than using a debit or credit card.
Google Pay is a safe, simple, and helpful way to manage your money, giving you a clearer picture of your spending and savings. You can use Google Pay to:
Pay at your favourite places
Send and receive money instantly
Earn rewards for everyday payments
Understanding your spending and improving your financial health
For more information about Google Pay, click here.
It is critical that you configure this service before you begin using it. As a result, the following section of this article will walk you through the process of setting up Google Pay.
How to Set Up Google Pay
Before you start using Google Pay, make sure your phone is NFC-enabled, and you have a contactless payment card.
The following is a step-by-step guide for configuring Google Pay on your device:
Download the Google Pay app for your device from the Google Play Store or the Apps Store.
Launch the app on your device and tap the "Get Started" button.
Afterwards, at the top of the page, tap on the Connect to Gmail icon.
Allow Google Pay to access your device's location by selecting the option from the menu that will pop up on your screen.
At the top of the page, select the "Payment tab."
Scroll to the bottom and click "Add Payment Method."
Tap on "Add a New Card" to add a new card to your account.
If prompted, grant the app permission to take pictures.
After you've captured the card with your camera, enter the "Expiration Date" and the card's "CVV number."
Finish the action by clicking the "Save" button.
Examine the terms and conditions on the page before clicking "Accept and Continue."
After that, simply follow the rest of the prompts on your screen to finish the setup process.
How to Use Google Pay
You can use your phone to pay for goods or services with Google Wallet.
Important Notice: Near-field communication (NFC) must be turned on to make contactless payments. To turn on NFC, check your phone settings app.
You can pay with Google Wallet wherever you find either the contactless or Google Pay symbols. Find them on the payment terminal screen or on the cash register at checkout.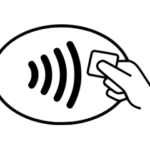 You can use the app to make payments in stores after installing it. To do so, look for the Wireless payment logo in the checkout area. Once you've found it, follow these steps to make payments:
First, check your tap to pay set up
Open the Google Wallet app.
At the top right, tap your profile picture or Account and then click on Tap to pay setup.
Check if you're ready to make contactless payments.
To tap to pay with Google Wallet:

Near-field communication (NFC) must be turned on.
To make a tap-to-pay transaction with a card in your Google Wallet, Google Pay should be set as your default payment app.
Add a contactless payment method.
Set up a screen lock.
Your phone must meet the security requirements.
If all these requirements are met, your phone is ready to make contactless payments.
Then set up a payment method for contactless transactions
To set up contactless payments, add one or more payment methods to Google Wallet.
Open the Google Wallet app.
At the top, tap the card you want to use. You may need to swipe to find it.
Check the message above your card:

"Hold to reader": This means your card is ready to tap and pay.
"Card not set up": To make contactless payments, under your card, tap Finish setup. Follow the on-screen instructions and verify your payment method.
"Contactless disabled": Your phone either doesn't support NFC or has it turned off. You must have NFC turned on to make contactless payments.
"Card suspended": There's an issue with your card. To fix it, contact your bank.
How to Pay in a store
Step 1: Wake up and unlock your phone
Turn on your screen, then unlock your phone. You don't need to open the Google Wallet app.
Tip: In most countries or regions, smaller transactions don't require you to unlock your phone.
Step 2: Hold the back of your phone close to the payment reader for a few seconds
When you're done paying, a blue checkmark appears on the screen.
If the check mark isn't on your screen:
Try to hold your phone in a different way. Your NFC antenna could be near the top or bottom of your device.
Hold your phone closer to the payment reader.
Hold your phone to the payment reader for a few extra seconds.
If there's a checkmark, but the cashier says that the payment didn't work:
Double-check that the store accepts mobile payments.
Contact your bank. There may be an issue with your card, and your bank may have declined the transaction. If the transaction is declined, you aren't charged.
Step 3: If prompted, follow the on-screen instructions
Some stores ask for a PIN or signature. If you're asked, follow the steps on the screen.
Debit cards: Enter the PIN that you set up with your bank. This PIN is different from the one you use to unlock your device.
Credit cards: For larger transactions, sign the receipt or the on-screen signature box.
How to Use Google Pay Online
It is simple to use Google Pay to make online purchases. If you have added a debit or credit card, this is a quick online payment method. If a website accepts this service as a payment method, use the following steps to make payments:
When you're ready to check out, click the Google Pay button.
When prompted, select your payment method.
Enter your shipping address.
To confirm your order, follow the remaining instructions on your screen. Contact your merchant directly if you want a refund.
How to Use Google Pay at ATMs
Did you know you can use Google Pay to get cash from ATMs? Isn't it amazing? This service allows you to withdraw money from any ATM that displays the contactless symbol. To withdraw funds, follow the steps outlined below:
On your device, launch the Google Pay Wallet.
Choose the card you want to use. You don't need to do this if you already have a default card set up.
Bring your phone up to the contactless symbol.
When prompted, enter your credit card's "PIN."
After that, the ATM will finish your transaction and dispense the money.
How to Use Google Pay to Send Money
Google Pay can also be used to send money to family and friends. You'll need an internet connection, a US phone number, and an email address to do this. The quickest way to use this service is to use your balance or debit card.
To use this service to send money to loved ones, follow the steps below:
Start your Google Pay wallet app.
Navigate to and click on the Pay tab.
Select the recipient from the suggested list of friends.
You can also look for a friend by "Name," "Email," or "Phone number." You can also find them by scanning their QR code.
Tap on the contact to whom you want to send money.
Select "Pay."
Enter the amount you want to send and optionally include a note.
Then, select a payment method.
Finally, select "Pay."
This is how to use this payment service to send money. There are numerous reasons why you may not be able to find someone when searching for them on Google Pay. It's possible they haven't downloaded the app or don't have a phone number in the US, Singapore, or India. You can also instruct them to enable "Help People Find You" in their preferences.
More information can be accessed here.
Frequently Asked Questions
Is it necessary to open Google Pay in order to use it?
You do not need to open Google Pay to use it. To activate contactless payment, simply unlock your phone and place it near the payment terminal. You can now complete your payment.
Is Google Pay Safe?
Google Pay is extremely secure. Google protects your payment information with multiple layers of security. Your credit card information is not shared when you use this service to make payments.
Is Google Pay a free service?
Yes, using this payment service is completely free. You will also not be charged a fee for continuous use. Other institutions, however, may charge you fees when you make overdraft or international transactions.
Can Minors Make Use of Google Pay?
You must be at least 16 years old to use Google Pay. If you are under the age of 18, you must obtain permission from your parents to use the service. To link the wallet app, you'll also need a Google account and a debit or credit card.
---
That is it on how to use Google Pay online, in stores and at ATMs. Contact us with your questions and contributions.
Must Read:
How to Use Google Pay | What Grocery Stores Accept Google Pay
Google One Benefits – Google One Plans | Google One Pricing