Let's learn how to write an Amazon appeal letter.
So sorry Amazon suspended your account.
If you rely on Amazon for a living, receiving an account suspension email could be devastating. But then, you can write an appeal letter for your account to be reactivated.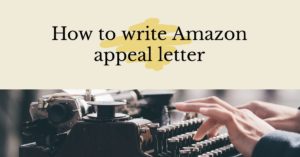 Example of Amazon Account Suspension Message
Let me show you below what an account suspension mail looks like.
We continue to receive reports that you have listed items on Amazon.co.uk that infringe intellectual property rights. Details of these reports can be seen on the Performance Notifications page in Seller Central. As a result, you may no longer sell on Amazon.co.uk. Your listings have been removed from our site.
If you have funds in your account, they will be available after any amounts paid for A-to-z claims or chargebacks have been deducted. This usually takes about 90 days, but funds may be held longer.

You can see your balance and settlement information in the Payments section of Seller Central. If you have questions about those, please send an email to payments-investigate@Amazon.co.uk.

IIf you want to appeal this decision, click the Appeal button next to this message on the Performance Notifications page in Seller Central (sellercentral-europe.Amazon.com/gp/customer-experience/perf-notifications.html).

Regards,

Seller Performance.Team
Amazon.co.uk
www.Amazon.co.uk
Appealing Amazon seller suspension
Before 2018, the process of appealing an Amazon seller suspension was lengthy and could take weeks or even months.
In August 2019, Amazon introduced a new policy that assured sellers a 30-day suspension notice before permanently removing them from the selling platform.
Must Read: Effecting Change of Receiver's Name on MoneyGram Transactions
There are two major account issues:
Accounts about to be removed (for major infractions)
Accounts whose issues can be easily remedied (with minor infractions).
Dealing with minor infractions
There's a questionnaire that enables you to reinstate your account in as little as 15 minutes for minor infractions.
It's important to know that this questionnaire is usually available for suspensions that stem from minor policy violations.
Some of these infractions are as follows:
Using forbidden techniques to get reviews from clients
Buying your own products and doing reviews for your own listing.
Having multiple sellers accounts
Feedback manipulation and
Selling counterfeit items
How to write an appeal for a suspended account
Amazon will have to be persuaded to reconsider the suspension of your account.
Not to worry, we've got a few pointers to help you get back on track, and they're elegantly laid out in a step-by-step format:
Please Read Funny Text messages to Send to a Guy you Like Here
Step 1 – Wait
Resist the urge to respond to Amazon right away.
You have a 17-day window to get to the bottom of things, so you can take your time.
You can also send multiple responses, but try to complete all of your investigations as soon as possible to help speed things up.
Step 2 – Research
Check your email for the specified reason for your account suspension.
If any ASINs are mentioned in the suspension email, it would be wise to check your records for the sales history and customer feedback.
The reasons why you got suspended from Amazon are included in the email, though many sellers have a hard time finding out exactly how they violated Amazon's policies.
The email usually quotes the guidelines that you broke and not the thing that you did. As you know, the wording of these policies is sometimes ambiguous and hard to understand.
Make sure you do thorough research.
Step 3 – Find Hidden Clues
After checking the obvious (i.e., orders, feedback, notifications), check whatever else could be an indicator.
Some of the best places to look at are:
the imperfect orders report
product reviews
your returns, and
your supplier's background.
Check that all your parameters are 'green.'
Step 4 – Prepare a Plan
Once you've identified your flaws, the reason for them, the number of times it occurred, and how you responded to each warning, write to Amazon to demonstrate how you've previously attempted to resolve the issue.
After that, make a rough draft of your main points.
Be brief, address all pertinent issues, and construct your sentences in a logical and orderly manner.
If you want Amazon to give you another chance, you must demonstrate that you have a plan and that you will not make the same mistake again.
Determine corrective and preventive measures for all of the issues you identified in Steps 2 and 3.
Step 5 – Make Last-Minute Changes
Depending on the reason for the suspension, you may demonstrate to Amazon that you mean business and earn some bonus points if you start implementing some of the ideas in Step 4.
It could be a series of minor changes, such as upgrading your inventory management system or something more significant, such as switching couriers and hiring more shippers.
Step 6 – Submit Your Appeal
Submit your appeal and wait for some time.
It can take weeks for Amazon to give you the green light, so try to stay on top of your customer communication and performance metrics until then, regardless of how long the downtime is.
While you're on standby, keep putting into action what you've outlined in your "plan of action" so that Amazon's decision doesn't catch you off guard.
Also, keep in mind that you will only be able to contact Amazon from now on by emailing the Performance Team or submitting a case.
Don't forget to read: Things Every Man Needs in a Relationship.
How to write an Amazon appeal letter that will not be dismissed
Follow these simple guidelines when writing your Amazon appeal letter to get the needed attention
1. Mention Amazon's customers
To write an appealing letter to Amazon, you must first understand what they are always thinking about: their customers.
Because, at the end of the day, it's all about pleasing their customers.
Here's something that you can add to your letter:
I recognize that Amazon customers are entitled to the level of service that your company strives to provide. We are directly responsible for… by failing to meet the performance standards.

[Following the presentation of a comprehensive action plan addressing the issues]

…I've discovered that these solutions are proactive measures that allow our account to meet Amazon's customer expectations.
By indicating to Amazon that your primary concern is its customers, you're making yourself responsible for their customers' satisfaction.
2. Don't Underestimate the Importance of Formatting.
Every day, Amazon most likely receives thousands, if not millions, of letters. If your letter is simple to read, the seller performance team will quickly grasp your main issue and action plan.
Formatting is more beneficial than you might think. You can use generous spacing to highlight a few important points in your letter.
What is Amazon's appeal about?
Why did it happen?
An action plan that includes preventative measures and future inspections.
The reason for reactivating your account.
Read: How to Get Free Things on Amazon (11 Sure methods)
3. Be As Detailed As You Can in Your Amazon Appeal
Amazon's Seller Performance Team is known to respond to sellers who request more aggressive action plans.
They clearly desire detailed plans.
As previously stated, before writing your letter, conduct some research into how many people have encountered your issue and what action plans they have in place to avoid repeating the same violations. Then decide what you're going to do.
Finally, include this action plan in your letter to increase the likelihood of a favorable response.
That is it on how to write an Amazon appeal letter. To your advantage!
Also, read the following articles:
How to Use Visa Gift Card on Amazon
How to Remove Items From Amazon Fresh Order (2023 Guide)
Top 35 Bookfi Alternatives – Best Alternatives to Bookfi.net