How to Get Free Things on Amazon: You can get free things on Amazon. I will show you several hacks to make it possible.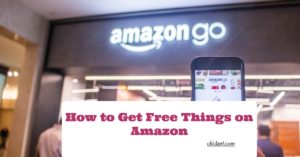 I like keeping it short and simple. So, let's get started.
Why is it Possible to Get Free Stuff on Amazon?
Amazon is by far the most popular online retailer in the United States. One may ask, why is it possible to get free things on Amazon?
It's exciting to learn that sellers are eager to give away free items to customers – and there are several good reasons for this:
1. To generate more sales
Sellers have a goal. That goal is to increase sales. Giving you free items increases their chances of meeting their sales target.
2. To get reviews
They are likely to offer you a free item in exchange for a positive review, which will help them generate more sales.
3. To clean up their inventory
A lot of products in inventory may be costing the seller fees, so they give the products away to create positive customer feelings and save money at the same time.
How to Get Free Things on Amazon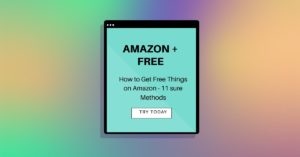 To continue our narrative, there are many ways to get free things on Amazon.
Let's review the best methods…
Method 3: Get free things on Amazon through cashbackbase.com
One of the quickest ways to get free products on Amazon is by visiting cashbackbase.com.
Cashbackbase.com is a new free Amazon product website that offers a 100% discount on some products and significant discounts on others.
All that is necessary is to sign up for an account on the website; after that, click to view and buy the product.
There is no requirement to review the product.
It is worth visiting cashbackbase.com daily, as they update the free products every day.
You will discover that the products are both valuable and of high quality.
It's one of those sites where you have to be among the first users to get the best results.
Method 4: Sign up for Amazon Music Free
Did you know Amazon has a massive collection of free music and podcasts? They do, indeed.
All you need to do is log in with your Amazon account. There is no need for Amazon Prime or a credit card.
The music section functions more like a radio station than a custom playlist, and the options are certainly more limited than Amazon Music Unlimited. That is, however, a minor setback.
You can also sign up for a free 30-day Amazon Prime trial to access even more free downloads.
Method 5: Browse free Kindle e-books
If you're a voracious reader on a tight budget, it can be difficult to find free reading material.
Fortunately, Amazon offers a wide selection of free Kindle e-books online. Hundreds of free books are available. Every day, a new freebie or two is added to this list, so be sure to check back frequently to see what's new.
While some e-books are permanently free, many are only available for a limited time and are written by new and upcoming authors.
Method 6:
Get free things on Amazon by making
good use of AMZDiscover
AMZDiscover is primarily aimed at Amazon sellers. However, it is still an excellent place to go if you want to get free products because this is where these sellers go to find people to review their products.
Amazon sellers visit the site and offer any reviewers who use the site the opportunity to receive a free product in exchange for positive feedback.
To become a reviewer, you must first have an Amazon account and a profile page. To get started, you should look at a few products.
Then, send an email to AMZDiscover with a link to your Amazon profile page, an email address, and the categories you want to learn more about.
Then, reviewers will send you offers of free goods in exchange for your review – it is that simple to get free stuff on Amazon.
Method 7:
Get free things on Amazon through 
Facebook Groups
Numerous Facebook groups provide free Amazon products in exchange for reviews. Other groups give away freebies to get rid of money-draining inventory.
These Facebook groups operate on a reimbursement basis: you buy the product on Amazon, provide proof of purchase, and they refund your money.
It is this simple to get free stuff from Amazon – but choose your Facebook Group wisely!
Must Read>>> How to Use Google Pay | What Grocery Stores Accept Google Pay
Method 8: Get Free Amazon products on Tomoson.com
Tomoson.com is a website that connects Amazon sellers with influencers (people who can provide powerful product reviews).
The influencers are reviewers who have been verified and approved by Tomoson.com, giving the seller assurance that they will be compensated for the product they are giving away.
So, to become an influencer, you must apply on the website.
Each brand that creates a campaign on the website has a set of requirements for the type of influencer they want to promote their products.
This could imply that you have many Twitter followers, a niche blog, or other qualifications.
After you've created your social profile, you'll be individually accepted by the brand.
Influencers who clearly care about the products and are active on social media will be preferred by brands.
If you want to participate in highly competitive campaigns, you must have a high-quality social profile that is constantly updated.
This is not the simplest way to obtain free products, but it is most likely the most profitable. The website provides campaign support to major brands, with influencers playing an important role.
You will be asked to complete some tasks on behalf of the site and the brands in exchange for product codes.
The brand's requirements will determine the task's complexity.
Top 35 Bookfi Alternatives – Best Alternatives to Bookfi.net