How to Use Visa Gift Card on Amazon – The use of Visa Gift Cards as presents has grown commonplace, and there are numerous hidden advantages to giving such cards as presents.
Wondering if there's a way to use a Visa gift card for Amazon purchases? Stop worrying; this article will show you how to use a Visa gift card on Amazon in a cinch.
Today, Amazon has revolutionized how people purchase and has rapidly become integral to almost everyone's daily routine.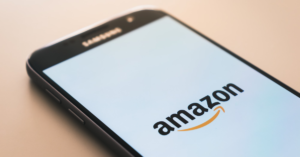 In a perfect world where Amazon gets its way, nobody would use anything but Amazon gift cards. And while Amazon gift cards are nice, Visa gift cards are even better because they can be used at any store worldwide.
Therefore, if you want to use a Visa gift card on Amazon, you'll need to make the site believe you're just adding a new credit or debit card to your account rather than using a gift card.
Furthermore, your Visa gift card must be activated and in good standing before its balance is added to your account.
How to Use Visa Gift Card on Amazon
Just stick to the easy instructions below, and you'll be OK.
Step 1: Verify the balance on your Visa gift card and make sure it is active. Knowing how much money is on the card is essential, as Amazon does not permit partial payments.
Step 2: Log into your Amazon account.
Step 3: Navigate to "Your Account" in your Amazon account settings.
Step 4: Follow that up by visiting the "Reload Your Balance" page.
Step 5: Type in the amount left on your Visa gift card into the custom amount field.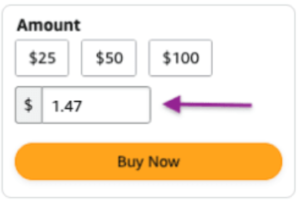 Step 6: Select your preferred mode of payment'. Click on the "Add a credit or debit card" option from the drop-down menu in the payment methods box.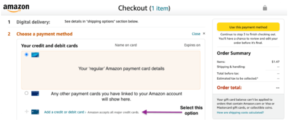 Step 7: Fill out the forms with your gift card details and hit the "Add your card" button; if you're unsure of the name on the card, you can always call the number on the back of the card for assistance.
Step 8: Click the Gift Card option under Payment Options. Verify that the gift card you just added is the one being used as the payment option. You can verify your gift card's billing address by calling the number printed on the back.
Step 9: When ready to proceed, review the amount you wish to add to your Amazon gift card balance and click "Place your order."
Step 10: Choose the gift card option at the checkout on your next Amazon transaction. If you have more than one Amazon gift card associated with your account, you can tell whether one is a Visa by looking at the final four digits.
Be aware that if your Visa or Mastercard gift card has less than 50 cents available, you will not be able to load it to your Amazon account because Amazon demands a minimum of $0.50.
Alternatively, with the funds on your card, you can buy an Amazon gift card (or code) to use on the site, which can be used to purchase anything and be used in addition to other payment methods.
My Online Transaction with a Prepaid Card was Denied; why is that?
There are several reasons why a purchase might be denied:
The balance on your card is currently insufficient.
The card has not been activated or registered by you.
Your prepaid card issuer has an address that differs from the one you provided when you made an online or phone purchase.
In addition, if you need more information or help, please refer to your cardholder agreement or contact your card issuer directly.
How to Check your Visa Gift Card Balance
Take a look at the back of your gift card first. A free number to call typically provides account balance information.
Another option is to visit the issuer's website and enter the 16-digit card number and security code to view the available balance.
Where is the Claim Code on a Visa Gift Card?
Visa gift cards typically have a claim code on the back. Remember that you might have to scrape off the backing film before you can read the claim number.
Digital claim codes, if applicable, should be referenced from the corresponding confirmation email.
I hope you find this information helpful. Please use any of the share buttons below to share this information.
Feel free to drop any questions or contributions regarding this article in the comment section below.
More reads
How to Remove Items From Amazon Fresh Order