How to remove items from Amazon Fresh order: Let us examine the procedure to remove items from Amazon fresh orders.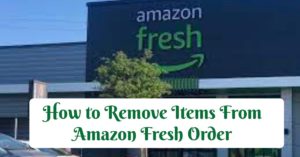 How to remove items from Amazon Fresh order
As a way of definition, Amazon Fresh is a grocery delivery and pickup service.
If you will love to know how to cancel an order on Amazon Fresh, read on.
You will also get sufficient information on Amazon Fresh and Whole Food Market on Amazon, how to find and add an item and how to checkout using the Amazon Fresh and Whole Food Market cart.
All you need to know about Amazon Fresh
Amazon Fresh and Whole Foods Market on Amazon are grocery delivery and pickup services available in select cities.

Amazon Fresh is a division of the American e-commerce company Amazon.com, headquartered in Seattle, Washington.
It is a grocery delivery service that is currently available in the majority of major US cities as well as some international cities such as Berlin, Hamburg, London, Milan, Munich, Rome, Tokyo, and some other locations in Singapore and India.
Amazon Fresh allows Prime members in select cities to shop for groceries, household essentials, and other items.
The platform offers both Attended Delivery and Unattended Delivery, as well as Pickup Services.
Please, visit Amazon.com/Fresh to see if delivery or pickup is available in your area.
Requirements for Amazon Fresh
Check out the following criteria for Amazon Fresh:
Amazon Fresh is available to both free trial and paid members of Amazon Prime and Amazon Prime Student.
Amazon Fresh is not available to Prime Video members.
Invited guests of other members, as well as Prime household members, are eligible to shop Amazon Fresh if one of the primary owners has a Prime membership.
How to Search and Browse for Amazon Fresh Items
Follow this simple step to search for items on Amazon Fresh:
Visit amazon.com/fresh and enter a few words (related to the item) into the search box and click the magnifying glass icon to find a specific item.
You will thereafter see results that match your entry. You can now select the item you want.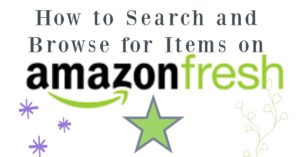 Directions for Finding Items on Amazon Fresh
Find what you're looking for easily by following the tip below:
To improve your search results, try limiting your search to a specific product department.
How to browse by product department:
As a matter of importance, it is essential to note that each product department has its own set of search and browsing options. To browse for products easily:
Choose a product department from the drop-down menu next to the search box.
Select the magnifying glass icon.
You can use the left navigation menu to narrow down the results in a department based on specific criteria, such as "Eligible for Free Shipping." Specific refinement options will be displayed depending on the department.
Read below to learn how to remove items from Amazon Fresh.
How to Checkout Using the Amazon Fresh and Whole Foods Market Cart
Amazon Fresh and Whole Foods Market items are added to the Amazon Fresh or Whole Foods Market Cart, which is separate from other Amazon.com items.
If you have items in both your Amazon shopping cart and your Amazon Fresh shopping cart, you will see the option to Checkout Fresh Cart or Proceed to Checkout.
This creates two separate orders for your deliveries, and as a result, you must check out each cart separately.
You'll be able to see the status of both orders in Your Account.
Note:
Amazon Fresh and Whole Foods Market orders are limited to 75 unique items.
Orders containing more than 75 items must be split into multiple orders.
Delivery fees vary depending on your cart total and the delivery method you select.
When you place your order, the total fees will be displayed.
How to Remove Items From Amazon Fresh Order
Canceling an Amazon Fresh order is similar to canceling any other Amazon order.  With the step-by-step procedure shown below, you will successfully remove or cancel any item from your Amazon Fresh order: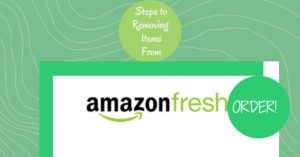 1. Start by logging in to your Amazon account.
2. Navigate to the Your Orders page.
How to Navigate to 'Your Orders Page' on Amazon Fresh
You can access your order page on Amazon in a variety of ways, as follows:
Select Orders from the main navigation bar.
Select Your Orders from the Accounts and Lists drop-down menu.
You can also go straight to the Your Orders page.
3. Choose the Fresh Orders Tab
Amazon Fresh orders appear in their own tab.
4. Choose View or Edit Order.
This will allow you to remove items from your Amazon Fresh order.
5. Check the Appropriate Check Box
Select individual items from the order by checking the appropriate check box, or select all items in the order to cancel everything.
6. Select Cancel Checked Items
Select Cancel checked items once you've checked the boxes of the items you no longer want.
You can cancel physical items as well as orders that have not yet entered the shipping process.
7. Confirm that your order has been canceled.
You'll see a confirmation message on the screen after you submit the cancellation. You will also receive a message in Your Account's Message Center.
You can also check Your Orders to see if the order was canceled successfully. If the order appears in the Cancelled Orders section, it was successfully canceled.
What to do if you cannot cancel your order
If you are unable to cancel your order, please follow the steps below:
If you don't see any Cancel items tab beside the order you want to cancel, it's possible that Amazon has already shipped them. Go to Your Orders, then Track Package, and finally, Cancel this Delivery.
If this option is not available (because the order was shipped by another carrier), refuse the package or return it through the Amazon Online Returns Center.
How to Cancel discounted bundled items
Customers can save money by purchasing multiple items or groups of items in a discounted bundle.
You cannot cancel individual items purchased as part of a discounted bundle.
If you cancel any bundle item, all remaining bundle items that haven't shipped will also be canceled.
Additional: How to Write Amazon Appeal Letter
How to Cancel Amazon Fresh Subscription or Free Trial
To cancel your Amazon Fresh subscription:
Log in to your Amazon Prime account.
Go to the Prime membership management page. If you have an Amazon Fresh subscription or trial, you'll see it on this page.
Select Manage Fresh Add-on.
If you're a subscriber, select End Membership on the left side of the page.
If you're using the Amazon Fresh free trial, select Do not continue.
We have been able to see how to remove an item from Amazon Fresh and navigate through the Amazon Fresh platform with ease. If you have any questions or suggestions, please, do well to let us know in the comment section of this post.
To your great shopping experience at Amazon Fresh!
Recommended:
How to Cancel Your HelloFresh Subscription
How to Get Free Things on Amazon: 11 Sure methods
See How to Use Google Pay | What Grocery Stores Accept Google Pay