Meaning of Draw No Bet in Soccer: Sports lovers and followers know a thing or two about the advantages of sports betting. I will love to introduce to you the concept and meaning of Draw No Bet, its advantages and examples, and explain in clear terms how a Draw No Bet accumulator works.
Meaning of Draw No Bet in Soccer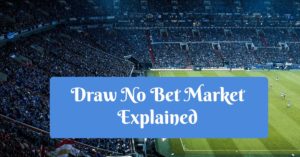 There are different options when making a sports prediction and placing a wager on a bet.
One not so understood betting option is the draw no bet.
What is draw no bet? How does it work?
It's pretty simple. Here is it.
The draw-no-bet option eliminates the possibility of a draw being an outcome of a game, leaving you with only two options – a home or an away win.
Some betting platforms call the draw no bet option "handicap."
In basic terms, the draw-no-bet market means you're betting on a team to win. If they win, you win. What if they lose? You lose also. If it ends in a draw, you get your money back in its entirety.
The draw-no-bet option is an experienced way to bet.
Many bettors turn to the betting market, looking for less risky options when placing their wagers. On three-way markets, you can place a wager on either the "home" or "away" outcome using a "draw no bet."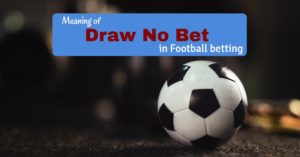 It is important to note that you shouldn't expect great odds when placing these types of bets. It will most likely have lowered odds as it has less risk for customers.
That is why betting options like draw no bet and double chance have worse odds than match winner or correct score, for example.
Keep in mind that not all bookies offer this betting option for the various sports, primarily because sports like Basketball and Tennis cannot end in a draw (due to more time being added or a unique rule being implemented, such as the tiebreaker in Tennis), leaving the betting option only for select sports, such as football.
In addition to the full-time option, some bookmakers may offer a draw-no-bet market for matches' first and second halves.
Sports that Feature Draw No Bet Option
Sports that can end in a draw and where draw no bet can be applied are: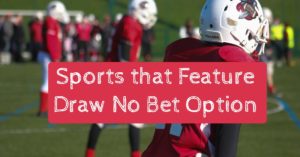 Soccer
American football
Cricket
Australian rules
Chess
Ice hockey
Boxing
Horse Racing
Other Racing Sports
So, what are the meaning of Draw No Bet in soccer and other sports? Keep reading for further explanation.
Advantages of Draw No Bet
Why is the draw-no-bet option an increasingly attractive market for bettors?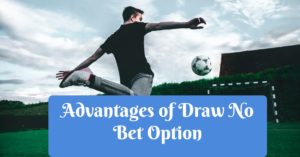 Draw no bet is appealing to bettors looking to minimize their risk on a bet.
By removing the draw as an option, the bettor gains an extra layer of security compared to betting on the traditional three-way market, as the bettor is left with only two options – either Team X to win or Team Y to win.
If your match ultimately finishes in a draw, the bet will neither win nor lose, and your stake will be returned in full.
Examples of Draw No Bet
The draw-no-bet betting option, as stated, is a two-way market as opposed to traditional betting on a three-way market.
Let's look at a few examples to get a better understanding of how the draw-no-bet wager works: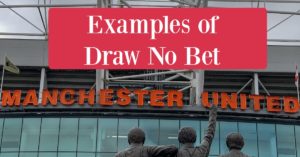 Draw no bet Example 1
Take, for example, Manchester United FC is playing against Manchester City FC at home in the Premier League.
Let's say the 1X2 market is priced up as follows:
Man Utd – 7/5
Draw – 14/5
Man City – 2/1
Assuming Manchester United got a recent winning run, and you're backing them for a win against Manchester City, and you placed a bet of £10 on Man Utd to win at 7/5.
Paraventure, the game finished in a 1-1 draw; you've lost your bet.
If, on the other hand, you chose to follow this game via the Draw No Bet market, the two-way market would be priced as follows:
Man Utd – 4/5
Man City – 11/10
While the 'to win' price is less generous than in the traditional three-way 1X2 market, Draw No Bet would have favored you in this scenario.
Your bet is not a winner because the game ended 1-1. You would, however, have the consolation of having your stake returned to you in full – demonstrating how Draw No Bet works well for bettors looking to reduce risk.
Recommended for you>>> Best Football Blogs in Nigeria
Let's take another example…
Draw No Bet Example 2
A UEFA Champions League match between AC Milan and FC Porto may have the following betting odds for the different markets:
Match-winner betting odds
AC Milan – 21/10 (3.10)
FC Porto – 29/20 (2.45)
Draw no bet odds
AC Milan – 21/20 (2.05)
FC Porto – 7/10 (1.70)
Odds for draw no bet are lowered because the draw outcome is taken away.
Assume you bet $50 on the "draw no bet" betting market we mentioned above that AC Milan would win the match. If they win, you stand to win $52.5, bringing your total payout to $102.5.
But if the match is a draw, you will receive the full $50 staked back, and it will be as if you had not placed the bet in the first place. If FC Porto wins the match, you will lose your $50 wager.
Similar Betting Options to Draw No Bet
You can try similar betting markets if a bookmaker doesn't provide the "draw no bet" market. A few of such are:
1. Double Chance
The "double chance" market is an example of a similar betting option to draw no bet. It still provides the same level of security as the "draw no bet" market.
Interestingly, you back two of the three traditional outcomes when you place a double-chance bet.
As an example:
Home and draw
Home and away
Away and draw
The odds on this type of market will not be as good as those on the traditional three-way match betting market, but this is ideal if you prefer to place low-risk bets.
2. Asian Handicap
A similar option to bet no draw is a variation of an Asian Handicap.
Only Asian Handicaps with a 0 handicap correspond to the "draw no bet" market selection. If the game ends in a tie, you will receive your stake back.
Read More About Draw No Bet Here
Draw no bet Accumulator
One may ask, what is a draw-no-bet accumulator? And how does it work? Can one combine multiple Draw No Bets?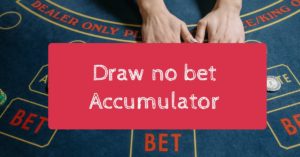 It is refreshing to know that you can combine multiple selections with a draw-no-bet market to form doubles, trebles, or even accumulator bets.
You can choose to make a draw no bet for multiple games or combine it with other options. It all depends on your interest and choice.
When using the draw-no-bet approach in an accumulator scenario, any draw-no-bet selections that end in a draw drop out of your accumulator. For example, an eight-fold with one draw no bet selection ending in a draw means your bet becomes seven-fold, a two-fold draw reduces your games to becomes six-fold, and so on.
Draw No Bet FAQs
1. Does Draw No Bet include extra time?
Pre-match Draw No Bet prices only apply to the score at the end of normal time.
If a match goes to extra time during live betting, the bet may be available on the in-play market for the extra time.
2. Can one combine Draw No Bet?
Yes. You can place multiple bets on different matches with draw-no-bet selections, or you can select draw no bet in some games and different markets in others.
3. Does Draw No Bet void an accumulator?
No, a draw-no-bet does not nullify your accumulator.
If you have chosen draw no bet and the match ends in a draw, only that selection is voided, and the rest of the bet is completed as usual.
4. Do you get the bet refunded on Draw No Bet?
If you place a single bet, your original stake will be refunded if your chosen match ends in a draw.
5. Is Asian handicap the same as Draw No Bet?
Level Asian handicap betting – where the handicap is displayed as 0 – is essentially the same as draw no bet, with your stake returned if the game is a tie.
6. What do I do if the bookie doesn't offer to draw any bet?
If the bookmaker offers the "request a bet" feature, you can request the betting market or create the same outcome by dividing your stake by the decimal odds for a draw.
Put the amount you calculated on the event ending in a tie and the rest of your money on your favorite team. This approach is very similar to the "draw no bet" outcome.
In summary, it is clear that the draw-no-bet is a popular betting option, particularly in football betting. Because of the lower risk involved, many people enjoy playing these bets as singles or combining them in accumulators.
Now that you better understand the meaning of Draw No Bet in soccer, use the Draw No Better market and keep winning.