This article covers the best football blogs in Nigeria.
Football is the most followed sport in Nigeria. It ranks first as the most unifying sporting activity in the country. There are a lot of media channels that write and report football in Nigeria. Here is a compilation of the best of them.
Best Football Blogs in Nigeria
So many Nigerians are fans of several European clubs. You cannot imagine the joy and excitement on several faces on any given match day. Also, envisage the universal reaction of fans from anywhere in the country when the Super Eagles score a goal.
We all share the same most intense feelings of joy and enthusiasm, a feeling of being connected to one another despite the distance. Indeed, Football promotes national unity.
Do you want your latest football news on the go? I have compiled a list of the best football/sports news blogs in Nigeria. Happy reading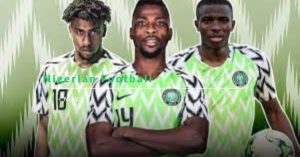 1. Goal.com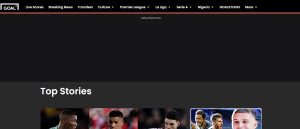 Goal.com is the number one football news site in Nigeria. It is the biggest football blog in the country, with over 530 reporters from over 50 countries. They are your perfect football source for whichever club or country you support. goal.com brings you closer to the action.
Over 64 million football fans trust Goal.com to keep them informed and entertained. If your goal is football entertainment, goal.com got you covered.
2. Brila.net
With headquarters in Lagos, Nigeria, brila.net was founded by the frontline sportswriter, analyst, and presenter, Dr Larry Izamoje. It has evolved through time and currently has an active online presence and the Brila audio-visual App, which reaches sports lovers at any time and from any location.
On brila.net, you will access trending local and international sports news, live scores, sports radio, lifestyle, betting tips, etc.
Its Sports radio channel, Brila FM, 88.9 FM, has branches in Abuja, Onitsha, and Kaduna, Nigeria.
They also have an online TV on YouTube and Google Plus. You can be sure of amazing content for all football lovers.
3. Completesportsnigeria.com
If you want the latest news on all sports in Nigeria, completesportsnigeria.com is an excellent place to access that. It is also the number one sports newspaper in Nigeria. It was first published in December 1995, and according to All Media and Product Survey (AMPS) research (2009), it is the most widely read sports publication in the country.
Complete Sports is published by Complete Communications Limited (CCL), the oldest sports publishing group in Nigeria, established in 1984 and incorporated in 1987.
Visit the site on completesports.com to be inspired and informed.
4. Sportinglife.ng
Sportinglife.ng is one of your foremost choices for football information, analysis and real-time sports news. Sporting Life is devoted to innovatively reporting sports. Sporting Life is run by Vintage Press Limited and feeds a team of experienced journalists and analysts.
The blog covers local, national, and international sporting events and information.
5. Owngoalnigeria.com
Owngoalnigeria.com is a site specially dedicated to local football news in Nigeria. They report the latest news in the Nigerian domestic league and Nigerian football in general.
Owngoalnigeria was established in January 2016.
Their unique breaking news and football reviews make them outstanding for football lovers.
Must Read: Meaning of White Card in Football
6. Soccernet.com.ng
Soccernet.com.ng writes and reports trending football stories from Nigeria and all over the world. They were the deserved winner of the 2014 Sports Blog of the year at the Nigerian Blog Awards.
Their key content focus is on Nigerian football news. In addition to that, they receive visitors from over 150 countries, including the UK, USA, Canada, Portugal, Spain, etc.
7. Kickoffnigeria.com
Kickoffnigeria.com provides you with the latest Nigeria sports news. You will have access to an abundance of information on football news, league tables, fixtures, results, statistics, and online games on the site.
8. Footballlive.ng
Footballlive.ng is rich in the Latest Nigeria Football News, the latest information on the Super Eagles and Nigeria footballers abroad.
They are purely Nigerian, as they cover Nigerian Football Federation news and the Nigerian Professional Football League.
9. Allnigeriasoccer.com
Any news on the Nigerian football transfer market and Nigerian players playing abroad are available on allnigeriasoccer.com
The blog is one of the few African publications regularly cited by the leading European Sports Media, including Marca, Tipsbladet, Sports Express, and Fanatik. They began their services in the year 2010
10. Scorenigeria.com.ng
Samm Audu owns scorenigeria.com.ng. They bring you the most up-to-date Nigerian football news, gossip, intrigues, celebrity lifestyle, and behind-the-scenes gist.
What's your take on this? Let us know how helpful this post is to do. Don't forget to share this information with your friends.
Recommended:
Reliable Websites to Stream College Football for Free