Are you wondering how to cancel your HelloFresh subscription? Today we will show you all it takes to cancel a HelloFresh subscription. But first, what is a HelloFresh?
What Is HelloFresh?

HelloFresh is a meal kit delivery service. Those who sign up will receive weekly boxes containing pre-portioned ingredients for various recipes.
Customers in the United States can receive ingredients for two or four servings or chef-created recipes they can prepare at home, depending on their preference. In addition, you'll find pre-portioned freezer packs, recipe cards, nutritional facts, and the ingredients themselves.
HelloFresh's greatest feature is that it simplifies meal planning for subscribers. People no longer have to spend hours in the supermarket or on the internet searching for recipes to prepare a meal.
Every week, they get everything they need, all refrigerated. They also receive the exact number of servings required to prepare the meal. That way, you can be sure that the food is cooked properly. Additionally, it saves time by not having to measure each ingredient. Moreover, this reduces the amount of food thrown away, which is good.
HelloFesh is a subscription box service ideal for people who want to take care of meal planning so they don't waste time deciding what to cook.
Even if you like HelloFresh, you might want to cancel your subscription at some point. However, it may be difficult to figure out how to cancel HelloFresh. That is why we have compiled a list of all the steps you must take. Continue reading to learn more!
How to Cancel Your HelloFresh Subscription.
By following the correct steps, you can cancel the subscription. If an order is on its way, you must cancel your subscription by 11:59 p.m. PST on the fifth day before the order arrives. You'll be charged for everything you get if you don't.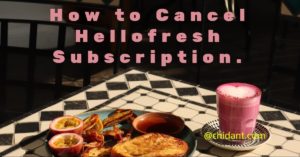 If you haven't done so, go to the HelloFresh site and log in.
Once you've logged in, check the upper right-hand corner for the password reset link. You'll see it right there. It's there.
Then select "Account Settings" from the drop-down menu that appears.
Make your way to the bottom of the Plan Preferences page by scrolling down. Go to "Cancel Plan" when you get there.
If you decide to cancel your subscription, a warning message will appear as a pop-up. However, you've already gone through the cancellation process, so click "Cancel Anyway."
To terminate your account, you must provide a reason. You'll see a selection of options on your screen; select the one that best suits your needs.
Click "Cancel Anyway" and then follow the on-screen instructions.
After you've done these things and closed your account, the message will appear on your screen. On your screen, you'll be able to see the final delivery date.
OR
You can cancel your subscription at any time. Still, you must do so by Tuesday at midnight, the week before your next delivery is due, to avoid automatically renewing your subscription.
As a self-managed rolling subscription service, you can skip any number of weeks. For more information on skipping deliveries, please visit this page.
All you have to do is go to your login page and follow these simple instructions:
To access your HelloFresh account, please click here.
You can access your account settings by clicking on your name at the top right of the page.
'Stop my deliveries' can be found in the 'Plan Settings' section.
After completing the steps, you're all set! Be sure to note why you've decided to discontinue delivery.
To help us improve our service, you can leave us a review.
If your last delivery day is the following Tuesday, the week before your delivery, double-check.
Please save the email that confirms your cancellation for your records.
(Make sure to make any necessary changes the Tuesday before your order is due at 11:59 p.m.)
Advantages and Features of HelloFresh.
HelloFresh is an excellent resource for those looking to improve their culinary skills and perhaps even try out new recipes.
A variety of meal plans are included in the subscription, all of which can be customized to meet the subscriber's needs. For each recipe, you can choose between making enough for two people or four. Subscribers can change their subscription plan or suspend or cancel service at any time.
The subscription service typically charges $9 per serving, plus a $10 shipping fee, for the boxes they send out. If you have a larger plan, you may only have to pay $7.49 in some cases. In addition, there are no additional fees because there is no charge to join. To entice new customers, a promotion currently offers 14 free meals to those who sign up for the service.
As a bonus, HelloFresh offers healthy meal options. For example, Calorie Smart meals are designed for people who track their daily calorie intake. Dietitians from across the country work with the service to ensure the meals are of the highest quality.
However, it's important to know that this establishment does not need specific dietary needs, such as keto, paleo, vegan, or gluten-free meals. You'll need to adjust the recipes if you fall into these categories. Each recipe you receive comes with a detailed nutritional breakdown.
How to Change a Hellofresh Subscription
Having the wrong meal plan could be why you're unhappy with your HelloFresh subscription. As a result, you may be hesitant to end your subscription. When you make an account, your meal plan isn't set in stone, so you can always change it if necessary.
Logging into your account and visiting the customer profile page will let you alter your subscription settings. As a result, the number of meals you receive each week can be adjusted.
Other than that, you can alter the type of recipes you receive and the number of servings included in each recipe.
A Guide to Cancelling a Hellofresh Subscription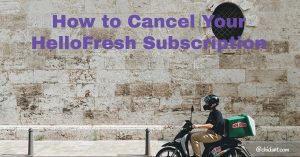 If you don't want to switch plans or cancel your subscription, skip the next delivery to avoid being charged for a week. You'll have plenty of time to decide on your subscription. In addition, it gives you a chance to think about how many servings you'll need and what type of recipes you'll get.
To skip orders, follow these steps:
Keep in mind that you need to be a member of HelloFresh. Then click "My Menu" on the account page.
Select the delivery day from the drop-down menu if you want to skip a week.
Select "Edit Delivery" at the top of the menu.
You'll be presented with a variety of options on the screen. "Skip this week" is an option.
That's how to cancel your HelloFresh Subscription. I hope you found this article helpful. Do well to share this post with others. Thank you.
Recommended:
How to Cancel Cerebral Subscription
Direct Express Pending Deposit | How to Track and Rectify Issue