Almost all social media platforms allow users to report that an account belongs to a deceased person, but these options are not widely publicized.
Facebook has a robust memorialization process that allows users to manage their accounts for such.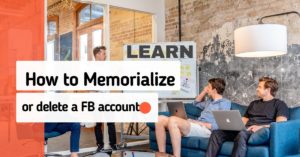 In a press release in 2015, Facebook announced that users would be able to name a "legacy contact." A legacy contact is someone responsible for managing your account after you die.
Facebook Account Legacy Contact
As we said, A legacy contact is someone who is in charge of your account after you pass away. You choose the fellow.
The legacy contact can memorialize accounts and make critical decisions about the account.
They have the ability to delete accounts completely .
Users can, however, specify whether they want their accounts memorialized or deleted after they die, and a legacy contact must follow those instructions.
Capabilities of a legal contact – What a legacy contact can do
Write a pinned post for your profile (e.g., share a final message on your behalf or provide information about a memorial service).

View posts, even if you had set your privacy to Only me.

Decide who can see and who can post tributes if the memorialized account has an area for tributes.

Delete tribute posts.

Change who can see posts that you're tagged in.

Remove tags of you that someone else has posted.

Respond to new friend requests (e.g., old friends or family members who weren't yet on Facebook). Note: if you were added as a legacy contact after your loved one passed away, you won't be able to respond to new friend requests.

Update your profile picture and cover photo.

Request the removal of your account.

Turn off the requirement to review posts and tags before they appear in the tributes section if you had timeline review turned on.
Download a copy of what you've shared on Facebook if you have this feature turned on.
What a legacy contact cannot do
The legacy contact cannot:
Log in to your account.

Read your messages.

Remove any of your friends or make new friend requests.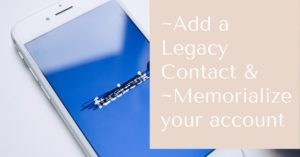 How can you add, change or remove a legacy contact
You can add, change or remove your legacy contact in your Facebook account's general settings at any time.
Click  in the top right of Facebook.
Select Settings & privacy,
Then click Settings.
Click Memorialisation settings.
Type in a friend's name in Choose a friend
Then click Add.
To let your friend know they're now your legacy contact, click Send.
To change or remove a legacy contact, follow steps 1-3 above, then click Remove.
From there, you can add a new legacy contact if you'd like.
If your account is memorialized, your legacy contact will be notified.
Note: You must be aged 18 or over to select a legacy contact.
Read Best Condolence Messages here.
Facebook Account Memorialization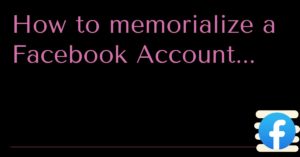 Memorialized accounts are a place for friends and family to gather and share memories after a person has passed away.
Memorializing an account also helps keep it secure by preventing anyone from logging in to it.
Facebook only memorializes an account for someone late if a family member or close friend informs them.
To memorialize a Facebook account, send a request that includes the deceased's name, date of death, and proof of death, such as an obituary or death certificate.
What happens to a memorialized account?
If you don't choose to permanently delete your account, it will be memorialized if Facebook is informed of your call to glory.
Features of memorialized account
 Memorialized accounts have the following key features:
The word Remembering will be shown next to the person's name on their profile.

Depending on the privacy settings of the account, friends can share memories on the memorialized timeline.

Content the person shared (e.g., photos, posts) stays on Facebook and is visible on Facebook to the audience it was shared with.

Memorialized profiles don't appear in public spaces, such as in suggestions for People you may know, ads or birthday reminders.

No one can log in to a memorialized account.

Memorialized accounts that don't have a legacy contact can't be changed.

Pages with a sole admin whose account was memorialized will be removed from Facebook if they receive a valid memorialization request.
Deleting your account when you pass away
You can choose to have your account permanently deleted should you pass away.
This means that when someone informs Facebook of your demise, all of your messages, photos, posts, comments, reactions and info will be immediately and permanently removed from Facebook.
How to request deleting of account
To request that your account be deleted after your death, follow these simple steps:
Log in to your Facebook account
Click  in the top right of Facebook.
Select Settings & Privacy,
Then click Settings.
Click Memorialisation settings.
Scroll down, click Request that your account be deleted after you pass away and finally,
Click Delete after death.
To request memorialization for a profile,  contact Facebook here and feel the form provided through that link.
How do you request the removal of a family member's Facebook Account?
Verified immediate family members may request the removal of a loved one's account from Facebook.
The fastest way to process the request for an account removal is for you to provide a scan or photo of your loved one's death certificate.
If you don't have a death certificate for your loved one, you'll need to provide proof of authority as well as proof that your loved one has died.
Documents accepted as proof of authority.
Submit one of the following acceptable documents to provide proof of authority:
Power of attorney.

Birth certificate.

Last will and testament.

Estate letter.
Documents to show that someone is deceased
In order to prove that your loved one has passed away, submit one of the two documents below :
Obituary.

Memorial card.
Note that:
The information on the documentation you provide must match the information on your loved one's account.

You may need to cover any personal information that is not necessary (like social security number) when submitting documentation.
How to request contents from the Facebook Account of a deceased person
The content that the person shared (e.g., photos, posts) remains on Facebook after the account has been memorialized and is visible to the audience with whom it was shared.
If the account holder designated a legacy contact, the legacy contact has control over who can post and view tributes on the memorialized account.
Requests for additional account information or content are only considered in exceptional circumstances by Facebook.
You'll need to show proof of your status as an authorized representative (e.g., a, family member) as well as a court order.