Facebook Ad Account Disabled for Unusual Activity – what does it mean?
Facebook can disable your ad account. If you fall victim, you receive a red notification from Facebook that looks thus:
Your ad account has been flagged for policy voilations. any ads you're running have been turned off. If you believe this is a mistake please contact us.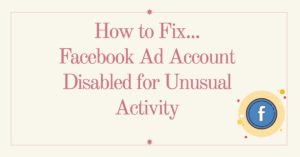 Read on to find out how to fix your Facebook ad account disabled for unusual activity issues.
Why was my ad account disabled?
Your Facebook ad account will be flagged off for the following reason:
High negative feedback percentages.
Not following Facebook's Advertising Policies Or Terms of Service.
High negative feedback percentages
Those who got to see your ad can report any of the following negatives feedbacks:
They could hide the single ad,
Hide all posts from your Facebook page,
Unlike your Facebook page and/or
Report the ad content as spam.
When the percentage of negative feedback compared to the overall number of ad impressions starts to rise, you are in danger of having your ad account flagged.
Read Also: How to Recover a Hacked Facebook Account With a New Email
Not following Facebook's Advertising Policies Or Terms of Service
To help keep Facebook safe and ensure positive experiences between people and businesses, Facebook reviews ad accounts to check for violations of their Advertising Policies and Terms of Service.
Make sure you check out the Facebook Advertising policy here: web.facebook.com/policies/ads?_rdc=1&_rdr
and the Facebook Terms of Service here: web.facebook.com/legal/terms?_rdc=1&_rdr
Ad accounts that do not comply with these policies and terms may be disabled. The reason could be:
Making ads for dating, relationships, or any other website that caters to singles.
Making advertisements for an affiliate marketing program or a third-party advertising opportunity.
Trying to get likes for a page about making money online, working from home, email collection, list building, investing, or finance.
Using a forwarded URL to promote a website.
Using an illegitimate Facebook ads coupon.
Creating a new Facebook account and running ads right away.
Submitting ads on your client's behalf for their page or website.
Using two or more separate accounts to create advertisements for the same page or website in a short period of time.
Having a large number of advertisements recently disapproved from several campaigns.
You can check the status of your ad accounts. Business Manager accounts, commerce accounts, catalogs and Pages in Account Quality, which you can access when signed in to your Facebook account.
Best practices for complying with Facebook Advertising Policies
When creating your ads, keep these four (4) policy requirements in mind:
Promoting products, services, schemes, or offers that use deceptive practices to defraud people of money or personal information falls under this category.

Avoid using sensational language that could be perceived as deceptive, such as ads that overpromise results or fail to disclose risks.

The use of profanity, as well as poor grammar and punctuation, is prohibited in advertisements.
Must Read: How to change receiver's name on MoneyGram transactions.
2. Avoid the use of misleading claims:
Deceptive, false, or misleading content, including deceptive claims, offers, or methods, is not permitted in ads, landing pages, or business practices.

Ads, landing pages, and business practices must not make promises or make claims to cure chronic, incurable, or serious medical conditions or make claims of unrealistic results within specific time frames.
Make sure that your ad includes a functional landing page with relevant messaging that matches the ad content.

The destination URL must not lead people to a site that is under construction or to an error page.

Your landing page should describe the product or service and its features and set realistic expectations around its functionality.
4. Avoid the use of adult content in your ad:
Ads must not contain nudity,

depictions of people in explicit or suggestive positions, or

activities that are overly suggestive or sexually provocative.
If Facebook finds out that your ad account is repeatedly trying to run ads that don't comply with their policies, they determine that the advertiser represents a risk to the platform. Hence the account will be disabled.
What to do if you think that your ad account was disabled by mistake
If your ad account has been disabled, you can visit Account Quality to find more information and request another review.
Note: You must be an admin on the ad account that you wish to appeal.
How to appeal disabled ads account
Visit Account Quality.
Under 'What you can do,' select Request review.
Follow the steps to submit a review.
What to do if your ad account was disabled for Unusual Activity
If your ad account was flagged for unusual activity, in most cases, it is related to your payment method.
You know your account has been disabled because of unusual activity when you receive the Facebook notification below.
Your ads account has recently been flagged because of unusual activity. For security reasons, any ads you're running will be paused until you can confirm your account information by contacting Facebook.
Troubleshoot a disabled ad account due to payment failure
When the payment method you're using to run ads on Facebook fails, your ads are paused until you pay your outstanding balance.
Reasons for Payment Failure
Here are common reasons why failed payments may happen:
There are insufficient funds on your credit or debit card.
You've reached your credit card limit – If you have a limit on your credit card, you can decrease your billing threshold to match this amount.
There's a processing or verification issue with your card
Incorrect bank account information: Ensure that the bank account information (e.g., account number, bank code or bank name) in your payment settings is correct.
How to fix Payment Failures
If the payment method you're using to run ads on Facebook fails, you can try one of these options:
Contact your payment provider for help.

Try to charge your primary payment method again or any other payment method on your account by clicking

Pay Now.
Note: If your ads are paused, you won't receive any additional charges until you pay the amount due.
Check out: How to know who viewed your Instagram story/Highlight
How to fix disabled ad accounts due to unusual activity
Use this appeal form to request an investigation.
Click on the 'CONTACT US' tab to appeal.
On the ads manager page, click on the 'STILL NEED HELP' option for an instant chat with the Facebook support team or submit a form.
Check the e-mail from Facebook notifying you of your ad account being disabled. Follow the instructions contained in the mail to submit an appeal form.
After you submit the form, Facebook will get back to you on how to get your ads account back.
I hope you found this guide helpful.
Don't forget to read the following:
How to Find and Delete Watched Video History On Facebook
How to Memorialize a Facebook Account (2023 Guide)
Facebook Pay | How to Send and Receive Money Via Facebook Messenger (Meta Pay 2023)
100 Endearing New Month Text to Your Girlfriend