The United States boasts of the best technical colleges in the world. Interestingly, these colleges are in Boston, Massachusetts.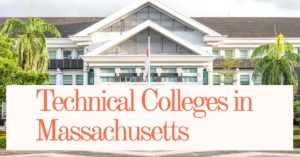 Are you looking for the best technical schools to attend? Then this article is tailor-made for you.
Why technical colleges?
Interestingly, technical colleges in Massachusetts are typically a two-year programme that prepares students to enter the labor force after earning an associate degree.
Also, other options include using courses as credit transferable to four-year universities.
Technical college programmes always combine classroom lessons in theory with practicals of the lessons which the students learn.
What is a technical college?
A technical college is a college that specializes in a specific career field, trade, or profession.
Career options offered include:
How long will it take me to go to a trade school in Massachusetts?
2 years.
Actually, almost all technical colleges in Massachusetts programs can be finished in less than two years.
Meanwhile, getting a degree from a community college normally takes two years, and getting a traditional college degree usually takes at least four years to complete.
However, many students need a fifth or sixth year to get their degrees.
Best Technical Colleges in Massachusetts in 2021
Based on uniRank's ranking of world universities, with data from student surveys, college graduate interviews, and editorial review, we submit the best technical colleges in Massachusetts for your appreciation: