Best Machine Fabrication Companies in Nigeria: In Nigeria, there are numerous machine fabrication companies.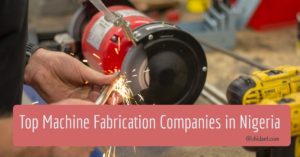 Local machine fabrication refers to the construction and manufacture of machines on a local level. Today, locally manufactured machines compete fiercely with foreign-made machines in Nigeria.
The Federal Government of Nigeria recognized and accredited 50 indigenous machine fabricators in 2017. This added impetus to their fair competition with their foreign counterparts.
Advantages of local machine fabricators over their foreign Counterparts
1. Availability
Local machine fabricators and their wares are easily accessible. There is no need for excessively long wait times due to the importation protocols common with foreign machine fabrications.
2. Affordability
Locally manufactured machines are usually less expensive because they use readily available materials and importation duties are almost non-existent.
3. Easy Access to Repairs and Technical Support.
Repairs and Technical Support are readily available.
Machine Fabrication Companies in Nigeria
The list of the top Nigerian machine manufacturers, their products, and how to get in touch with them is provided below: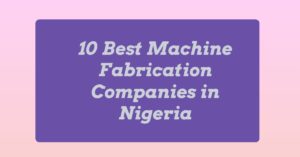 1. Federal Institute of Industrial Research (FIIRO)
FIIRO critical areas of focus are the Design and Fabrication of Equipment prototypes, Research and Development of Food and Agro-Allied Processing Technologies, Research and Development into Pulp and Paper Processing and Research and Development into Packaging and Product Design
The following items are available from the Federal Institute of Industrial Research:
Cassava Chipping Machine
Pelletizer
Cabinet tray dryer
Cassava mash homogenizer
Cassava mash stirrer
Screen separator
Garri fryer
Plantain slicer
Cowpea dehuller
Low-cost extruder
Beniseed air cleaner
Melon sheller
Three-phase Electroplating Rectifier
FIIRO's arc welding equipment
Sesame seed oil expeller
Cassava peeling machine
Cashew nut roaster
Groundnut processing plant.
Contact Address
3, FIIRO Road, Near Cappa Bus Stop
Off Agege Motor Road, Oshodi
P.M.B 21023, Ikeja Lagos
Tel: 07085770494, 08123185766

Emails: info@fiiro.gov.ng  or  enquiry@fiiro.gov.ng

Website: https://www.fiiro.org/index.php
FIIRO Zonal Offices
Abuja Zonal Office
Federal Institute of Industrial Research Oshodi
2, Gashua Close, Area 8 Garki, Abuja
Phone: 08033119923
Kano Zonal Office
Federal Institute of Industrial Research Oshodi
Sharada Industrial Phase 1
P.M.B 3271, Kano
Phone: 08032879554
2. Niji-Lukas Nigeria Limited
Niji-Lukas is one of the top manufacturers of agricultural machinery and agro-processing equipment in Nigeria.
Kolawole Adeniji founded Niji-Lukas in the year 1991 with a mission of designing highly efficient and cost-effective agricultural machinery and agro-processing equipment.
Some of their products include:
Lukas Hydraulic Presser
Lukas Hammer Mill
Lukas Grater
Lukas Automatic Garri Fryer
Hydro-Cyclone
Automated Sieve
Bone Crusher
Contact Address
10 Kufisile Street, Niji Lukas B/Stop, Isheri-Idimu, Lagos State.
3. Project Development Institute (PRODA)
PRODA boasts of being a front-runner in the training, research, and publicity of engineering products, focusing on agro-allied machines. They also have effective partnerships and collaborations with leading frontiers in the engineering sector.
PRODA fabricates the following types of machinery:
Garri production machines and equipment
Cassava chipping machine
Palm produce processing machines and plant setup
Fish feed pelleting machines:
Maize/corn sheller:
Soya bean flour processing machines/plant
Industrial electric dryers
Mechanical kneading machine
Industrial fruit juice extractor
Contact Address
Emene Industrial Layout, off Enugu/Abakaliki Expressway, Enugu.

Phone: 08033620332, 07098811745.

Mail address: P. M. B. 01609, Enugu

Email (Information): info@proda-ng.org

Email (Sales): sales@proda-ng.org

Website: proda.gov.ng
4. Starron Nigeria Ltd
Starron Nigeria Ltd is a manufacturer of agricultural, industrial, and allied machines and equipment. They also provide structural construction and installation, general fabrication, engineering services and equipment suppliers, and solar PV installation.
Cassava Processing Machine is one of their manufactured products.
Contact Address
27 Layi Oyekanmi Street, 

Lagos

 Nigeria
Phone number: +234-8106991567
5. Sakilan Engineering Company Limited
Sakilan Engineering Company Ltd manufactures the following products:
Soya bean oil expeller
Nylon selling machine
Garri frying machine
Contact Address
6 Olayinka Street, Itire, Surulere, Lagos State, Nigeria.

Web Address: akinola8.itgo.com
Must Read: Top Real Estate Companies in Nigeria 2023
6. Techo-Quip Nigeria Limited
Techo-Quip is a leading agro-allied equipment manufacturer in Nigeria specializing in the design, manufacturing, installation and maintenance of machines used in harnessing the nation's abundant agriculture, solid minerals, agro-allied and industrial resources.​
The machine fabrication company, Techo-Quip Nigeria Limited, offers the following locally fabricated machines:
Fruit Processing and concentration plant (Mango, Apple, Pineapple, Orange, etc.)
Fruit Juice Powder production machines/plant
Tomato paste production machine/plant
Soya milk plant
Solid mineral processing Machine
Exercise book ruling plant
Briquetting plant
Toilet Roll Plant
Incubator
Cassava derivatives plants
Complete rice production plant
Instant pounded yam Plant
Malting Plant
Palm oil plant
Palm Kernel processing plant
Detergent Powder plant
Liquid Soap production plant
Tablet & Bar soap plant
Insecticides Plant
Body Perfume Plant
Cassava processing machine
Flash Dryer
Cabinet Dryer
Steam tube dryer
Automatic Garri Fryer
Stainless Rasper/Granulator
Hydraulic Presser
Chipping Machine
Sifter
Pulverizer
Briquetting plant (Sawdust Compressor)
Interlocking Bricks Machine
Foam Plant
Contacts
Address: 14-16 olushola Ikare Street, Alake Bus-Stop, Ikotun-Idimu, Lagos. Nigeria.

Telephone: (+234) 0802 290 4222

Fax: (+234) 0803 629 2557

Email: info@techoquipltd.com

Website: techoquipltd.com
7. Nigeria Machine Tools Limited
Nigeria Machine Tools Limited (NMT) is undoubtedly one of the top indigenous machine tool manufacturers in Nigeria.
NMT was founded in 1980 to manufacture and distribute high-integrity machine tools and other engineering products and spares designed to serve the project, operation and maintenance needs of various industries.
They manufacture and assemble the following equipment:
Tractors

4 x 4 Special Utility Tractors
55 HP Tractors – BULL 55

Implements
Tipping Trailers
Disc Harrows
Disc Plough
Ridgers

Machine Tools
Lathe Machines (260mm Centre Height, 1000mm / 1500mm Between Centres)
Milling Machines (Vertical and Horizontal Type)
Drilling Machines (Bench, Pillar and Radial Type)
Pedestal Grinding Machines
Wood Working Machines (Circular and Band Sawing, Wood Planing Machine)
Contact Details
Head Office: 1 Taofeek Lawal Street, off Raymond Njoku Street, South West Ikoyi, Lagos State

Factory Address: Km 8, Ikirun Road, Oshogbo, Osun State, Nigeria.

Phone No: +234 1 461 5433 / +234 812 993 0684 /+234 812 993 0550 / +234 812 993 0664

Fax: +234 1 461 5432

Email: info@nigeriamachinetools.com

Website: nigeriamachinetools.com
8. S. Adiss Agricultural Engineering Limited
S. Adiss Agricultural Engineering Limited is one of the top-notch local machine fabricators in Nigeria. Operating since 1979, they are producers of machines and equipment for agriculture.
They offer the following products:
Animal Feed Processing Machines
Fish Pellets Processing Machines
Cassava Processing Machines
Chicken Processing Machines
Palm Kernel Oil Processing Machines
Grain Processing Machines
Rice Processing Machines
Palm Oil Processing Machines
Soap Processing Machines
Soya Beans Processing Machine
Soap Processing Machines
Soya Beans Processing Machines
Contact Information
Factory Address: Km 10, along Ibadan-Lalupon road, Oganla Village, Ibadan, Oyo state, Nigeria.

Phone: 234-80-2350 4754 & 234-80-3410 2920

Email address: info@sadissengineering.com

Website: sadissengineering.com
9. Nova Technologies Limited
Locally fabricated machines manufactured by Nova Technologies Limited include:
Palm Oil Processing Machines
Multi-Grain Thresher
Fish Smoking Kiln
Manual Maize Sheller
Shea Butter Production Plant
Soybean Thresher
Stainless Steel Detergent Discharge Chutes
Cassava Processing Machines
Livestock Feed Mill
Batch Dryer
Stainless Steel Fruit Juice Plant
Rice Milling Machine.
Contact:
Factory Address: New Ibadan Oyo Expressway, opposite PW yard, Akinleye, Ibadan, Nigeria.

Phone: +234 (0) 705577046, +234 (0) 8055301422, +234 (0)8052816610

Email address: HR@novatechnologies.com; info@novatechltd.com; novatechng@gmail.com

Website: novatechnologies.com
10. Eldorado Nigeria Limited
They are a machine tool company focusing primarily on civil and construction projects based in Lagos, Nigeria.
Among their products and services are Trailers, Fuel Tankers, Tank Farms, and Grain silos.
Contact Address: 27, Henry Carr Street, Ikeja, Lagos, Nigeria.
Phone: +234 1 790 3288
Here we have it – the list of the top 10 local machine fabrication companies in Nigeria.
Do you know any other not covered above? Let us know in the comment section.
Recommended: