Top real estate companies in Nigeria must read!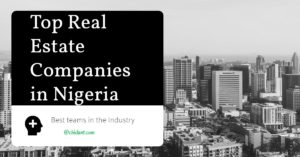 Real estate is one of the fastest-growing and profitable businesses in Nigeria. It involves the following subcategories: buying and reselling landed properties, residential apartments, development of hotels, shopping malls, school hostels for students, events and conference halls, etc.
What is Real Estate?
The term "real estate" refers to the land and any permanent improvements to the land, whether natural or man-made. Natural attachments as related to real estate are water, trees, minerals, structures, homes, fences, and bridges.
Therefore, real estate is a property that consists of land and buildings, as well as natural resources such as crops, minerals, or water; immovable property of this type; an interest in this item of real property, buildings, or housing in general.
In straightforward terms, real estate is the land, plus any permanent man-made additions, such as houses and other buildings.
Types of Real Estate
We basically have three types of real estate. They are as follows:
i. Residential
This kind of real estate includes flipping houses.
ii. Commercial
This type of real estate involves properties where businesses are located
iii. Industrial
This is the type of property where industrial "behind the scenes" business operations are carried out.
Top Real Estate Companies in Nigeria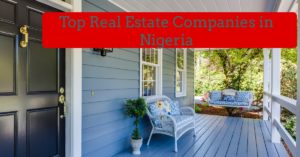 The real estate industry is regarded as a critical industry worldwide, as it plays a crucial role in attracting investment and realigning the economy for long-term growth and development.
That said, some real estate firms are committed to using strategic innovations to solve Nigerians' housing shortage problems.
These firms in Nigeria do not just sell or lease properties; they fulfill dreams and build realities.
So in no particular order, below is a comprehensive list of the real estate companies in Nigeria to consider: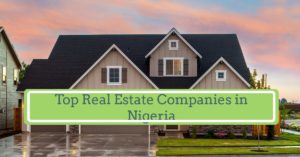 1. Zylus Group International
Zylus Group international is a fast-rising privately owned and internationally recognized organization based in Lagos, Nigeria, with interests in Real Estate, Investment, Human Capital Development, Agriculture, and many more.
Oluwatosin Olatujoye, an astute entrepreneur, heads this firm. Over the years, Zylus Group International has carved a niche for itself in the real estate industry, with over 30 functioning subsidiaries, estates and lands, in strategic and developed areas of different states in Nigeria, including Lagos, Ogun, and Enugu States.
Its head office is located in the heart of Lekki, Lagos State.
Zylus Group International provides top-notch services with professionalism, excellence, integrity, knowledge and tends to the real estate needs of Nigerians with its subsidiary Zylus Homes and Property Limited.
Official website>>> https://zylusgroup.com/
2. Crystal Tee Square
Crystal Tee Square Limited is one of the companies dedicated to real estate development and management, among many other services.
Headquartered in Ikeja, Lagos state, it is known for providing a wide range of services to numerous clients.
Crystal Tee Square provides services in the following areas – property development, property management, estate brokerage, land property sales and renovation.
Connect with Crystal Tee Square by visiting>>> http://www.crystalteesquare.com
3. Jide Taiwo & Co
Jide Taiwo & Co is one of the oldest real estate companies in Nigeria. It was established in 1980 by Jide Taiwo.
This company has over 20 offices across the Country and is still one of the best real estate companies in the Country.
This company offers its services to individuals, corporate organizations, and institutions. They also extend their services to the marine, aviation, and rail industries.
They are also involved in facility and project management and development and are best known for managing complex and large portfolios. That's why they are always patronized by both the private and public sectors.
This company lease and sell properties like hotels, malls, filling stations, residential and commercial assets and many more.
They are located at number 136 Siuari Daramejo Road, Victoria Island, Lagos State, Nigeria.
Official website: https://www.jidetaiwoandco.com/
4. Country Hill
Country Hill is a real estate firm also based in Ikeja, Lagos state. It provides luxury and affordable real estate services with platforms that offer guaranteed returns on investment to clients and partners.
Wale Oshinaike heads the firm. It helps to leverage integrity and resilience for affordable housing for the interests of all stakeholders and society.
Country Hill has estates in Lagos, Oyo and Ogun states.
website>>>> http://www.crystalteesquare.com
5. Cadwell Limited
Cadwell Limited is a firm that has been in the game for over two decades now and is unarguably one of Nigeria's top real estate companies.
A look at the company's project profile reveals that they are primarily involved with high-end clients. Cadwell Limited's passion and drive are real estate development and management, marketing real estate projects, and facility maintenance.
Check out their website for more info: cadwellltd.com/cadwell/
6. Primrose Development Company (PDC)
Primrose Development Company is a property development company whose roots as real estate developers stretch back over thirty years.
Primerose Development Company offers a unique and unprecedented value proposition covering all the core skills and requirements fundamental to the success of a real estate venture.
Official website for information and connection: www.primrosedevco.com
7. Prime Water View Limited
Prime Water View Limited (PWV) has emerged as a significant property development firm in the luxury property development business of the Nigerian real estate market.
The company is focused on developing residential property to a select clientele with an initial focus on highbrow areas in Nigeria's densely populated Lagos State, particularly Ikoyi, Victoria Island and the rapidly developing Lekki peninsula.
Visit Prime Water View Limited at www.primewaterviewng.com
8. Redbrick Homes International Limited
Redbrick Homes International Limited, owners of Amen Estate, is an independent but innovative firm that has attracted some of Nigeria's best construction and real estate professionals.
Their team of architects, builders, realtors, and interior designers is committed to providing clients with ambiance and dignity in estate living.
The firm has created products that blend the gracious architecture of the past with flexible and modern plans appropriate for today.
Website>>> http://redbrickhomes.ng/
9. Adron Homes and Property
Adron Homes and Property is regarded as one of Nigeria's most reliable real estate firms due to its success story in the sector.
They aim to provide housing and project management for every class of society.
The company has estates, lands, and properties in different states of Nigeria, including Lagos, Abuja, Ogun, among others.
Connect with Adron Homes and Property here>>> adronhomesproperties.com
10. Property Link Real Estate Investment
Property Link is an international real estate company based in Dubai, the United Kingdom, etc.
They provide real estate financial and legal advice, sales, rental, management, and development of properties.
Visit www.propertylinkng.com for more about Property Link.
11. Sterling Homes
Sterling Homes is a real estate agency that helps in the building and management of properties.
They offer Lands and Housing Schemes in different areas of Lagos and other States in Nigeria.
Sterling Homes has properties in various areas of Lagos, including Mowe, Lekki, Ijede, Agbowa.
Click here to connect: sterlinghomesltd.com
12. Sales Manreal Estate Limited
They are a customer-focused, results-oriented, and performance-driven real estate marketing firm ready to provide world-class real estate marketing services and product development in Nigeria and beyond.
Find More About Sales Manreal estate Ltd at: https://salesmanrealestate.org/
13. Abode Real Estate
This company is a real estate consultant and agent in Enugu and other major Nigerian cities.
They offer excellent services to all of their customers.
As they say, they are Abode Real Estate, committed to the people and property of Perth's Western suburbs.
They are located at No 77 Chime Avenue, New Haven, Enugu State, Nigeria.
Start your connections with Adobe real estate at: https://www.aboderealestate.com.au/.
14. Adron Homes and Properties Ltd.
Adron Homes and Properties specializes in residential and commercial real estate.
The company's goal is to provide project management and housing for all socioeconomic groups.
Located at No 10 Bode Thomas, Surulere, Lagos State, Nigeria, the company owns over 4,000 acres of land in Shimawa, Abuja, Lekki, Ikorodu, and other locations.
Adron Homes and Properties Ltd also offers special discounts and sales on select properties.
Website>>> https://adronhomesproperties.com/
15. Cappa & D'Alberto Plc
Cappa & D'Alberto Plc is one of Nigeria's, if not the, oldest real estate companies (contractors). It was founded in 1932 and has since provided excellent and quality services to all of its clients.
Cappa & D'Alberto primarily provides construction and civil engineering services. The company has worked on various projects, including churches, apartment buildings, and a variety of others.
Among their many works are:
Surulere National Stadium.
Tafawa Balewa Square
A significant number of well-known churches and cathedrals, as well as numerous other structures.
Location: 72, Campbell St., Lagos, Nigeria.
Official website>>>https://www.capdal.com/
16. Dupine Properties
Dupine Properties is a real estate company that specializes in property development, property valuation, and property buying and selling.
They are located at No 13, Bashorun Akobo Housing Estate, off Esmak Plaza, Akobo, Ibadan, Nigeria.
Visit www.dupineproperties.com for more information.
17. Enugu Lifestyle & Golf City
Estates International and an international network of real estate professionals manage Enugu Lifestyle and Golf City, a real estate company in Enugu.
One of the company's goals is to provide affordable housing to all socioeconomic groups.
They are located at Km 7, Enugu-PortHarcourt Expressway, Enugu, Nigeria.
Website>>> https://www.enugulifestyleandgolfcity.com/
18. Kings Court Realtors
This seasoned real estate firm located in Victoria Island, Lagos, provides excellent services to all customers.
It is one of Lagos's leading real estate companies, specializing in property development, management, leasing, and sales in Nigeria.
They also provide property and facility management services, managing office complexes, shopping centers, and residential portfolios.
Located at: Plot 321A, Akin Ogunlewe St., Victoria Island, Lagos State, Nigeria.
Connect here: https://www.kingscourtrealtors.com/
19. Landmark Corporate Realty Ltd
Landmark Corporate Realty Limited is a real estate investment, development, and construction firm that offers real estate development, estate design and construction, real estate marketing and brokerage, and real estate investment and management.
It is one of the largest real estate investment firms in the Country, with the goal of providing prospective clients with cutting-edge and competitive real estate solutions.
Official website>>>https://lcrng.com/
20. Pazino Engineering & Construction Company Limited
The company (Pazino ECC) has emerged as a significant real estate and engineering construction company in the development business of the Nigerian market.
Pazino Ecc has been consistently ranked among the top real estate consulting firms across Nigeria.
Address: Emperor Estate: Km 34 Lekki-Epe Expressway, Lagos, Ibeju 105101, Lekki
Visit Pazino Ecc's website at https://pazinoecc.com/
21. Property Deal Zone
This company is an online platform that assists real estate companies in advertising their services and properties to potential customers and helping the general public quickly find authentic properties to buy or rent in Nigeria.
Website>>> http://www.propertydealzone.com/
22. Property MAX Results Ltd
The firm is a well-known real estate agency that provides property development, property valuation, renting solutions, and other related services.
They offer one of the most professional, informative, loyal, and dedicated real estate services available. Client satisfaction is their top priority.
Their website is: https://www.propertymaxresultsltd.com/
23. Talion Top Quality Homes
Talion Top Quality Homes strives to provide the best homes for every client.
Whether you are a family looking for a lovely home, a housing group looking to provide housing for your members, or a landowner looking to develop your land, Talion Top Quality Homes is there for you.
Visit their website at: http://taliontopqualityhomes.com/enter/
24. Tobykemsworth Real Estate Managers
Tobykemsworth Real Estate Managers is a Nigerian real estate firm that provides engineering and construction services, real estate management, management and engineering, furniture and fittings, and other related services.
The company's website is: https://tobykemsworthrealestate.com/
25. Eagle's Post Properties
Eagle's Post Properties is Eagle's Post's real estate department, which assists clients in acquiring any apartment in Osun State.
They are located at 17 Omole Estate, Ife, Osun State, Nigeria.
 26. Cortts Real Estate And Property Development Company
This is also one of the best real estate firms in Nigeria, providing solutions for estate valuation, property development, and the buying and selling of houses and landed properties.
They offer professional property marketing, consulting, and development services to clients in the residential and commercial property markets and the public and private sectors.
They are project management professionals with properties primarily in Ikoyi and Victoria Island in Lagos.
However, their services are not limited to Victoria Island and Ikoyi as they also offer real estate consultancy in other parts of the Country.
Visit https://cortts.com/ for more info.
27. Fine and Country
This is a global real estate company and Nigeria's leading real estate firm, offering premium services.
Fine and Country specializes in real estate research, consulting, and analysis.
They work with a diverse clientele base that includes buyers, sellers, developers, and investors, and they provide quality real estate investments.
They have won numerous awards for their outstanding delivery services.
Fine Country's official website is: http://www.fineandcountryng.com/
28. Nuville Realties Ltd
The company is a property developer that provides services for developing and managing high-quality and standard properties.
Nuville Realities Limited is a property development company founded in 2013 by Odeyemi Kolawole to develop and manage properties of the highest quality and standard.
Address: Road 57, House 52 A, Vgc, Lekki, Lagos, Nigeria.
Website: https://nuvillerealties.estateagentsng.com/
29. Okolex Nigeria Ltd
This company provides real estate management and property sales in Rivers State, Imo state and other parts of Nigeria.
Website>>> https://www.okolexproperties.com/
30. Entrecom Homes Limited
The company provides safe, verified, and secured real estate contracts for individuals and corporate organizations through estate land and ready-made houses.
The company also provides asset management, asset valuation, facility management, and other related services.
Entrecom Homes Ltd is located at Hop Number 10, Timeline Bazaar, Along Funaab Rd., Off Sanyaolu St., Camp, Abeokuta, Ogun State, Nigeria.
Visit their website at: https://entrecom-homes.propertyindex.com.ng/
31. Jos Property Finder
The company is a real estate firm specializing in the sale of houses and landed properties and the provision of house rental services.
Location: Off Jonah Jang Way, Jos, Plateau, Nigeria.
32. Centhouses
Centhouses is a collection of apartment finders and estate service providers who manage people's property, rent apartments, offices, and shops, and sell properties.
Centhouses is Located at No 9 Ekpiken St. off Musagha, Calabar, Cross River Nigeria.
Read More: Best Hospitality Schools
This comprehensive list of some of the top real estate companies in Nigeria will be handy for anyone looking to buy or own a property in Nigeria.
Our list includes some of the best real estate companies in Lagos, Port Harcourt, Jos, Uyo, Kano, and other Nigerian states that provide excellent service and deliver the best to all of their clients.
We will like to have you share your view on how this write-up has been of help to you or any other real estate company we missed. Please, use the comment section. Thank you.
Related:
Top Travel Insurance Companies in Nigeria