List of Health NGOs in Nigeria. You have likely heard the term NGO, but many people do not understand the full meaning of the acronym, let alone the meaning or function of the text.
So today, we shall discuss the meaning of NGO and its functions, as well as the List of Health NGOs in Nigeria.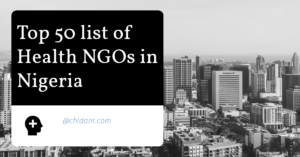 Meaning and functions of NGOs in Nigeria
To begin with, the term "NGO" is an acronym for "Non-governmental Organization."
Now emphasizing the NGO's connotative meaning, A non-governmental organization (NGO) is any non-profit, volunteer citizens' group that operates on a local, national, or international scale. It is generally formed to engage in non-profit activities (that is to say, it was not established for profit-making).
It is task-oriented and driven by people who share a common interest. NGOs perform a wide range of service and humanitarian functions, bring citizen concerns to Governments, advocate and monitor policies, and encourage political participation by disseminating information.
Some are centered on specific issues, such as:
Human rights
Agricultural development
Environment or health
Develop communities
Microfinance
Encourage social responsibility
Promote Education
Supporting human welfare
Support the poor, and so on.
However, the function of an NGO in some areas may be, protecting the environment and promoting animal welfare.
In Nigeria, we have both local and international non-governmental organizations. They provide analysis and expertise, act as early warning systems, and aid in the monitoring and implementation international agreements. Their relationship with United Nations (UN) offices and agencies varies depending on their goals, location, and the mandate of a specific institution.
List of Health NGOs in Nigeria and their contact address
So here are 50 lists of some Health NGOs in Nigeria and their contact address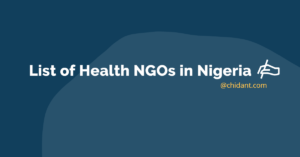 1. Angels Discovery Circle Initiative
This Nigerian non-profit organization provides humanitarian services, scholarship programs, skill acquisition, safety awareness, and rehabilitation.
Contact Information;
Address:
Block 5, Plot 8-10, Jajo Estate, Off Ijede Road, Po BoxEmail, Ikorodu, Lagos, Nigeria.
Email:
Phone:
+234(0)8098282464
Website: http://adcinitiative.org/
2. Sought After Women and Children Foundation
In Nigeria, this is a registered non-governmental organization dedicated to ministering to abused women and abandoned children.
Rehabilitation programs, orphanage homes, and outreach to other NGOs and homes are among their activities.
Shelter for children, Empowering women, Saving a family, and Education for children are some services provided.
Contact Information:
Sought After Children Orphanage Home of Sharon (Women Rehab) No 17 Balee Close, Off Balee Street, No.14 Obatarhe Ojoboh Street,
Owode Bus stop, Owode-Langbasa, Idowu Estate, Oke Ira, Ajah, Lekki, Lagos Lekki, Lagos.
Email: swcf@soughtafterfoundation.org carol@soughtafterfoundation.org carol@soughtafterfoundation.org femi@soughtafterfoundation.org silver@soughtafterfoundation.org
Website: http://soughtafterfoundation.org/
3. Association for Reproductive and Family Health
This is Nigeria's leading indigenous non-governmental organization dedicated to improving the quality of life of underserved and vulnerable communities by promoting access to quality health care and building community capacity for long-term development.
HEAD OFFICE
ARFH HOUSE, Plot 815A, Army Officers' Mess Road, Near Ikolaba Grammar School, Agodi G.R.A., Ikolaba, Ibadan. P.O. Box 30259 Secretariat, Ibadan , Oyo State, NiEmail.
Phone:
+234 802 354 2881
Email: info@arfh-ng.org
Website: https://arfh-ng.org/
4. Africa Youth Growth Foundation
This is a non-governmental organization founded with the sole goal of influencing positive change in African youth's economic and social status through effective programs that produce long-term results.
Their activities include migration, democratic governance, and individual, community, and societal development.
Contact Information:
Suite 309, Anbeez Plaza, 15, Ndola Crescent, Wuse Zone 5. Abuja FCT Nigeria
Phone: +234 816 360 3067 | +234 (0) 8109Email6 | 234 (705) (495) (5792)
Email: info@aygf.org
Website: https://www.aygf.org/
5. CLEEN Foundation
This non-governmental organization was founded in collaboration with the government, civil society, and the private sector to promote public safety, security, and accessible justice through empirical research, legislative advocacy, democratic programs, and publication.
Address:
21, Akinsanya Street, Taiwo Bus Stop, Ojodu, Ikeja 100281, Lagos, Nigeria
Tel: +234-8133051024
Website: https://cleen.org/
6. Tender Arts Nigeria
With a focus on art therapy, art education, talent development, community development, and civic engagement, this non-profit organization positively impacts children and youths.
Address:
3, Egbapeju Street,
Lagos, Email
Phone: (234) 8032256759
E-Mail: Info@tenderartsng.org
Website: http://www.tenderartsng.org/
7. Friends of The Environment
This NGO promotes environmental sustainability through advocacy, Education, awareness-raising, and initiatives in renewable energy, waste management, economic empowerment, and gender issues.
Contact Information:
P.O.Box 10627, Lagos, Emilia
Phone: +234-01-453-2526
Email: info@fote.org.ng
Website: https://fote.org.ng/
8. Plan International
This NGO was founded to promote children's rights and gender equality. Their activities include:
-Ensuring that children continue their Education in a secure environment.
-Reducing maternal and child mortality among vulnerable and marginalized women and girls
-Nutritional assistance for mothers and their young children
-Protection of children against violence
-Empowering young people to advocate for their rights and hold leaders accountable.
Contact Information
Address:
No 49, Anthony Enahoro Street
Utako District
AbujaEmailria
Phone: +234-8146981331
Email: Nigeria.CO@plan-international.org
Website: https://plan-international.org/Nigeria
9. Nigerian Heart Foundation
They help to promote heart health, scientific research in cardiovascular health, healthy lifestyles and advocacy on heart issues.
Their Activities include:
AWARENESS
ADVOCACY
PREVENTION
HEART HEALTH PROMOTION
RESEARCH
FUNDRAISING
Website: https://www.nigerianheart.org/
10. Access to Education for Children
This is an NGO that promotes Education for disadvantaged children.
Contact Information:
Address: 63 Road, 53 Victoria Garden City. Lekki, Lagos. Phone: +234 1 4617859
11. Business and Professional Women
This NGO helps in the Provision of Education, training and opportunities to help women achieve economic independence.
Address: Club Arcade, Annex 7, Tafawa Balewa Complex, Onikan, Lagos.
PhoEmail234 1 8920997, 08023372585
Email: info@bpwnigeria.org
Website: www.bpwnigeria.org
12. Women in Management and Business
They help to improve the success rate of female entrepreneurs and increase the proportion of women in senior positions in corporate organizations.
Address: Suite A3, Falomo Shopping Centre, Awolowo Road, Ikoyi, Lagos
PhonEmail4 1 2712521, 0803 5WIMBIZ
E-mail: wimbiz@wimbiz.org
Website: www.wimbiz.org
13. LEAP Africa
To train, equip and empower a cadre of youths for leadership, effectiveness, accountability etc.
Website: www.leapafrica.org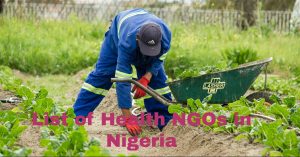 14. Guidance Community Development Foundation
This NGO offers free computer training to children and youth, family support, empowerment, a farmers' forum, and community development.
Contact Information:
Address: 113/175 Bowen University Road, PO Box 32, Iwo, Osun State.
Phone: +234 (0) 80349Email, 08057783260, 08057177719
Email: guidanceforever@yahoo.co.uk
Website: www.gcmf.com
15. Foundation for Skills Development
This NGO was established to empower unemployed persons with vocational & technical skills to become self-employed.
Address 3b Allen Lane, off Allen Avenue, IkejEmailgos.
Phone: +234 1 8198108
Email: foundationforskillsdevt@yahoo.com
Website: www.foundationforskillsdevelopment.com
16. Breast Cancer Association of Nigeria (BRECAN)
This organization is bent on helping women with breast cancer
Address: 221 Obafemi Awolowo Way, Oke-Ado, G.P.O. Box 1816, Ibadan, Oyo State
PhoEmail234 2 2316800, 08033331211
Email: feedback@brecan.org
Website: www.brecan.org
17. African Sports Support & Education Trust
This organization helps promote the Education of sportspeople and supports aged retired sportspeople.
Website: www.asset-ng.org
18. The Courage Education Foundation
This non-profit organization is committed to empowering Nigerian children by providing high-quality Education. It was established to provide educational assistance to bright children imprisoned by poverty.
Address:
Water Corporation Road Off Ligali Ayorinde Victoria Island, Lagos Nigeria.
Phone:+234.808.895.6162
Email:Info@trinityhouseng.org
Website: https://www.trinityhouseng.org/ngos/
19. Mentally Aware Nigeria Initiative
This was established to fight stigma and create an environment that allows people to seek care for their mental health without fear of discrimination.
Address: 70 Olonode SEmail, Off Alagomeji Yaba Lagos
Email: contact@mentallyaware.org
Phone: +234 8051493163
Website: https://www.mentallyaware.org/
20. New Nigeria Foundation
The New Nigeria Foundation (NNF) is a non-governmental organization that promotes sustainable community development initiatives through public-private partnerships.
Address:
Plot 6, Block 128B, Remi Olowude Way, Off Lekki-Epe Expressway, Opposite TREM Church, Marwa Bus Stop, LEmailPeninsula, Lagos, Nigeria.
Email: contact@nnfng.org
Phone:+234 802 323 1430; +234 808 213 8501
Phone:+234-1-4536925-6
Website: http://nnfng.org/
21. Centre for Law Enforcement Education
This NGO promotes respect for human rights & cooperation between civil society & law enforcement agencies.
Website: www.deen.kabissa.org
22. United Nations of Youth Network Nigeria (UNOY)
Address: c/o United Nations Information CentrEmailKingsway Road Ikoyi, Lagos Email: unoy_nigeria@yahoo.com
23. World Scholarship & Career Helpers
This NGO provides free training for young lads in Computer Studies for poverty eradication.
Address: 18 Karimu Street, Surulere-LEmailhone: +234 (0) 8062685918
E-mail: chris@wscareerhelp.org
Website: www.wscareerhelp.org
24. Action Health Incorporated (AHI)
Address: 17 Lawal Street, Off Oweh Street, Fadeyi, Lagos State.
Phone: +23Email743745; Fax: 234 1 3425496
Email: info@actionhealthinc.org
Website: http://www.actionhealthinc.org
25. Accord For Community Development
Address: Suite T14, Febson Mall, Herbert Macaulay Way, Zone 4, Wuse, Emaila.
Phone: +234 08036554214
Email: accorddev@yahoo.com
26. Africa Citizens Development Foundation
Address: ACDF Secretariat, 12, Samota Falola Street, Off Fadeyi Street, By Obafemi Awolowo Way, Ikeja, Lagos State.
Phone: +234 1 4976225, 811524, 08028352791
Email: info@acdf-assefad.org
Website: http://www.acdf.assefad.org.
27. Actionaid Nigeria
Address: Plot 590, NAIC Building, 2nd Floor, After Bolingo Hotel, P.O.Box, 1890, Garki, Central Business Area, Abuja.
Phone: +234 9 2907868Email880-1; Fax: +234 9 2348482
Email: abuja@actionaid.org
Website: http://www.actionaid.org/nigeria
Other lists of NGOs in Nigeria
Enterprise Development Services (EDS)
Council of Nigerian People and Organizations
Young Prevailers Club
Ajegunle Community Partners for Health (AJCPH)
Alcohol Prevention Youth Initiative
AIDS Alliance in Nigeria
Best Foundation Community Child Education
Better Life Foundation
Better Life World Foundation
Breastfeeding Promotion and Counselling Group (BPCG)
Care for Youth Future Initiative
Center for Education on Population, AIDS and Drug Abuse
Destitute Careers and Rehabilitation Center of Nigeria
Diaspora Africa Association & Services
EarthRights Environmental Network Initiative
Faith Alive Foundation
Family Health and Population Action Committee
Gender and Child Care Advancement Initiative
Global Community Health Foundation
Healthcare Essentials for the Disadvantaged Foundation
Health Initiatives for Safety and Stability in Africa
Campaign Against Spread of AIDS
Farmers Development Union
Also, read>><>> Money-Saving Tips You Must Master in Life
Conclusion
The NGOs listed in this article are not all of the NGOs in Nigeria because numerous NGOs in Nigeria have been established to address the country's growing problems.
I hope this article on the list of health NGOs in Nigeria was helpful. You can drop a comment in the comment section below.