Are you looking for an excellent medical school? I have carefully researched the best medical schools in Arizona… just for you.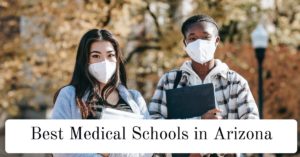 To put this narrative in perspective, a medical school is a faculty of a university in which medicine is studied.
Without a doubt, people conclude that studying medicine is a complex business. May I say to you that choosing an excellent medical school can be harder!
No need to fret. The best medical schools in Arizona are summarised below. This is to enable you to make an easy choice. Keep reading to find out the best medical schools in Arizona.
Factors to consider when choosing the right medical school
Three common factors to consider when choosing the right college are:
Rank,
Exam pass rates, and
Residency matching.
It would be best to remember that the proper medical college must have a stellar curriculum incorporating the most cutting-edge learning models to train the next generation of physicians expertly.
They should also provide ample opportunities for their students to gain experience and hone the skills necessary to become exceptional doctors, focusing on patient care and serving communities and populations that healthcare providers have previously overlooked.
The colleges (best medical schools in Arizona) recommended in this study meet the above criteria.
The State of Arizona – Best Medical Schools in Arizona
Arizona is well-known in popular culture for its geography, weather, and status as the sixth-largest State in the United States.
Unlike California and the Northeastern states, Arizona is not known for its educational institutions.
However, it turns out that it is home to a few nationally recognized medical schools.
As a result, Arizona offers a diverse environment to pursue a career in medicine.
This diverse State, which has a large Hispanic and Native American population, provides opportunities to practice in various settings.
The demand for healthcare providers in Arizona is increasing due to the State's numerous fast-growing areas.
Arizona also has its own set of challenges, such as a shortage of healthcare providers in rural areas, so students interested in working in underserved areas may find Arizona to be the ideal fit!
Arizona should be on the minds of many prospective medical students, thanks to its beautiful scenery and top five best medical schools.
Top 5 Best Medical Schools in Arizona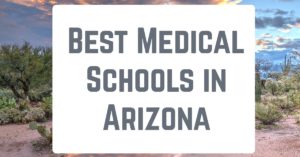 Let us, therefore, look into the top five best medical schools in Arizona.
All schools have nationally recognized programs in critical areas of the health profession, such as primary care and research.
They are ranked according to their position on the US News Medical School rankings.
This article looks at each school and what it has to offer the aspiring healthcare provider to get a better sense of the subject matter.
1. University of Arizona College of Medicine (Tucson, AZ)
The University of Arizona College of Medicine is one of the best medical schools in Arizona.
It ranks within the top 100 medical schools for research and primary care and graduates practicing in primary care fields and serving rural areas.
Admission into the College of Medicine is very competitive.
The college has an excellent curriculum and takes pride in providing a progressive MD curriculum that trains highly skilled physicians who make significant advances in the field.
Clinical training begins early and is interspersed with fundamental science lessons.
Students take core science courses, a Clinical Reasoning Course, and a Doctor/Patient and Societies Course during the "Preclerkship Phase."
This is followed by a year of clerkship courses, culminating in a "residency phase." Students take courses to prepare them for residencies.
The 4-year-long longitudinal course that allows MD students to research with a faculty member on a topic of interest is one of the curriculum's unique components. This Scholarly Project is an essential requirement for all students.
Over 70 residency and fellowship programs in all primary and subspecialty areas of medicine are sponsored by the College of Medicine. This includes two out-of-the-ordinary clinical fellowships in Acute Care and Gastrointestinal Pathology.
For a Full List of the University Programs, Click HERE.
2. Mayo Clinic Alix School of Medicine (Phoenix, AZ and Scottsdale, AZ)
When it comes to world-class care and medical research, the Mayo Clinic is already a trusted brand.
The Mayo Clinic Alix School of Medicine is a world-class institution for those interested in pursuing a career in medicine. Admission to the MD program is highly competitive, with acceptance rates circling around 2% each year.
Click HERE for Admission Details and other essential information about the Mayo Clinic School of Medicine!
It is officially harder to get into the Alix School of Medicine than into Harvard Med School!
Its research program has been ranked #11 by US News & World Report, and its primary care program has been ranked #50 among all MD programs in the country.
Check ranking HERE.
Mayo Clinic Alix School of Medicine physicians excel in their disciplines and work to better their communities.
More About Mayo Clinic Alix School of Medicine
Alix is a research university with campuses in Arizona and Florida. Its headquarters are in Rochester, Minnesota. Despite its young age, the Arizona campus has already established a stellar reputation for excellence in more than 65 medical and surgical disciplines.
Students are allowed to work with a large and diverse population at this location, providing them with the experience they need to become exceptional and compassionate medical professionals. This is just one of many opportunities available to them due to their location in one of the country's largest metropolitan areas.
"Lead, Transform, and Heal." That is the motto by which the Alix School of Medicine is defined and shaped. From the start, students are encouraged to make a difference in health care. The curriculum is patient-centered, reinforced by a very high patient-to-student ratio, which is among the highest in the world.
Students are exposed to a combination of classroom instruction and clinical training in clinical integration courses during the first two years. The final two years are spent on required clerkships.
For the Full Curriculum, Click HERE.
3. AT Still University of Health Sciences (Mesa, AZ)
The private medical school, AT Still University of Health Sciences, initially started in Missouri, is a premier program located near Phoenix, with ATuses in Missouri and Arizona.
The school has expertly trained thousands of doctors and other health professionals.
ATSU-ASHS is committed to educating outstanding health professionals. Its program focuses on cutting-edge, evidence-based methods and training practices, preparing future health professionals to provide quality care in an ever-changing and increasingly diverse world.
The school's mission is infused with a strong sense of social responsibility and innovative training approaches. Its mission is to provide high-quality healthcare services to underserved populations such as seniors, people with disabilities, and those who face cultural, economic, or linguistic barriers to healthcare access.
The school has a 100% pass rate on the OT (MS) board certification exam, a 100% pass rate on the Audiology Praxis exam, and a well over 90% pass rate on the other exams OTD (MS) certifications for the health professions.
According to US News & World Report, the school's Audiology and Occupational Therapy programs are among the best in the country, ranking #55 and #US8, respectively.
The Physical Therapy and Physician's Assistant programs are also highly regarded, making ATSU-ASHS one of the best options for any aspiring health professional looking to impact the world positively.
The unparalleled Doctor of Audiology program has a 100% employment and praxis exam passage rate among its graduates, who complete their degrees within the specified time. Audiology faculty are experts primarily focused on training the next generation of audiologists.
ATSU-ASHS admission is highly competitive.
Read More>>> Best Hospitality Schools
4. Midwestern University Arizona College of Osteopathic Medicine (Glendale, AZ)
AZCOM is an excellent choice for anyone interested in pursuing a career in medicine.
The Midwestern University Arizona College of Osteopathic Medicine has received several honors, including:
It is ranked first among schools with graduates working in primary care fields.
Many of its graduates work in rural areas.
It is one of the best medical schools in the country for primary care.
It has a large number of graduates who work in medically underserved areas.
AZCOM is committed to educating exceptional and compassionate physicians. The curriculum and research are student-centered, giving students plenty of hands-on experience and direct patient care.
The first two years are devoted to didactic coursework, supplemented by simulated and standardized patient encounters in a clinical setting.
The last two years are heavily focused on clinical rotations at various sites, with 84 weeks of direct-care training.
Caring faculty members train students, ensuring that they have rewarding careers as compassionate and successful health practitioners. Students receive instruction from fully licensed practitioners.
The Multispecialty Clinic is outfitted with cutting-edge technology designed for patient comfort and care.
5. The University of Arizona, Phoenix College of Medicine (Phoenix, AZ)
Phoenix College of Medicine is an excellent option for medical school. The Phoenix College of Medicine, founded in 2007 as a branch campus of the University of Arizona-Tucson, has grown into a thriving, independent medical school.
Remarkably, the school's students have a 95% pass rate on the COMLEX, a series of three osteopathic licensing examinations.
Furthermore, over 95% of graduates are matched with competitive residencies, with an equal number of graduates offered positions after completing their residencies.
It has cutting-edge facilities, a rigorous curriculum, and an excellent reputation.
Ranking and History of The University of Arizona, Phoenix College of Medicine
The college is ranked among the top 100 medical schools in two critical categories: #53 for graduates working in underserved areas and #100 for graduates working in primary care fields.
The Phoenix College of Medicine is part of the University of Health Sciences, which has a long history of leading biomedical research and health professions education.
Every year, it receives over $200 million in grants and contracts, allowing it to conduct cutting-edge research as well as innovative training and education.
Students receive training at nine different locations across the State. They benefit from the university's collaboration with the State's most prestigious institutions and organizations, such as Phoenix Children's Hospital, Valleywise Health, the Mayo Clinic, and the Phoenix VA Health care system.
This school stands out for many reasons.
The school provides early exposure to real-life patients from diverse populations as part of its innovative Distributive Clinical Model. Students gain clinical experience at one of the world-class biomedical research hub's nine clinical affiliates. These clinics are close to campus.
The Phoenix College of Medicine is committed to future health professionals' holistic training and education, infusing it with an artistic and humanistic bent.
Since its inception in 2014, the Program of Art in Medicine has encouraged medical students to explore human emotions and various perspectives through art through art's creation, appreciation, and analysis of art. The college offers students programs to observe and appreciate modern and traditional art in collaboration with the Phoenix Art Museum.
The Phoenix College of Medicine has a very competitive admissions process. The school receives around 6,000 applications each year, with only about 200 accepted.
For More Information About Phoenix College of Medicine, Click HERE.
Best Medical Schools for Research in Arizona
The following are the best medical schools for research in Arizona (2023 ranking):
University of Arizona–Tucson
A.T. Still University of Health Sciences–Mesa
Midwestern University
University of Arizona–Phoenix
How to get into the medical schools in Arizona: Strategies to increase your admissions odds
The following are recommended strategies to increase your chances of getting admission into any of the best medical schools in Arizona listed above.
1. Take a data-driven approach when determining which Arizona medical schools to apply to
When creating your medical school list, keep the average GPA and MCAT scores of each Arizona medical school in mind. There is a lot of variation in statistics, so make sure your numbers are within a few points of the listed averages before adding them to your list.
Students frequently add reach schools to their lists, reasoning that it won't hurt to apply. However, writing outstanding secondary essays takes time, and if you spend time on applications to schools where your chances of admission are slim, you will be sacrificing time on applications to schools where you have a good chance of admission.
For example, if you have a 3.8 GPA and a 513 MCAT score, you would be a strong candidate for either of the University of Arizona's medical schools. However, unless you have extraordinary extracurricular accomplishments, such as multiple publications, admission to the Mayo Clinic is highly unlikely.
Instead, concentrate on improving your chances at schools where you have a good chance of acceptance.
2. Review each Arizona medical school's mission and demonstrate fit in essays and interviews
Each medical school in Arizona has unique programs, research opportunities, and perspectives on medical practice. In your application, mention how you can contribute to these areas to help you stand out to adcoms.
For example, if you enjoy data and coding, your skills will be in high demand during clinical rotations at the University of Arizona College of Medicine Phoenix. During that time, students can investigate biomedical informatics.
Other than specific programs or opportunities, there are other ways to approach uniqueness. Consider your experiences and how they relate to a school's mission statement or teaching methods.
The core principles of the Mayo Clinic Alix School of Medicine are 'lead, transform, and heal.' How have your experiences matched the Mayo Clinic's philosophy of the physicians it seeks to develop? Have you ever taken the initiative in a healthcare setting? Have you demonstrated your ability to make selfless decisions?
If your extracurricular activities are closely related to the focus of a school, make sure to mention this in secondary applications and during interviews! This is what it means to "demonstrate fit in" at a school.
3. Plan your time according to the number of secondary essays.
Medical schools require primary applications through AMCAS and will send secondary applications after initial screening. As part of these applications, secondary essays are required; but the number varies by school.
Sending out more applications can increase your chances of acceptance to medical school, but it also requires more time to ensure each essay is written to a high standard. When you consider how many essays each school requires, you will be able to better manage your time and plan accordingly.
In practice, it will come down to personal preference. You may want to prioritize applications that require more or fewer essays. What matters is that you plan ahead of time so that each essay is well thought out and clearly written, showcasing your qualifications as a candidate.
Conclusion:
Here you have it – the top 5 Medical Schools in Arizona. We have also itemized the factors to consider when choosing the right medical school and how to increase you odds of admission.
Take advantage of this information and select the best institution for your medical training.
Hit the comment section if you have any inquiries.
Thank you for reading.
Recommended:
Granville College Admission Requirements in Vancouver | Study in Canada
Top 10 Osteopathic medical schools in Nigeria
Technical Colleges in Massachusetts