Top 20 IT Certification Courses in Nigeria: Let us review the top 20 Information Technology IT certification courses in Nigeria.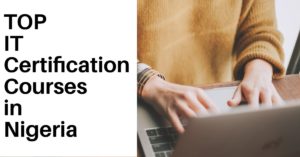 Information Technology offers a lot of opportunities. The Nigerian economy today is skill-based. With these IT skills, you will be sure to boost your chances of employment in Nigeria.
Here are the top 20 IT certification courses in Nigeria and how much they are worth.
IT Certification Courses in Nigeria
The twenty best IT certification courses in Nigeria and how to register for them are: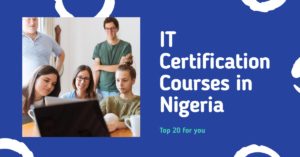 1. ISACA Certification
Information System Control Association, ISACA was created in the year 1967 to solve Information Technology related issues.
As a global association, ISACA serves more than 145,000 members in more than 188 countries worldwide.
Information and technology power today's advances and ISACA empowers IS/IT professionals and enterprises.
ISACA offers different certifications. Six such certificates include:
Certified Information Systems Auditor (CISA) – This is for those who audit, control and monitor assets in an organization.
CyberSecurity Nexus – CSX Certificate and CSXP Certification
Certified Information Security Manager (CISM)
Certified in the Governance of Enterprise IT (CGEIT)
Certified in Risk and Risk System Control (CRISC)
Project Management Institute, PMI Certifications.
Different certifications one can get from PMI are as follows:
Project Management Professionals (PMP)
Portfolio Management Professional (PFMP)
Program Management Professional (PgMP)
Certified Association in Project Management (CAPM)
PMI Professional in Business Analysis (PMI-PBA)
PMI Agile Certified Practitioner (PMI-ACP)
PMI Risk Management Professional (PMI-RMP)
PMI Scheduling Professional (PMI-SP)
Having any of the ISACA certificates tells your employer that you possess the needed experience and knowledge adequate to surmount the challenges of the modern IT world.
Start your ISACA certification journey by signing up at isaca.org
Must Read: Best CCNA Examination Centers (Nigeria and Africa) – 2023
2. Microsoft certifications
Microsoft Certification Courses are the backbone of any organization across industry sectors.
There is an excellent demand for Microsoft-certified professionals worldwide across popular categories such as .NET, Microsoft365, Azure, MS Project, Office, Dynamics, Visual Studio, and more.
Microsoft has certification paths for many technical job roles. Each of these certifications consists of passing a series of exams to earn certification.
To select and start taking any of the Microsoft certification courses, visit docs.microsoft.com/en-us/learn/certifications
3. Certified Information Security Manager
The Certified Information Security Management Programme is hosted by ISACA and was introduced in 2003.
A certificate in this course enables you to manage and develop information security systems in enterprise-level applications and develop the best organizational security practices.
On completion of this training course, you become a strategic enterprise security leader.
A CISM certification proves your expertise in these work-related domains:
Information Security Governance

Information Risk Management

Information Security Program Development and Management

Information Security Incident Management.
To obtain this certification, you will need to write an exam of about four hours that comprised 150 questions. Members of ISACA pay a cost price of $575 for the certification, while non-members pay $760.
For more information about the course and registration details, visit their official website here.
4. Amazon Web Service (AWS) Certified Cloud Practitioner
AWS Certified Cloud Practitioner is intended for anyone who has basic knowledge of the AWS platform. Recommended skills for taking this course:
Six months of exposure to the AWS Cloud
Basic understanding of IT services and their uses in the AWS Cloud platform
Knowledge of core AWS services and use cases, billing and pricing models, security concepts, and how cloud impacts your business
Cloud computing is the on-demand delivery of IT resources over the Internet with pay-as-you-go pricing. Instead of buying, owning, and maintaining physical data centers and servers, you can access technology services, such as computing power, storage, and databases, on an as-needed basis from a cloud provider like Amazon Web Services (AWS).
Start your AWS cloud computing certification at aws.amazon.com/certification/certified-cloud-practitioner.
Other AWS Certifications include: AWS Certified Architect, AWS Certified Developer, AWS Certified SysOps Administrator, AWS Certified Solutions Architect, AWS Certified DevOps Engineer, AWS Big Data, and AWS Certified Advanced Networking.
Must Read: Comprehensive List of AWS Exam Centers in Nigeria (2023 Guide)
5. AWS Certified Solutions Architect
This is one of the best IT certifications in Nigeria. As an Amazon Web Services Solution Architect in Nigeria, you are trained to use your knowledge efficiently to develop applications and software using Amazon Web Services technology.
To get the certificate, you'd be required to take an AWS Certified Solutions Architect – Associate (SAA-C01) exam, and you must have the AWS Certified Cloud Practitioner certification.
Exam overview
6. Certified Information Systems Auditor (CISA)
The CISA certification is issued by ISACA and is for the purpose of auditing control and security.
To qualify for this certificate, you would have to write a 150 questions exam comprising five sections and lasts four hours. The exam tests your general knowledge and procedural skills.
A CISA certification proves your expertise in these work-related domains:
Information Systems Auditing Process

Governance and Management of IT

Information Systems Acquisition, Development and Implementation

Information Systems Operations and System Resilience

Protection of Information Asset.
Get started Here.
7. Certified Information Systems Security Professional (CISSP)
One of Nigeria's best IT certifications is hosted by the International Information Systems Security Certification Consortium. It is an advanced-level certification designed for individuals who want to work as information security professionals.
The CISSP certification will help you advance your cybersecurity career.
Obtaining this certificate can be difficult. It is necessary to have at least five years of relevant work experience in CISSP domains.
CISSP domains include:
Chief Information Security Officer
Chief Information Officer
Director of Security
IT Director/Manager
Security Systems Engineer
Security Analyst
Security Manager
Security Auditor
Security Architect
Security Consultant
Network Architect
A $699 exam is taken for the certification, which can be a three-hour English exam with 100-150 questions or a non-English exam with 250 questions and a six-hour time limit.
For more information about the course and registration, click isc2.org/Certifications/CISSP.
8. Certified in Risk and Information Systems Control (CRISC)
CRISC validates your experience developing a well-defined, agile risk-management program based on best risk identification, analysis, evaluation, assessment, prioritization, and response practices. This improves benefit realization and provides the best value to stakeholders.
Certified individuals can work as information security personnel, security engineers, analysts, or even security architects.
To attain this certification, you are required to sit for the CRISC exam, which is made up of four segments that are
IT Risk Identification
IT Risk Assessment
Risk Response and Mitigation
Risk Control, Monitoring and Reporting
The exam costs $575 for ISACA members and $760 for non-members.
Start your CRISC certification journey at isaca.org/credentialing/crisc
9. Project Management Professional
The Project Management Professional (PMP)® is the world's leading project management certification.
This is a certificate that is recognized by several cooperation in Nigeria for project managers.
This course equips you with the experience, education, skill, and competency required to lead and direct projects.
To become certified, you would need to pass the exam and acquire project management experience. If you have a bachelor's degree, you will need about 4500 hours of project management professional education, and those without a bachelor's degree would need 7500 hours.
The cost of the exam is between $250-$400.
Find out more here.
Additional: Technical Colleges in Massachusetts
10. CompTIA Certification
The computing technology industry Association (CompTIA) is considered around the world as one of the IT industry's top associations. This industry has professionals in more than 120 countries around the world.
CompTIA has four IT certification series that test different knowledge standards – from entry-level to expert.
There are four categories of certification which are: Core, Infrastructure, Cybersecurity and Additional Professional levels.
Courses to learn while pursuing your CompTIA certification include:
Core Level: CompTIA IT Fundamentals, CompTIA A+, CompTIA Network+, CompTIA Security+.
Infrastructure Level: CompTIA Cloud+, CompTIA Linux+ and CompTIA Server+.
Cybersecurity Level: CompTIA CASP, CompTIA PenTest+.
Additional Professional Level: CompTIA Project+, CompTIA CIT+ and CompTIA Cloud Essentials.
Get started with your CompTIA certification at comptia.org/certifications
11. CISCO Certification
The CISCO networking company creates, manufactures, and sells telecommunication materials, networking hardware, and other technological products and services.
CISCO provides various certification categories for interested and qualified individuals. CISCO certification levels include Entry, Associate, Professional, Expert, and Architect, the highest level of a CISCO-accredited career certification program.
For more information, visit cisco.com/c/en/us/training-events/training-certifications/certifications
Read: Professional Certificate Courses in Nigeria
12. Adobe Certification
Adobe offers a wide range of online certification programs to help you take your career to the next level.
Different Adobe certifications include AEM, AEM Asset, AEM Forms, AEM Sites, Advertising Cloud, Analytics, Premiere Pro, Photoshop, Indesign, Illustrator, Dreamweaver, Campaign V6, Audience Manager, and Target standard.
To get started with any of the over 40 Adobe certifications, visit learning.adobe.com/certification
13. Oracle Certifications
Oracle Corporation develops and markets cloud-engineered systems, database software technology and enterprise software.
The Oracle certificate can differentiate you from other competitors at your level. This is a professional certification issued when one has successfully achieved the required study scope and practice and passed the certification examination.
The two different certifications offered by Oracle are Java certification and Databased Certification.
Get started at education.oracle.com/certification
14. Logical Operation Certification
Logical Operation Certification is another certification that could prove very important to your IT career.
Training in logical operations will allow you to expand your portfolio with the latest emerging tech, IT service, and project management certifications.
The list of certifications offered includes but is not limited to: Logical operation big data Essential Bootcamp, Logical Operation Cybersec First Responder (CFR) and Logical Operation Master Mobile Application Developer (MMAD).
For more details, visit logicaloperations.com/solutions/3/certifications
15. EC-Council Certification
The International Council of Electronic Commerce Consultants offers good certification in big IT courses like Penetration Testing and Ethical Hacking.
Here are some of the certificates that this council issues:
Certified Security Computer User
Certified Network Defender (CND)
Certified Ethical Hacker (CEH)
Computer Hacking Forensic Investigator (CHFI)
EC-Council Disaster Recovery Professional
Licensed Penetration Tester (LPT)
Get started at eccouncil.org/programs
16. Health Safety and Environment
HSE 1, 2 and 3 are other important IT certification courses in Nigeria.
Available HSE courses include:
General HSE (Levels 1 and 2)
Advanced HSE (Level 3)
Safe Handling of Chemicals
Conflict Management
Food handling and hygiene
Food Safety Management System
Permit to work
Health and Safety Awareness
Accident Investigation
Behavioural Based Safety.
Get started with any of the professional courses at hsetrain.org/online-training-courses.
You may also try out other certified HSE training centers nationwide.
17. Google Certified Professional Cloud Architect
A Google Certified Professional Cloud Architect is a professional who helps businesses use Google Cloud technologies.
With a strong understanding of cloud architecture and Google Cloud Platform, this Architect can design, develop, and manage robust, secure, scalable, highly available, and dynamic solutions to meet business objectives.
For more information, visit cloud.google.com
18. VMware Certified Professional 6 – Data Center Virtualization (VCP6-DCV)
The VCP-DCV certification validates a candidate's ability to implement, manage, and troubleshoot a vSphere infrastructure using best practices to provide a robust, flexible, and secure foundation for business agility that can accelerate cloud computing transition.
Certification candidates will learn how to deploy, consolidate and administer virtualization technologies, such as vSphere High Availability and Distributed Resource Scheduler clusters.
If you are new to VMware virtualization technology, you'll need to attend one course from an authorized training provider, such as Global Knowledge, and pass two exams: vSphere 6 Foundations and VCP6-DCV.
If you already have a VMware certification, you'll need to complete one of the following exams: VCP6-DCV (2V0-621) or VCP6-DCV Delta (2V0-621D).
For more information, visit vmware.com/education-services/certification/vcp-dcv
19. ITIL® Foundation
Information Technology Infrastructure Library in Nigeria, ITIL® 4  addresses the new processes and methods used in modern IT, such as DevOps, Agile, and Lean IT development.
ITIL Foundation introduces ITIL 4 and examines IT service management from start to finish. The certification confirms knowledge of the ITIL framework and how it can improve IT service management.
You must pass the ITIL exam to obtain this certification; there are no other prerequisites for the Foundation exam. However, it is a prerequisite for subsequent ITIL Intermediate courses.
20. Citrix Certified Associate – Networking (CCA-N)
CCA-N covers the basics of a NetScaler implementation, followed by either a specialization in traffic management or the NetScaler Unified Gateway, including integration with XenDesktop and Xen App.
It also covers how to troubleshoot issues with NetScaler in these areas. Like all Citrix certifications, the CCA-N certification is valid for three years.
NetScaler is a popular piece of infrastructure and is widely used in Citrix deployments. It is also somewhat complex, requiring a solid foundation in basic networking.
To achieve this certification, you must pass one of two exams: Citrix CCA-N 1Y0-230 or Citrix CCA-N 1Y0-240.
For more information, visit click here or here.
Must Read: Top 10 Best Online Universities in Nigeria
List of IT Certifications by Specialty
Here is a list of all the IT certification courses in Nigeria by specialty:
1. Big Data Certifications in Nigeria:
EMC Data Scientist
Cloudera Certified Professional: Data Scientist
Oracle Business Intelligence Certification
Microsoft Certified Systems Engineer: Business
Intelligence (MCSE)
2. Networking Certifications in Nigeria:
Cisco Certified Internetwork Expert (CCIE)
CompTIA Network+
Cisco Certified Networking Associate (CCNA)
Cisco Certified Networking Professional (CCNP)
3. Help Desk Certifications in Nigeria:
Apple Certified Support Professional (ACSP)
ITIL Foundation
CompTIA A+
Windows Server 2016
4. System Administration Certifications in Nigeria:
Linux Professional Institute Certification (LPIC)
CompTIA Server+
VMWare Certified Professional
Red Hat Certified Engineer (RHCE)
Microsoft Certified Solutions Expert (MCSE)
5. Database Certifications in Nigeria
Oracle Certified Professional (OCP)
IBM Info Management Certifications
Microsoft SQL Server Database Certifications
ICCP Certified Data Management Pro (ICCP CDMP)
MongoDB NoSQL Certifications
6. Mobile Developer Certifications in Nigeria:
Android Certified Application Developer
Kony Certified Developer
MTA Developer
IBM Certified Mobile Application Developer
7. Developer Certifications in Nigeria:
C /C++ certifications
Adobe Certified Expert (ACE)
Certified Scrum Developer (CSD)
Cloudera Certified Developer for Apache Hadoop (CCDH)
Amazon Web Services Certified Developer
Oracle Certified Java Certifications (OCP, OCM, and OCE)
Certified Secure Software Lifecycle Professional
Google Apps for Business Certified Deployment Specialists
Microsoft Certified Solutions Developer (MCSD)
Red Hat Certified JBoss Developer (RHCJD)
8. Cloud Certifications in Nigeria:
Microsoft Certified Systems Engineer: Private Cloud (MCSE)
CompTIA Cloud+
Amazon Web Services Certified Solutions Architect
(AWS-CSA)
9. IT Security Certifications in Nigeria:
CompTIA Security+
Certified Ethical Hacker (CEH)
GIAC Security Essentials (GSEC)
Certified Information Systems Security Professional
(CISSP)
Certified Information Security Manager (CISM)
10. IT Project Management Certifications in Nigeria:
Project Management Professional (PMP)
Certified ScrumMaster (CSM)
Certified Associate in Project Management (CAPM)
Conclusion:
With this comprehensive guide, you can now take any IT certification courses in Nigeria and grow your professional relevance.
We implore you to share this information with your family and friends.
Related:
Accredited Bible Colleges in Nigeria
Professional Certificate Courses in Nigeria
National Open University of Nigeria Courses and Requirements