Accredited Bible Colleges in Nigeria – If you are sure that you have a divine calling in your life, then going to an accredited Bible college is a great option.
Ministers of God study in Bible colleges much like medical students, and lawyers study at institutes dedicated to their respective professions.
Not surprisingly, people searching for Bible colleges in Nigeria have always been interested in knowing which colleges have been accredited by the National Universities Commission (NUC) or the country's biblical accreditation authority.
Therefore, in this article, we've provided a comprehensive list of accredited Bible colleges in Nigeria.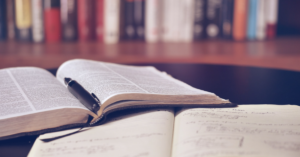 Further, some people equate Bible College with Seminary. Distinct, yet not utterly foreign, distinctions exist. Similarities include a focus on theology, Christian service, and the Bible.
Again, the time it takes to finish a Bible college course depends on the institution and the specific program you're interested in.
Accredited Bible Schools in Nigeria's Eligibility and Requirements
Before enrolling in any Bible school, various prerequisites must be accomplished. Please note some schools may have additional criteria.
Nevertheless, below are the basic requirements needed for you to be eligible to apply to any accredited Bible college:
High School Transcript Request.
ACT or SAT scores (Official).
Reference Form.
Background Check Authorization.
Code of Conduct Form.
A "born again" experience or evidence of good moral character is required of all applicants.
Applicants should have received or desired baptism in the Holy Spirit.
Applicants must be at least 17 years old and hold a high school diploma or equivalent certificate from an authorized secondary school.
Without further ado, below is the list of the best authorized or accredited Bible colleges in Nigeria, including private, government-owned and church-owned institutions.
Accredited Bible Colleges in Nigeria
Established by the Redeemed Christian church in September 1980, the Redeemed Christian Bible college is headed by Pastor E.A. Adeboye, the church's current General Overseer.
Also, this college serves as a dynamic custodian of Christian values, thus upholding integrity in society.
The College is at Km 46, Lagos Ibadan-Expressway, Redemption Camp, Ogun State, Nigeria.
Word of Faith Bible Institute
This ministry/leadership training center, the Word of Faith Bible Institute (WOFBI), operates as a training arm of Living Faith Church Worldwide.
In addition to providing secular education, WOFBI provides deep spiritual enlightenment and mental fortitude for various endeavours.
WOFBI is located at Honour Entrance Gallery, Faith Tabernacle, CanaanLand, Ota, Ogun State, Nigeria.
For the work of the ministry, Bible Life School exists to provide instruction and training in righteousness by eradicating a lack of knowledge about basic biblical ideas and teaching practical biblical wisdom.
Bible Life School is located at Christfield School, Old Poly Quarters, Lokoja, Kogi State, Nigeria.
Another good and accredited Bible college is International Bible Training College (IBTC).
However, it does not ordain or promise employment to people who complete the program; it only prepares them for Christian service.
I.B.T.C. is a private, nonsectarian, coeducational, twelve-month Training Centre for pastors, evangelists, Christian workers, ministers and soul-winners.
I.B.T.C is located at 2–10 Ayodele Oke-Owo Street, Gbagada, Lagos State, Nigeria.
The Late Primate Robert Adedipe M.Th, D.D, founded the Universal Christian Bible College (TUCBC) in 1964.
The school runs programmes and has graduated students in the following levels – Diploma, Bachelor, and Master.
TUCBC has been registered and approved by Nigeria's Corporate Affairs Commission (CAC) for theological and leadership development at the post-secondary, graduate, and post-graduate levels.
TUCBC is located at 20/22 Mohammed Akije Street, Ejigbo Oshodi Isolo, Lagos State, Nigeria.
As a Bible school, RHEMA teaches you to read and understand the Bible. You can grow in your faith and apply it to your life if you know God's Word.
Rhema Nigeria's charter class of just over 100 students opened in October 2010 in Abuja.
Many denominations and Christian groups are represented within the Rhema Nigeria student population, which greatly impacts the country.
Rhema Bible Training Center HQ is located at Plot 570, Ndola Crescent, Opp. Samfa Plaza, Off Michael Okpara Street, Wuse Zone 5, Abuja, Nigeria.
This Bible college is owned and managed by the Gospel Apostolic Church.
It was created to educate and inform men and women of all faiths about the intricacies of the Bible.
Gospel Apostolic Church Bible College is located at 46/48 Ayodele Okeowo Street, Sholuyi, Gbagada, Lagos State, Nigeria.
The Africa Centre for Theological Studies is a school of the Great Commission Movement of Nigeria and West Africa (Campus Crusade for Christ International).
This is where they'll educate you on how to be a global leader, what the gospel means, and how to encourage others to follow Jesus passionately.
This Bible college is located at 40 Town Planning Way, Ilupeju, Lagos State, Nigeria.
On October 26th, 1968, at Forestry road, Benin City, Nigeria, Archbishop Benson Idahosa started what ultimately became the "All Nations For Christ Bible Institute International."
All Nations for Christ Bible Institute International (ANFCBII) currently has an enrolment of over five hundred (500) students studying the Word of God to prepare for life and ministry in the Gospel of our Lord Jesus Christ.
ANFCBII Fulltime Campus: The Provost, ANFCBII, Balm of Gilead City, Benin/Sapele road bypass, Benin City, PMB 0004, Edo State, Nigeria.
ANFCBII Evening Campus: ANFCBII Part-time School, Off Adesuwa Grammar School Road, G.R.A, B.I.U Campus, Benin City, Edo State, Nigeria.
The Baptist College of Theology provides students with cutting-edge, world-class instruction as an evangelical institution dedicated to spiritual formation and theological education.
God-centeredness, Bible-basement, and life application are the conceptual pillars of the higher Christian education given by the Baptist College of Theology.
This Bible college is located at Baptist Model College Way, Agbowa Ikosi, Lagos State, Nigeria.
MOMBI emerged in 1999 from a series of Bible classes conducted in Mount Nissi Crusaders Church (now Christ Apostolic Church of all Nations) by Dr Michael Nissi with only 12 students.
As a distance-learning (Online) Bible college, MOMBI's mission is to teach and demonstrate the supremacy of Jesus Christ above everything.
MOMBI office address is 27 Kadiri Street, Ojo, Lagos State, Nigeria.
The Dominican Institute is an institution of tertiary education established and owned by the Order of Preachers; the Dominican Order; in the Province of St. Joseph the Worker, Nigeria and Ghana.
As a result of the college's adherence to Catholic theology, it is not an interdenominational institution.
Dominican Institute is located at 10 Educational Zone, Samonda, Ibadan, Oyo State, Nigeria.
This is one of Nigeria's evangelical, non-denominational, and free-of-charge bible colleges. They provide sound and qualitative ministerial and leadership training to men and women; so they can serve in ministry and lead effectively.
This Bible institute is located at International Headquarters Okene, P.O. Box 216, Ihima, Kogi State, Nigeria.
Leadership Christian College and Seminary (LCCS) is an OPEN THEOLOGICAL interdenominational institution of higher learning for teaching Bible-related courses. Also, the college was founded in the year 2004.
LCCS prepares students to serve the body of Christ in various capacities through certificates, diplomas, bachelor's degrees, and post-graduate programs.
LCCS is located at 31 Namso Street, Angwar Yelwa, near Goodwill Schools, close to Deeper Life Church HQ, Kaduna State, Nigeria.
Kingdomlife Study Center – Bible School
The Kingdomlife Study Center is a Bible institute that offers biblical courses, and it is a non-denominational Bible college.
This Bible college is located at Gloryland Private School, Off Adeoyo Hospital Road, Ibadan, Oyo State, Nigeria.
Institute of Spiritual Warfare (INSWAR)
This is another accredited Bible institute in Nigeria. It has a reputation for generating pastors that inspire their generation with their spiritual dynamism.
INSWAR is located at 13 Olasimbo Street, Off Olumo Road, Unilag 2nd Gate, Onike, Yaba, Lagos State, Nigeria.
Galilee Bible College and Seminary
Students at Galilee Bible College and Seminary are groomed to become stalwart, God-fearing preachers who will make a difference wherever they go by spreading the gospel.
This Bible college is located at 55 Old-Otta Road, Orile-Agege, Agege, Lagos State, Nigeria.
Christ Redemption Bible College
This bible institution is considered one of the more recent additions to the field of biblical colleges in Nigeria. The Christ Redemption Bible Church owns and manages the college.
This Bible institution is located at 1 Bello Street, Off Oluwalogbon Street, By Ketu Shopping Complex, Ketu, Lagos State, Nigeria.
Institute for Christian Works Bible College and Seminary
The mission of this Bible institution is to train future ministers who will disseminate the good news worldwide and effect positive change within their generation.
This college offers excellent undergraduate and graduate services programs and is well-recognized as one of the most esteemed gender-mixed bible colleges in Nigeria.
This Bible institution is located at 5 Owomide Street, Abule Odu Bus Stop, Egbeda – Idimu Road, Lagos State, Nigeria.
Crem Bible University
Crem Bible University is where you can learn profoundly inspiring truths that will help you find genuine solutions to many of life's unresolved issues and the keys to unlocking your potential and achieving your goals.
This Bible college is located at Plot 9 Flat 8 Efularoja street beside V.k Montessori School, Ori Okuta, Ikorodu, Lagos State, Nigeria.
All Nation Trinity Bible College
This Bible college is a non-denominational and non-segregational Bible college.
All individuals willing to embrace the gift of the holy spirit and follow its lead will find that this Bible college broadens their thinking.
All Nation Trinity Bible College is located in Lagos State, Nigeria.
Abuja Bible College (ABC)
This well-known FCT Bible college aims to train pastors who would instil good values in their congregations and bring a more moral and God-fearing community.
Both full-time and part-time Bible courses are available at the school.
Abuja, the nation's capital, is where you'll find the Abuja Bible College.
Also see: Things to Avoid When Fasting and Praying.
We hope you find this information helpful. Please use any of the share buttons below to share this information.
Feel free to drop any questions or contributions regarding this article in the comment section below.