If you wonder how much you can make with Postmates, here's your answer.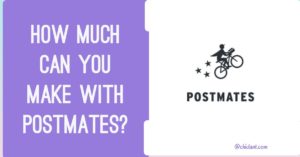 Every delivery order you place will require you to pay a Postmates delivery fee. This flat price will range between $1.99 and $3.99 for Postmates partner retailers. All other merchant orders will be priced between $5.99 and $9.99.
The cost of delivery varies from city to city and store to retailer.
Driving with Postmates is truly rewarding as you will make a lot of money.
How much can you make with Postmates?
What is it like working for Postmates? How does Postmates work? How does Postmates pay you? What it's like to deliver for postmates?
Before we answer these questions, let's define Postmates.
What is Postmates?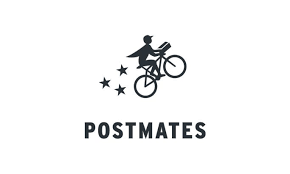 Postmates is an Uber-owned American quick-commerce and food delivery business that locally delivers restaurant-prepared meals and other items.
Furthermore,  it is an on-demand food and goods delivery service that allows consumers to order any food or personal item they want, including groceries and restaurant meals.
The goods will be delivered to the client's home in less than an hour.
It was founded on 1 May 2011 by  Bastian Lehmann, Sean Plaice, and Sam Street. As of today, Postmates operates in over 3,000 U.S. cities.
To get started with Postmates, visit http://postmates.com.
How Much Can You Make With Postmates?
Every delivery order placed on Postmates costs a delivery fee. This flat price will range between $1.99 and $3.99 for Postmates partner retailers.
All other merchant orders will be priced between $5.99 and $9.99.
Driving for Postmates is truly rewarding.
One may ask, can you make good money with postmates?
Yes. Most Postmates drivers earn between $18 and $25 per hour.
The more experienced you are, the better you perform more jobs every hour and take advantage of Postmates' perks.
For example, it is guaranteed that if you make 30 deliveries, you will receive at least $500.
Below is Postmates delivery driver salary scale:
Postmates Delivery Driver Salary
| | Annual Salary | Hourly Wage |
| --- | --- | --- |
| Top Earners | $59,000 | $28 |
| 75th Percentile | $44,000 | $21 |
| Average | $38,089 | $18 |
| 25th Percentile | $27,500 | $13 |
Is postmates worth it?
How does it feel to work at Postmates? You're not alone if you've contemplated working with Postmates and questioned if it's worth it.
Jobs delivering food and other household supplies have become very popular due to their flexibility and quick pay.
My submission is working with Postmates is worth it. May I please explain to you how Postmates work?
Postmates satisfies customers' needs by providing deliveries from almost anywhere in town. They also assist businesses in selling more food without using a full-time delivery person.
However, Postmates and other delivery services have become popular because they have made food delivery simple for drivers.
Drivers are no longer required to approach someone's dark porch with a pocketful of cash. You don't have to deal with cash because everything is done through the app.
There will be no more sitting in a hot pizza kitchen waiting for an order. You'll sit in your car, waiting for an order from one of the dozens of places.
Food delivery apps have made it one of the most flexible jobs available. There isn't even a timetable. You can work any day and any time you want.
How Does Postmates Pay You?
Postmates pays directly to your bank account. All you need to do is set that up through your fleet account in the Postmates app after downloading it from Google Playstore or App Store.
Download Postmates App for Android HERE and iOS Devices HERE.
They pay once a week for any hours you worked from Monday through Sunday of the prior week.
You can also opt for "Instant Pay," which helps you cash out daily if that works better for you. But there's always a charge of $0.50 for each instant payment.
Postmates pays you based on these factors:
For each completed pickup.
For each completed drop-off.
A per minute amount of the time you spend at the pickup location.
A per-mile rate for the distance between the pickup & drop-off locations.
Any blitz bonuses that are in effect when you accept delivery.
The specific rates may be different from city to city,
What's it Like to Deliver for Postmates?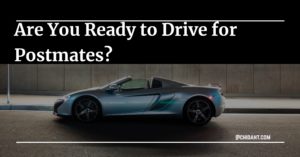 Working for Postmates is better because you decide what jobs you'll take and what pace you want to work.
You might think it'd be easy to slack off with so much freedom, but not necessarily. It can be a huge motivator when you see a direct correlation between your effort and income.
Also, working for Postmates can be as flexible as you want it to be.
Most delivery apps provide a lot of flexibility, but some still require you to enter your work hours in advance. Not so with Postmates.
No worries if you planned to work from 4 to 7 p.m. today, but your babysitter couldn't make it until 5 p.m. Work when you can.
Or, if you had planned to work 6 hours on Saturday but need to leave early, log off and call it a day.
How to Work for Postmates – What Does a Standard Order Look Like?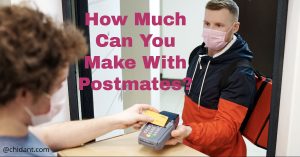 You probably have a good idea of the area you'll be focusing on for deliveries, so here's how your day might begin:
You leave the house with your smartphone, Postmates bag, and possibly some water and a snack.
You'll pull into a parking lot to get your bearings when you arrive at your workplace. You'll open the Postmates app, tap "Go Online," and look at the available jobs.
The app screen indicates whether or not any bonuses are available. For example, if a $3 bonus is available for deliveries completed by 2 p.m., you should be able to earn it for any order you accept until about 1:30 p.m.
You'll see the pickup location's name and address when an order appears. Tap Accept or Skip.
When you arrive at the pickup location, slide up your screen to see the order number, customer name, and whether the order has been paid. If it is, that is fantastic. If not, you can pay for it with your Postmates card.
Before leaving with the order, tap "View Items" to ensure you have everything.
Now, tap "Picked-Up," and the app will recommend the quickest route to the drop-off location.
Tap on "Dropped off" after dropping off. The app will show you the total amount you've earned when you finish the order. Whatever the customer, tips are entirely yours.
You're now on your way to your next order!
How to Signup for Postmates
Here are the requirements if you would like to become a driver for Postmates: 
Must be 18 or older.

Must have a vehicle

Must have one year of driving experience.

Must have a smartphone with a data plan.

Must speak English fluently.

Must have good customer service skills.

Must be able to lift to 50 pounds.

Must pass a background check.
What's the Hiring Process Like?
There is no cost when you apply to Postmates, and the process is quick. The Postmates hiring process is so efficient that it can take as little as three days from submitting your Postmates job application to accepting your first job.
Postmates does not have a complicated onboarding process. Once approved, you'll receive a Postmates warming bag in the mail and a prepaid credit card to use on orders that aren't marked "paid" in the app.
Postmates have online beginners guide with tips on getting a good start.
How to Use the Postmates Card
When you sign up to deliver for Postmates, you will receive a Postmates card, unlike a traditional credit card. It's easy to use.
You'll be able to see in the app whether an order has already been paid for or not for each one you accept. You will pick up the food and not use the card if it has already been paid.
If you accept an unpaid order, the Postmates app will electronically load enough money onto your card to cover the cost of the order.
You'll only use the card to pay for the order – no tip included. This is accomplished between the customer and the app.
All of the information about the Postmates prepaid card can be found here.
Getting Better Tips with Postmates
As with most delivery jobs, tips will significantly impact your take-home pay when working for Postmates. Tips can mean the difference between $18 an hour and $25 an hour.
Here are a few pointers from drivers to help you make the most of your tips:
Always spend an extra 30 seconds checking the bag and ensuring the contents match the receipt. If someone ordered an extra egg roll with their Kung Po chicken and it isn't there, your tip may also be missing.
Fill the bag with whatever you can, such as napkins, utensils, extra sauce, etc. Also, notify the customer if you hand off the order in person.
Use your Postmates bag at all times. It may appear a hassle, but when you arrive, the customer will recognize you and appreciate that you went out of your way to preserve their food. You are welcome to request an additional bag at no cost.
Customers appreciate text messages that say, "I just got your food, and I'm on my way." Your phone number has been masked, so the customer cannot see it.
It is sometimes more profitable to focus on restaurants than fast food orders. There will be fewer restaurant orders, but the higher tips combined with less gas used for multiple fast food orders may be more profitable.
If you see the Postmates app light up to indicate a "blitz area" (an area with a sudden increase in orders), reconsider going there. That's fine if you're nearby. However, if you're only 25 minutes away, you might be better off staying in a well-known business district.
Are You Ready to Drive for Postmates?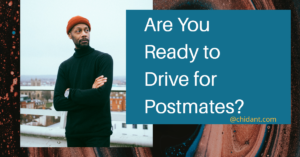 Here are a few scenarios in which working for Postmates might make sense:
Maybe you're on a mission to get out of debt and finally have a manageable monthly budget.
You can also work as a flexible side hustle between college classes.
Or perhaps you'd like to save some money for a real vacation next year.
When a two-income family has a young baby, there's that five-year pre-school period when you're struggling to afford diapers, formula, and other necessities on a lower income.
Or perhaps you're a single parent like me, with your children as your top priority. As a result, your ability to earn money or a side income is determined by your schedule.
Or perhaps you're sick of the grind. You must dress up and commute daily to a beige cubicle where you are monitored down to the minute.