Are you interested in knowing how to verify the authenticity of a vehicle's plate number?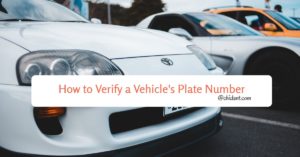 If your vehicle plate number is not genuine – registered with the Federal Road Safty Commission, you are driving an illegal vehicle and you are putting yourself and everyother person connected to the vehicle at risk.
I will show you four easy, quick and smart ways to verify a vehicle's plate number in Nigeria.
But before then, let me introduce you to the Federal Road Safety Commission and the Vehicle Inspection Service.
About Federal Road Safety Commission (FRSC)
The Federal Road Safety Corps (FRSC) is the government agency in Nigeria with statutory authority over road safety administration.
The Federal Government established the Federal Road Safety Commission in February 1988 by Decree No. 45 of 1988, as amended by Decree 35 of 1992, which is referred to in the statute books as the FRSC Act cap 141 Laws of the Federation of Nigeria (LFN). The National Assembly passed the Federal Road Safety Commission (Establishment) Act in 2007.
The statutory functions of the FRSC include: making highways safe for motorists and other road users,, checking vehicle roadworthiness, recommending works and infrastructures to eliminate or minimize accidents on highways,, and educating motorists and members of the public on the importance of highway road discipline.
The FRSC is also in charge of vehicle registration and assigning a unique plate number to each vehicle.
You can only verify your vehicle plate number with the FRSC.
Check out>>>> NIMC Enrolment Centers
About Vehicle Inspection Service (VIS)
Vehicles Inspection Services (VIS) plays a significant role in ensuring that standard requirements are met by motorists before they can use the roads.
They are tasked with ensuring that even the human capital that moves the vehicles is adequately equipped with the necessary capacities and training prior to certification.
The functions of VIS in Nigeria include, among other things, the issuance of motor vehicle licenses, the issuance of road worthiness certificates (after vehicles have been thoroughly examined and declared fit to move on roads), the patrol and enforcement of traffic regulations, the impoundment of vehicles identified as a threat to highway safety, and the placement of 'Off The Road' stickers on vehicles identified as a threat to highway safety.
Vehicle inspection operation service ensures that a safe and clean transportation system operates in the state for maximum transportation and traffic system efficiency.
Overall, the importance of the VIS in promoting road safety cannot be overstated. Motorists must work with service personnel to ensure a safer driving experience. To avoid penalties for defiance, motorists are expected to obtain genuine documents. A verifiable plate number is one of these.
Why should I verify my plate number?
According to records, more than 40% of vehicles traveling on Nigerian roads have fake plate numbers, with or without the driver's knowledge.
This fact suggests that there is an urgent need to confirm the authenticity of your vehicle's plate number.
If the information revealed during the verification process matches yours, you can rest assured that you will have a good night's sleep.
Otherwise, you should immediately verify your vehicle's plate number to avoid any future problems with FRSC vehicle inspection officers.
If the police discover that your vehicle has an untraceable plate number, you may encounter difficulties.
It is also important that you verify a vehicle's plate number before purchasing it.
The good news is that verifying a vehicle plate number is simple, quick, and can be done from the comfort of your own home.
Verify a Vehicle Plate Number – 4 Simple Options
There are four easy to follow procedure in verifying a vehicle's plate number. They are simplified below.
1. Verify a plate number from the FRSC website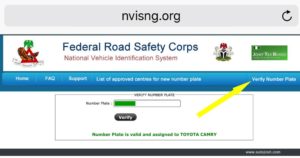 FRSC has a vehicle plate number verification portal that when accessed will show the authenticity of a plate number.
To check your FRSC Car Plate Number from the FRSC portal, follow the steps below:
Open your device internet browser
Log on to the website https://nvis.frsc.gov.ng/VehicleManagement/VerifyPlateNo
Click on "Verify Plate Number."
Enter in your Plate Number
Finally, click on "Verify."
Below the button, the registered information for that number will be revealed. You can only see the vehicle's name and registration date.
If the information does not match your vehicle, you should have your vehicle verified as soon as possible by bringing your essential identity documents to an approved FRSC number registration office. (The approved vehicle registration locations in Nigeria are listed below.)
2. Verify a plate number by text message
You can also verify your vehicle plate number by text message. It's simple and conveinient.
Send a text message in this format "VerifyPlateNo [Your Plate Number]"  to the short code 33324.
Wait for an immediate response.
Please Note: As you type the SMS, there is no space when you type "VerifyPlateNo"; then give a space and type the Plate Number. And make sure there is no space in the plate number.
For example, type "VerifyPlateNo YEN224AK". Send to 33324.
3. Verify a plate number through the MyFRSC mobile app
You can also verify your plate number through the MyFRSC mobile app.
Download the app from your app store. See the link below:
Google Playstore https://play.google.com/store/apps/details?id=com.blogspot.prosquid&hl=en&gl=US
Download and launch the app the app and they click on the verify plate number tab. Enter the plate number correctly and click verify.
Details of the plate number will be exposed.
4. Verify a plate number by going to the FRSC office closest to you.
You can also verify a vehickle's plate number by going the an FRSC office closest to you.
The comprehensive list of FRSC offices in Nigeria can be accessed in this article. Scroll them to determine the one closest to you.
Read More>>> Contraband Goods in Nigeria that are Prohibited and Restricted by the Law
Notably, when verifying a plate number prior to purchase, if the plate number is authentic, you will see "Plate Number is valid but has not yet been assigned to any vehicle." If it has been associated with a vehicle, the vehicle's name will be displayed.
Responses from FRSC plate number verification system
When you ask the FRSC system to verify your vehicle number plate, it will check its database and respond in a variety of formats, each indicating a different meaning.
There are four different types of such responses, which are described below.
Response format 1
This number plate has been produced by FRSC and assigned to [car model] on [date of successful registration].
If the car model in the response matches yours, you can be confident that your license plate is genuine and has been properly registered.
If the car model does not match, go to the FRSC center right away to register your car plate number.
Response format 2
This number plate has been produced by FRSC and assigned to [car model]. However, the vehicle is yet to be registered.
Simply return to the location where you registered your vehicle to complete the process. Request that they retrace the unfinished steps so that you can add documents or finish all requirements for a successful registration.
Response format 3
This number plate has been produced by FRSC but yet to be assigned to any vehicle
This means that your license plate has never been registered. Visit the nearest FRSC center as soon as possible to register your vehicle.
Response format 4
An invalid/ wrong number plate
Regrettably, your vehicle's license plate was not issued by FRSC. In other words, it is a sham. Visit an FRSC office to obtain a genuine plate.
Vehicle Registration and Verification Centres in Nigeria
The FRSC offices in Nigeria are listed below State by State for your appreciation:
S/N
STATE
LOCATION
1
ABIA
BIR Zonal Office, 5 Bende Road, Umuahia
2
ADAMAWA
BIR Office, Yola North
3
AKWA IBOM
BIR Office State Secretariat, Uyo
4
ANAMBRA
Motor Licensing Office, Npaje Awka
5
BAUCHI
BIR Office, Jos Road, Bauchi
6
BAYELSA
MLA Yenagoa: Obele street, Ovom, Yenagoa
MLA Kpansia: INEC Junction, Kpansia, Yenagoa
MLA Brass: BIR Secretariat complex, Road Safety Road, Yenagoa
MLA Ogbia: Emeyal II, Ogbia LGA
MLA Sagbama: Hospital Road, Yenagoa
7
BENUE
BIR Office, G.R.A. Kashim Ibrahim Road, Makurdi
8
BORNO
BIR Office, Opp. Ramat Polytechnic, Maiduguri
9
CROSS RIVER
BIR Office, 43 Akim Road Calabar
BIR Office, Ikot Omin Calabar
BIR Office, Inyang Street Calabar
10
DELTA
BIR Office, 27, Ezenei Avenue, Off Nnebisi Road Asaba
11
EBONYI
BIR Office, Ministry of Finance, Abakaliki
Ezza South LGA Motor Licensing Office, Onueke
Ebonyi LGA Motor Licensing Office, Ugbodo
Afikpo North LGA Motor Licensing Office, Afikpo
12
EDO
EIRS Office, New Lagos Road
EIRS Office, Forestry Road (LTO I & LTO II)
EIRS Office, TV Road
EIRS Office, Uselu
EIRS Office, Ikpoba Hill (Ramat Park)
EIRS Office, Obe
EIRS Office, Okada
EIRS Office, Ekpoma
EIRS Office, Auchi.
13
EKITI
BIR Office, Oke-Oriomi, Ado Ekiti
BIR Office, Beside First Bank Erekeson Market, Efon-Alaaye
BIR Office, Old secretariat complex, Emure-Ekiti
BIR Office, Oja-oba premises, Ido-Ekiti
Bir Office, Opp Oba palace, Ise-Ekiti
BIR Office, Oke-Osun, Ikere Ekiti
14
ENUGU
BIR Office, Okpara Avenue, Opp. PHCN Office Enugu
15
FCT
VIO Office, Mabushi Abuja
16
GOMBE
BIR Office, Gombe
17
IMO
BIR Office, Okigwe Road, Owerri
18
JIGAWA
BIR Office, Old Secretariat, Sani Abacha way, Dutse
19
KADUNA
BIR Office, Opp. High court Bida RS Kaduna
20
KANO
BIR Office, No.2 Bank Road, Kano.
21
KATSINA
BIR Office, G.R.A. Katsina
22
KEBBI
BIR Office, Opp. Diamond Bank, Birnin Kebbi
23
KOGI
BIR Office, No.1 Beach Road Lokoja
24
KWARA
IRS Office, Ahmadu Bello Way, Ilorin.
25
LAGOS
Motor Vehicle Administration Agency, Ojodu
26
NASSARAWA
BIR Office, Kasuwar Tomato, Lafia
BIR Office, Testing Ground Lafia
27
NIGER
VIO Office, along Paiko Road Minna
28
OGUN
IRS Oke-Mosan, Opp Federal High Court Abeokuta
29
ONDO
BIR Office, Alagbaka, Akure
30
OSUN
BIR Office, Ministry of Finance, State Secretariat Abere.
31
OYO
BIR Office, Onireke Road, Egbe Ibadan.
32
PLATEAU
BIR Office, No.7 Beach Road, Jos North
33
RIVERS
BIR Office, No. 22 William Jumbo Street, Port-Harcourt
Obio Licensing Office, Old Aba Road, Portharcourt
Emenike Licensing Office. Emenike Junction, Diobu, Mile 1, Portharcourt
34
SOKOTO
BIR Office, behind City Campus, Usman Danfodio University
35
TARABA
BIR Office, Hamman Ruwa Road, Jalingo.
36
YOBE
BIR Office, Gujiba Road, Damaturu.
37
ZAMFARA
BIR Office, Tudun Wada, Gusau
As you have seen, to verify a vehicle's plate number is easy. Take advantage of this information and get your vehicle verified.
Recommended:
How to Cancel G Suite Subscription
Offenses and their Punishments in Nigeria