Are you a student passionate about writing poems? Your dream of becoming a poet is a reality.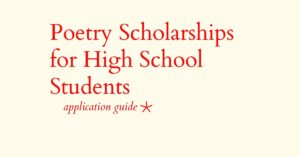 We provide you with the best poetry scholarships for high school students you can take advantage of.
What is Poetry?
Poetry is a branch of literature that is very vast and as old as history and religion.
A significant characteristic that sets poetry aside from other forms of literature is its economy of language.
Poetry employs the aesthetic and often rhythmic qualities of language, such as phonaesthetics, sound symbolism, and meter, to elicit meanings in addition to, or instead of, a prosaic ostensible purpose.
It is simply a literary work in which the expression of feelings and ideas is given intensity by using distinctive style and rhythm.
Poets are very critical in the way they render words on a page. They make sure to go beyond word minimization,,, and they consider a word's emotive qualities, its backstory, its musical value, its double-or triple-entendre, and even its spatial relationship on the page.
Also, poets pay particular attention to their choice of words.
Poetry is a way of expressing oneself.
People enjoy sitting down in a serene environment listening to poetry, and so, in its way, poetry fetches a source of income to the poets.
Its level of acceptance in society is tremendous,, and this is felt in the level of financial support given to poets, students, and writers. These are usually through poetry slams, poetry chapbook competitions, poetry scholarships and writing competitions for high school students.
Poetry writing competitions for high school students play a vital role in developing their literal skills.
Poetry Writing Competition for High School Students
Some numerous colleges and universities offer scholarships to poets and creative writers.
This competition allows you to express yourself and write down your deepest thoughts. You have the opportunity to share your feelings, distinguish yourself from other poets, and describe what your poetry means to you and the world at large.
You simply need to ensure your eligibility and basic requirements, as well as your poetry writing talent.
Poetry Scholarships for High School Students
The following are the lists of Poetry Scholarships for high school students that are currently available: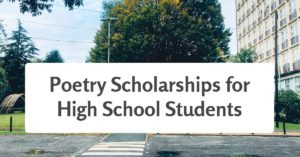 1. Learn Between the Lines Scholarship Slam
This Poetry Scholarship is open to current or former high school students in the United States between the ages of 13 and 25. The scholarship is worth $1,000,, and is given out once a year to help with college expenses.
A panel of judges selects the eligible poems, and a winner is chosen at random from the top five.
Apply for the Learn Between the Lines Scholarship Slam here
2. The Narrative Prize
The value of this poetry scholarship is $4,000,, and it is awarded annually for the best short story, novel excerpt, poem, one-act play, graphic story, or work of literary nonfiction published by a new or emerging writer in Narrative.
Each year, the deadline for submissions for the award is June 15 and the prize is announced each September.
For More Information About the Narrative Prize, Click Here.
3. The Ruth Lilly and Dorothy Sargent Rosenberg Poetry Fellowships
The fellowship program was established in 1989 by Ruth Lilly, the last surviving heir to the fortune amassed by pharmaceutical magnate Eli Lilly, her great-grandfather.
There are five of these fellowships,, which were increased from $15,000 to $25,800 each and are distributed annually by the Poetry Foundation.
Among the largest awards offered to young poets in the United States, the $25,800 prize is intended to encourage the further study and writing of poetry and is open to all US poets between 21 and 31 years of age.
4. The Amy Lowell Poetry Travelling Scholarship
This Poetry Scholarship is an opportunity open to any American poet willing to spend a year outside North America. The award does not have to be used for college tuition but can be used for travel and expenses.
The American poet Amy Lowell died in 1925. Her will established an annual scholarship to support travel abroad for gifted American-born poets.
The scholarship is administered by the Trustees under her will, at the law firm of Choate, Hall & Stewart in Boston, Massachusetts.
The Trustees welcome applicants from all ethnic backgrounds to apply, as they strive to support and encourage a diverse group of poets.
The scholarship is an award of $59,000.
Applicants for this creative writing scholarship must complete an application form  and provide a CV.
Apply for the Amy Lowell Poetry Travelling Scholarship Here.
This Poetry Scholarship is available to undergraduate, graduate, and high school seniors with a GPA of 3.0 or higher.
The value is $500,, and the award is administered annually to one or two poets by 1800wheelchair.com.
Every year, a new theme for the contest guides applicants to produce a visual poem and essay.
6. Just Poetry Scholarship
This Poetry Scholarship is available to U.S. high school students as well as the American High School Poetry Teacher.
Just Poetry administers the scholarship on a quarterly basis, in January, March, June, and October.
The poetry contest is divided into three categories: the $500.00 "Easterday Poetry Award," the four "Best of Issue" Winners ($500 scholarship prize, one selected each quarter), and the four Editor's Choice Selections ($100 scholarship prize, one selected each quarter).
The total value of this poetry scholarship is $1,100.
Click www.justpoetry.org/justpoetry1.pdf for more information.
7. Morton Marr Poetry Prize
This award is given to current undergraduate or graduate students.
Entrants must be at least 18 years old at the time of application and have a passion for writing poetry.
Southwest Review administers the prize annually,,, and the value is $1,500 – $1,000 for the winner and $500 for second-place winners.
The award is non-transferable. The winning poems will also appear in the 'Southwest Review.'
This award is open to both domestic and international students.
Apply for the Morton Marr Poetry Prize here
Read More>>> MTN Scholarship for Blind Students in Nigeria 2021
8. University of Canberra Vice-Chancellor's International Poetry Prize
This is a poetry contest open to entrants aged 18 and over.
The scholarship for poetry has been administered by the University of Canberra annually since 2014,, and the total value is $20,000.
The winner will receive $15,000,, and the runner-up (second-placed poem) will receive $5,000.
Entries are accepted from any place in the world,, and you don't have to be a previously published poet to enter.
Useful Links for the University of Canberra Vice-Chancellor's International Poetry Prize
9. Autumn House Poetry Contest
Autumn House Poetry Contest is administered annually by Autumn House Poetry ; and it's open to all poets.
For the 2022 contest, the Autumn House staff as well as select outsider readers serve as the preliminary readers, and the final judge is Carl Phillips.
The winner receives publication of a full-length manuscript and $2,500.
The submission period opens January 1, 2022, and closes May 31, 2022 (Eastern Time). Finalists and the winner of the contest will be announces by October 1, 2022. 
The winner will receive book publication, a $1,000 honorarium, and a $1,500 travel/publicity grant to promote their book
All finalists will be considered for publication
Poetry submissions should be approximately 50-80 pages
Each new poem should start on a new page
Illustrations are strongly discouraged
The reading fee is $30 (We will waive the submission fee for those undergoing financial hardship or living with limited means. Please check out our FAQs page for more information)
Submission should be previously unpublished
Do not include your name anywhere on the actual manuscript; if your name appears within the body of the text, please omit it or black it out (first name is fine, but last name must be omitted)
You may include a brief bio in the "cover letter" section of Submittable
Do not include a bio or an acknowledgments page in the manuscript
Feel free to include a table of contents (This does not count a part of your final page count)
Simultaneous submissions permitted
Friends, family members, and former students of judges or Autumn House editors may not submit to the contest. Students do not include interactions at short-term residencies or fellowships.
Former employees of Autumn House, including interns, may not submit to the contest.
10. A. Poulin, Jr. Poetry Prize
This is a prize for U.S. citizens or legal residents who are at least 18 years old. The entrant must be passionate about writing poetry and have not yet  bookpublished a full-length poetry book.
The prize for this poetry scholarship is administered annually by BOA Editions, Ltd. and is non-renewable. The grand total is $1,000.
The winning author's book will also be published by BOA Editions, Ltd., and he or she will be offered a standard book contract with a royalty rate.
Apply for the A. Poulin, Jr. Poetry Prize Here 
11. Norman Mailer College Poetry Award
If you are a full-time student at a community college, four-year college or technical school, you can earn $ 2,500 and a trip to New York through this contest.
You can submit a maximum of 10 pages of poetry for consideration.
12. Pablo Neruda Prize for Poetry
The Pablo Neruda Prize for Poetry is open to high school, undergraduate, and graduate students.
You do not have to be a student at the University of Tulsa to win the Pablo Neruda Prize for Poetry.
The Pablo Neruda Prize for Poetry is sponsored by the University of Tulsa and includes a $2,000 first-place prize and a $1,000 second-place prize.
13. The Unicorn Press First Book Contest
The Unicorn Press First Book Contest accepts poetic manuscripts in book form that have never been published before.
The winner will receive a $250 cash prize and his book will be published by Unicorn Press.
Students of all ages are eligible to participate in this competition.
14. Colorism Poetry Contest
This contest seeks to help those hurt by colorism and raise awareness about this form of discrimination.
Three prizes ranging from $100 to $250 are available.
Any US student aged ten years or over can apply.
Do you know that Colorism is a prejudice against people based on lightness or darkness of the skin, hair texture or other features compared to others of the same breed? Now you know.
15. Thomas Merton Sacred Concurso Poetry
Thomas Merton Sacred Concurso Poetry is another to consider. The Institute of Contemplative Practice offers four awards annually through this poetry contest.
The prizes are valued at between $100 and $500 each.
The inscriptions should have a religious, prophetic or contemplative tone.
Students of any age can enter.
Apply for any of the aforementioned scholarships and make your dream a reality.
If you have any questions, please make use of the comment box; we are sure to provide you with answers.
Recommended:
National Junior Honor Society Application Guide and Essay Examples
International Funding for Projects in Africa – Biggest 25 Opportunities