Do you need information on international funding for projects in Africa?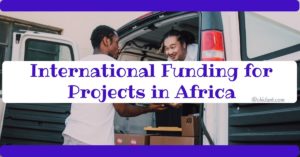 We have carefully researched all the international funding opportunities available to the countries of Africa for development and poverty alleviation.
We provide you with this rich information free of charge.
Without wasting your time, let's get into the crust of the matter.
International Funding for Projects in Africa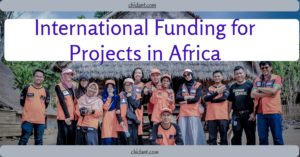 The international funding opportunities available for projects in Africa include the following:
1. US Department of Labor – International Funding for Projects in Africa
The US Department of Labor – International Funding for Projects in Africa is an international funding program.
This project is aimed at combating forced and child labor as it increases advocacy by workers and civil society to address forced and child labor
The following organizations are eligible to apply:
1. US organizations – Non-profit organizations.
faith-based organizations
community-based organizations,
Public/State-Controlled Institutions of Higher Education
Private Institutions of Higher Education,
2. US organizations – For-Profit Organizations.
3. Non-U.S. organizations
4.  Non-US Entities.
Grant size: One grant is up to $5m.
Application Deadline: September 3rd
2. BBC Radio 4 Appeal- International Funding for Projects in Africa
Grants range in size from £5,000 to £20,000 on average.
Deadline for applications: September 6th
3. The Brian Mercer Charitable Trust
This project distributes the majority of the Trust's funds to projects that focus on preventing and relieving human suffering caused by poverty and illness.
Such interventions must be proven to be effective or have the potential to be so. Direct interventions (such as medical treatment) and indirect interventions (such as medical or technological research) will be considered.
To avoid duplicating existing interventions, the Trust does not accept applications for projects addressing emergencies/disasters/refugees, vision, or malaria.
UK-registered charities with an annual income of no more than £700,000 are eligible to apply.
Grant Amount: The total yearly budget is £800,000
Deadline for applications: September 16th
Click here to Apply
4. Michael Cornish Charitable Trust
Children and Young People; People with Disabilities; Economic & Community Development; Amateur Sport; Advancement of Health, or Saving Lives are the focus areas of the Michael Cornish Charitable Trust.
Grant amount: £1,000
Deadline for applications: September 27th, 2021
Click here to Apply
5. Ernest Kleinwort Grants Programme
The project includes charitable work in Sussex County, wildlife and environmental conservation (both in the UK and internationally), and reproductive health (International).
Applications in the reproductive health category will only be considered for family planning projects delivered in Africa and Asia and areas with a clear and intended environmental impact.
Grants will be considered for start-up costs, core costs, or a specific project for which applicants have asked for assistance.
This could include contributing to a building/refurbishment project, purchasing specialized equipment or other capital expenditure, or assisting with operating costs.
NGOs or charity organizations registered in the United Kingdom are eligible to apply.
Grant Amount: Up to £3,001 for small grants; £3,001 – £10,000 for medium grants; and over £10,001 for large allocations. Before applying for large grants, please consult with the Trust.
Deadline for applications: November 19th. Requests for small grants can be made at any time.
6. The Peter Stebbings Memorial Charity
This funding program covers all of London's locations as well as all developing countries.
Education for groups or communities with limited access due to distance, poverty, discrimination, or exclusion is one of the focus areas for overseas grants.
Essential skills and tools for constructing community assets such as village schools, clinics, wells, and sanitation systems;
Basic healthcare training, disease prevention, low-tech, low-cost proven solutions to endemic problems, Sanitation, irrigation, hygiene, and access to safe drinking water are all important.
Women's education, economic power, reproductive rights, safer childbirth, and microfinance projects geared toward women; Assistance to marginalized communities, such as Dalits in India and pastoralists in East Africa.
Registered charities in the United Kingdom with annual incomes of up to £5 million are eligible to apply. Large national and international charitable organizations are ineligible.
Grant Amount: £350,000 in annual grants
Deadline for applications: November 30th
7. The Beit Trust- International Funding for Projects in Africa
Project Location: Zambia, Zimbabwe, and Malawi
This type of project is concerned with education, health, welfare, and the environment. Education assistance is rarely provided below the secondary school level.
In applications, sustainability, public benefit, cost-effectiveness, and a serious commitment to specific focus areas are all required.
Grant amount: up to £50,000
Application deadlines are November 30th for the June meeting and May 31st for the November meeting.
Click Here for More Information
8. Right Sharing of World Resources
Project Location: Kenya
Grants are for micro-enterprise and self-employment projects.
Eligible groups must be self-directed by the women beneficiaries themselves and should be less than 20 years old, and have an annual budget of less than $4,000
Grant Size: Up to $5,500
Application Deadline: November 30th.
9. Chrysalis Trust International Funding for Projects in Africa
Chrysalis Trust is a project that aids in alleviating poverty and disability; the provision of shelter, education, healthcare, and water; and the funding of less popular and difficult-to-fund activities/projects.
Grant Size: up to £10,000
Application Deadline: December 12th
10. Didymus's Grant Program to Support Smaller Charities in the UK
Project locations include the United Kingdom, Africa, and Central and South America.
These Projects are aimed at one of five objectives: to promote social inclusion, to advance education, to develop the arts, to advance equality and diversity, or to promote religious understanding.
Grant Amount: up to £5,000
Deadline for applications: December 31st
11. The Edith M Ellis 1985 Charitable Trust
Location: the United Kingdom and developing countries
These projects contribute to a more peaceful, just, and sustainable world by embodying Quaker values through fearless social and structural innovations in policy or practice.
Registered charities, NGOs, public bodies, and social enterprises in the United Kingdom can apply.
Grant amount: £1,000 – £5,000
The application deadline is December 31st.
12. Voice Kenya Sudden Opportunity Grant
Location: Kenya
Priority is given to applications led by organizations that work on, for, and with the following rights-holder groups:
LGBTI people
People with disabilities
Women facing exploitation
Abuse and violence
Vulnerable elderly and young people
Indigenous groups and ethnic minorities
GRANT ELIGIBILITY
The following categories are eligible to apply:
Coalition
Journalists
Bloggers
Private institutions and companies
Network or consortia with the participation of human rights defenders
NGOs and self-interested individuals or intellectuals who identify and agree with the reimagining civic education or jointly and collectively seek the promotion and protection of civil and political rights of voice rights holder groups.
Grant Size: €100,000
Application Deadline: December 31st
13. The Rhododendron Trust
The Rhododendron Trust focuses on social welfare and humanitarian aid projects.
Grant Size: £500 and £1,500
Application Deadline: January 2022
14. British & Foreign Schools Society
The British & Foreign Schools Society (BFSS) supports work that improves the quality, sustainability, and access to education for young people up to the age of 25 in marginalized and deprived communities worldwide.
BFSS currently has two priority areas and especially welcomes applications that focus on Re-establishing education in areas where education provision has been harmed by conflict or natural disasters.
Increasing opportunities and lowering barriers to education for girls.
Grants range from £5,000 to £60,000 per project (with a maximum of £30,000 per year).
Deadline for applications: January 24th
For More Information, Check Here.
15. Embassy of Japan in Uganda
This program prioritizes projects in the following areas: primary/secondary education; vocational training; primary health care, reproductive health, and HIV/AIDS; water and sanitation; disaster reconstruction; and agricultural development.
International or local NGOs, community-based organizations, medical institutions, educational institutions, and local authorities/governments are all potential recipients of this grant.
Grant Size: $100,000
Application Deadline: January  31st
Must Read: Difference Between Pound and Quid
16. Abilis Foundation International Funding for Projects in Africa
-Project for developing countries.
-support people with disabilities.
-Disabled People's Organisations from developing countries are eligible to apply.
17. African Women's Development Fund
The African Women's Development Fund is particularly interested in young women, women who face multiple forms of discrimination, and approaches that include participation in the arts, culture, sports, and technology.
The Fund is organized around the following themes: Body and Health Rights; Economic Security and Justice; and Leadership, Participation, and Peace.
The Fund also provides capacity-building grants to organizations to help them grow and develop, such as strategic planning, developing fundraising and communications strategies, strengthening organizational governance systems, and human resource management.
18. The Alan & Babette Sainsbury Charitable Fund
Location: sub-Saharan Africa
This project is based on education and youth employment and projects that promote free speech or advance peace and reconciliation.
All registered charities in Sub-Saharan Africa are eligible to apply.
Grant Size: £5,000 – £25,000
19. The Alborada Trust
They monitor medical and veterinary causes, research and education, and animals' welfare, and help with relief to disaster areas worldwide.
All registered national and international charities may apply.
Grant Size: the Trust only awards grants of £25,000 or more.
For More Information, Click Here.
20. The Bottle Top Foundation
This foundation helps in the alleviation of poverty schemes and grassroots education initiatives that empower young people.
Location: current grantees are working in Brazil, Ethiopia, Kenya, Malawi and South Africa.
Grant Size: £3,000 and £15,000
• Website for Registration or Information.
21. The Austin Bailey Foundation
The Austin Bailey Foundation's mission in developing countries is to alleviate poverty and illness and provide opportunities for young people.
Grants for first-time applicants are rarely more than £400. Grants for charities known to the Trust can amount to around £4,000 in total.
22. Bread for the World Partnership opportunities
Bread for the World works with over 2,000 partner organizations for peace,  justice, and creation preservation.
23. Britford Bridge Trust
Britford Bridge Trust aims to relieve poverty, education, health, arts, culture, and heritage or science.
Grant size: £4,000 – £170,000.
24. The Global Resilience Fund for Girls and Young Women
The Fund prioritizes applications from disabled girls and young women, girls and young women of color, LGBTQIA2S youth, afro-descendant, indigenous, and immigrant girls and young women, and those living in urban slums, rural areas, refugee camps, occupied territories, and conflict-affected settings.
Grants of up to $5,000 are available – Grants are entirely flexible.
Date of completion: N/A
25. National Institute for Health Research Travel and subsistence funding
They are providing reimbursement and subsistence funding to appropriately qualified public health professionals, clinicians, and academics who wish to provide science and technical advice to support the immediate response to COVID-19.
Applicants must ensure that they have an appropriate duty of care, insurance, safeguarding, and other liabilities in place and the support of their institution for any travel and proper institutional support in the destination country.
Application deadline: Ideally, applications should be submitted at least two weeks before the planned trip.
The most significant 25 international funding for projects in Africa Programmes, agencies and partners have been simplified in this piece.
If you have heard of any other not captured here, please drop it in the comment section. This will provide others with such helpful information. We promise to update our list ASAP after confirming the opportunity.
Don't forget to share this information with your family and friends.
Related:
MTN Scholarship for Blind Students in Nigeria 2023
Factors Affecting Economic Development in Nigeria 2023 (12 Pertinent Issues to Consider)
The National Open University of Nigeria Courses and Requirements