This piece discusses how and where to find code generator on Facebook. It also simplifies Facebook two factor authentication and how to keep your Facebook account secure.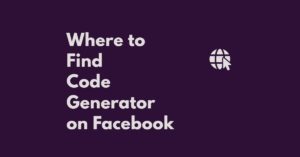 I implore you to read along and follow the procedure keenly for the security of your Facebook account.
Facebook Code Generator
Code Generator is a Facebook app security feature used with two-factor authentication.
When you enable it, your phone will generate a unique security code that Facebook can use to confirm your identity when you log in from a new device or browser.
Even if you don't have access to text messaging (SMS) or an Internet connection, Code Generator will work on your mobile device.
You can also use it to reset your password if you ever need to.
It is important to note that:
Security codes generated by Code Generator for two-factor authentication are always six digits long and expire after 30 or 60 seconds, depending on the mobile device.
If your security code isn't working, tap "My code doesn't work" on your mobile device to reset your Code Generator.
What is two-factor authentication, and how does it work on Facebook?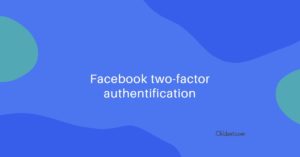 Two-factor authentication is a security feature that, in addition to your password, helps protect your Facebook account.
If you enable two-factor authentication, you will be prompted to enter a unique login code or confirm your login attempt each time someone tries to access Facebook from a browser or mobile device that Facebook does not recognize.
Read More: Is There a Limit on Facebook Pa? |Facebook Page Ad Limits
How to turn on or manage two-factor authentication:
Log in to your Facebook account.
Click on the drop-down arrow on the top right of your Facebook page.
Tap on Settings.
Go to your Security and login settings.
Scroll down to Use two-factor authentication.
Click Edit.

Choose the security method you want to add and follow the on-screen instructions.
Two-factor Security Methods
When you set up two-factor authentication on Facebook, you'll be asked to choose one of three security methods:
Tapping your security key on a compatible device.
Login codes from a third-party authentication app.
Text message (SMS) codes from your mobile phone.
Other essential information about two-factor authentification
If you haven't saved your browser or mobile device, you'll be prompted to do so when you enable two-factor authentication. This way, you won't have to enter a security code the next time you log in.
If you're using a public computer (e.g. a library computer) that other people can access, don't click Save this browser.
Facebook must remember your computer and browser information so that you can be recognized the next time you log in. Some browser features prevent this from happening. If you've enabled private browsing or configured your browser to clear your history every time it closes, you may be required to enter a code each time you log in.
To enable text message (SMS) two-factor authentication, you can either use an existing mobile number or add a new number to your account.
Find out what you can do if you turned on two-factor authentication but are now having trouble logging in.
How to Access the Facebook Code Generator
Code Generator is a simple way to get two-factor authentication codes without having to enter your phone number.
This tool will come in handy when you're on the go or don't have access to your mobile number.
It's a built-in feature of the Facebook app for Android. Every 30 seconds, the Code Generator generates a unique security code. The generated code is specific to the Facebook ID used to access the account through the app.
The Facebook app for iOS and Android includes a Code Generator feature.
Additional: How to Recover a Hacked Facebook Account With a New Email
To use the Facebook Code Generator on an Android or iOS device, follow these steps:
Open the Facebook app on your phone.
Scroll down by clicking the hamburger icon in the top right corner.
Select Code Generator from the Settings & Privacy menu.
Every 30 or 60 seconds, the tool will run through new security codes.
Note:
Code Generator has been integrated into the app to improve the security of Facebook profiles, which prevents users from logging on to their accounts with any new device unless they have a unique code.
Facebook asks for a unique code when you sign in to your account from a new device. Check for the unique code generated by the Code Generator and type it into the available field on your end.
Make sure you do this within 30 seconds of receiving the code.
Why Do You Need a Facebook Confirmation Code?
Without two-factor authentication, you only need your username or email address and password to log into your Facebook account.
By enabling Facebook's two-factor authentication, you've added an extra layer of security.
The Facebook two-factor authentication and code generator are essential for your Facebook account security. Set up and manage yours today to protect your account from being hacked and compromised.
Do well to share this educative article with your love once.
Recommended:
How can I hide one of my friends on Facebook? | Hide one friend from another on Facebook