How to Check Airtel Nigeria SIM Number: One may find it challenging to remember their SIM number. In this post, I will show you seven simple methods to know your Airtel SIM number.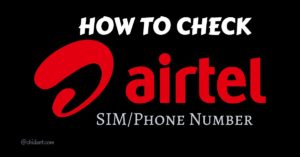 These alternative methods are easy to remember and free of charge.
Now, straight to the point…
How to Check Airtel Nigeria SIM Number Method 1 – From the original SIM card holder
The simplest way to access your Airtel phone number is to get it on the original SIM cardholder.
The SIM pack contains your phone number and your personal unblocking key (PUK).
It also contains other vital information about your SIM card.
Is your SIM pack still accessible to you? Check it now to copy your mobile number.
Method 2 – Check your Airtel Phone Number Via USSD Code
If you cannot access your original SIM cardholder (SIM pack), don't worry. You can also know your mobile number by dialing USSD codes.
The process is as follows:
Ensure that the SIM card whose number you wish to know is inserted on your mobile phone.
Dial the USSD code *121#, and a menu will pop up on your phone screen.
Choose "Manage My Account."
Then select "My Number" from the list of options.
Your mobile number will be displayed on your screen
Copy it out and commit it to memory.
Or better still, Dial the USSD Code: *121*1#
It will pop up a  flash message containing a special offer. Click OK.
You will receive another flash message containing your Airtel mobile number within a few seconds.
You'd be wise to write it down and memorize it.
Additional Reading>>> Mtn data plans and activation codes
Method 3 – Check your Airtel mobile Number by Dailing *282#
This is one of the simplest methods to check your Airtel Nigeria SIM card number.
The process is also straightforward:
Insert your activated Airtel SIM into your mobile phone.
Open your mobile phone dialer app and dial the USSD code, *282#
Click on the call button.
A message containing the details of your phone number will display on your phone's screen.
Do not forget to note down the number for future use.
Benefits of using USSD codes
Below are five benefits you get when you use USSD codes:
The majority of the USSD codes are free of charge.
Almost instant response to inquiries
You receive a faster response to inquiries than if you use an SMS
You are not required to have an internet connection.
They provide accurate and dependable information.
Note: While shortcodes are a quick and convenient way to find your phone number, other options are available to you. When you can't remember the codes, these alternate methods come in handy.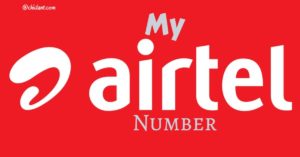 How to Check Airtel Nigeria SIM Number Method 4 – Connect With Airtel Customer Support Service
You can also choose to call Airtel customer support by dialing 111, 121 or 198
The call will take you to Airtel Customer Support.
Select the "Mobile Services" option to reveal your phone number, airtime balance, data balance, and your data balance validity period.
You can also choose to speak with a customer service representative and ask for your mobile phone number.
Method 5 – Know your Airtel number by SMS
It can sometimes be cumbersome to remember all the necessary USSD codes. There are yet many other options to help you know your Airtel phone number.
One of such is to call or send an SMS to a friend near you. On your friend's phone log or Message app,  you will be able to view your Aitel phone number.
Make sure you copy the number down and possibly save it in your phonebook.
Read Also>>> How to Buy Data on 9mobile via USSD Code
Method 6 – Check your Airtel SIM number by using Call Me SMS
It is possible to know your Airtel SIM number even if you don't have an airtime balance on your phone.
You can send a Call Me SMS to a nearby mobile number free of charge.
To use the Call Me SMS service: Dial *140*your friend's mobile number#. For example, dial *140*0802XXXXXXX#.
After that, you'll check your friend's phone for a "Please call me back" message from your phone number.
Your mobile number is included in the message's details.
Method 7 – Use MyAirtel App to Check your SIM Number
The MyAirtel app allows you to know your Airtel SIM number and also access essential Airtel services.
Follow the steps below to use the MyAirtel app to check your phone number:
Download and install the MyAirtel App and register with your personal information.
Open the app on your phone
On the home page, select "Manage My Account."
Select "View and add account." on the pop-up menu.
Get the necessary information, including your name and mobile digits, on your screen. Other information that will be displayed includes your SIM plan, airtime balance, data balance, etc.
Follow these links to download the MyAirtel app.
How to check my Airtel number's PUK
Method 1 – Check your PUK from the SIM Pack
Your Personal Unblocking Key, PUK, is used to unlock your phone's PIN codes if your SIM card is blocked.
To access your PUK number, check the original SIM cardholder (SIM pack). Keep your PUK written down in a safe place separate from your device, so you can easily access it when the need arises.
Method 2 – Check your PUK by contacting Customer Care
If your Airtel SIM is blocked and you cannot access its SIM cardholder, find the PUK by dialing 111 to contact customer service for assistance.
I do hope you have learned one thing or two from this simple guide on how to check Airtel Nigeria SIM number. Please, do well to share this information with others.
Recommended:
How to Check my MTN Nigeria Number in Few Seconds (7 Simple Methods)
Step-by-Step Guide to Check Airtel Data Balance
Airtel Night Plan Code and How to Subscribe