Here is a quick and precise guide on how you can become a Dangote cement distributor in Nigeria and earn good cash.
As we all know Dangote Cement is Africa's leading cement producer with operations in 10 African countries. In an effort to ensure the distribution of cement in Nigeria, the company is currently seeking credible distributors nationwide.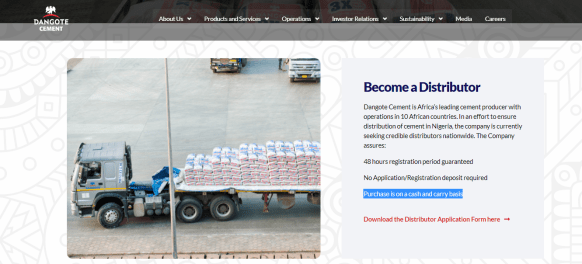 Dangote Cement Distributor Registration Requirements
Before you become a distributor, you'll be required to supply the following documents during your registration process;
Certificate of Company Registration from the Corporate Affairs Commission
Application letter to become a distributor
Scanned copy of the Bank reference letter
Passport photograph of the company's proprietor/MD
Passport photograph of the company's representative
International passports or driver's license or national identity card of authorized representatives/business owner/managing director
NOTE: These documents will be required in soft copy. So, applicants for distributorship must have a soft copy of all the docs.
ALSO READ: How to Write Amazon Appeal Letter
How to Register as a Dangote Cement Distributor
Becoming a distributor of Dangote cement in Nigeria requires that you apply for the distributor's schemes by filling out the registration form.
Download the Distributor Application Form here
After you've downloaded the form and filled in the required details, you are therefore requested to send the filled form by email to cementdistributor@dangote.com or The Group Head, Corporate Communications Dangote Cement Plc, 3rd Floor, Union Marble House, 1 Alfred Rewane Road, Falomo, Ikoyi, Lagos.
NOTE: 
The registration process will take 48 hours.
No Application/Registration deposit required
However, after your registration has been approved, you'll have to make a purchase of a Minimum of one trailer i.e 600 bags per month which is on a cash & carry basis.
Conclusion
According to the company's official website, they stated clearly that "Companies or individuals can also make bulk purchases for projects through Dangote Cement Plc depots or offices across the country".
So, to learn more about How the Dangote Cement Distribution works, OR maybe you want to make a bulky purchase of the products personally as an individual or organization for your projects, you can please call the Area Sales Manager in charge of the depot closest to you from the depot location list
Related:
Top 85 Profitable Business to Start With 100K