How old is Ouleye Warnock?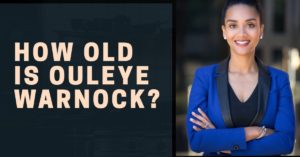 In this post, I will share with you the official birthday of Ouleye Ndoye (formerly married with the name – Ouleye Warnock).
Who is Ouleye Warnock?
Ouleye Ndoye is a global leader who has worked in government, non-profits, and academia for over a decade.
Her advocacy for women's and children's matters has been featured in the New York Times, Washington Post, Atlanta Voice, Atlanta Journal-Constitution, and C-Span, among other news outlets.
She is currently the American Baptist Home Mission Societies' National Coordinator for Scholarships and Emerging Leaders.
Ouleye Warnock rose to prominence after marrying the well-known American pastor and politician Raphael Warnock.
She has received much media attention for her advocacy on various issues affecting women and children.
Ouleye Warnock's Education
Ouleye received her bachelor's degree in international studies from Spelman College in Atlanta, GA, where she graduated Phi Beta Kappa, summa cum laude with honors.
She holds a master's degree in Migration Studies from the University of Oxford, UK, and a second master's degree in History from Columbia University in New York City.
Oueleye Warnock's Career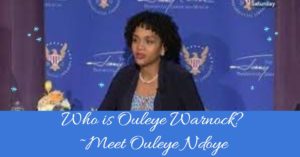 Oulèye Ndoye is a well-known global health and human rights policy advisor in the United States.
Ouleye Ndoye is a Council on Foreign Relations team member. She has accepted numerous scholarships and fellowships to live, work, study, and teach in the field of human rights in Africa, Asia, and the Middle East, to bridge the academic-practitioner gap.
She has held fellowships from:
The United States Department of State's Critical Language Scholarship in Cairo, Egypt;
The Institute for International Public Policy Fellowship in Tel Aviv, Israel, to work with African asylum seekers, and
The USAID grant to support the Women's Health Education and Prevention Strategies Alliance's work with girls in rural Senegal.
As a Luce Scholar, she spent over a year in Southeast Asia rehabilitating child sex trafficking survivors and preventing future exploitation along Thailand's borders with Myanmar and Laos in the northern province of Chiang Rai, known as "The Golden Triangle."
Additional Reading>>> 30 Ways to Become a More Likeable Person
Nearly a decade later, she became the first Senior Human Trafficking Fellow, a member of Atlanta Mayor Kasim Reed's executive cabinet, where she worked closely with The Partnership for Freedom, a "public-private partnership dedicated to promoting innovative solutions to end modern-day slavery in the United States and around the world."
Ouleye Warnock's Passion and Mission
Ndoye is a member of the Board of Directors for Wellspring Living, a non-profit organization in Atlanta, Georgia, that provides specialized recovery services to victims of sex trafficking and those at risk through residential and community-based programs that offer transformative care through therapeutic services, education, life skills, and personal and professional development.
Ndoye cares deeply about women's well-being and maternal health.
She completed the DONA International Postpartum Doula training and, as a result, established the Ministry of Motherhood at Ebenezer Baptist Church to support new moms from pregnancy to the early years of parenting. She also serves on the board of Motherhood Beyond Bars, Georgia's only non-profit organization dedicated to providing health education, advocacy, and support to incarcerated pregnant women and the families who care for their newborn children.
Ouleye Ndoye, who is passionate about improving society at home and abroad, continues to devote her professional and intellectual pursuits to causes that support human rights in the United States and around the world.
How old is Ouleye Warnock
Ouleye was born in the year 1985. She is, therefore, 38 years old (as of the year 2023).
Must Read: How Old is Joe Namath? (2023 Report)
Ouleye Warnock's Ethnicity
Ouleye Ndoye was born in New York, USA, and she currently resides in Atlanta, Georgia.
Nationality: American
Ethnicity: African-American
Essential Informations About Ouleye Ndoye
Religion: Christianity
Sexuality: Straight
Height: 5'6″ (in feet) = 168 centimeters.
Weight: 143 pounds or 65 kilograms
Body measurements in inches: 34-28-40
Body measurements in centimeters: 86-71-101
Shoe size: 6 US
Hair color: Black
Eye color: Black
Relationship status: Single
Ex-partner: Raphael Warnock
Number of Children: 2
Profession: Global Health and Human Rights policy advisor
Is Ouleye Ndoye still married?
She is currently single after divorcing Raphael Warnock in November 2020.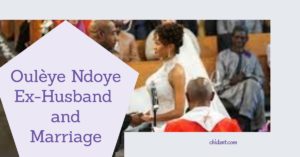 The human rights advocate accepted Raphael's marriage proposal in January 2016 at Historic MLK Church, and the couple married on February 14, 2016, in a colorful public wedding ceremony.
Their marriage did not stand the test of time, as they divorced in 2020 after they separated in 2019.
Who is the ex-husband of Oulèye Ndoye?
Raphael Warnock was her husband. Warnock is the senior pastor of Atlanta's Ebenezer Baptist Church. He is also a well-known politician, currently serving as Georgia's state senator.
Ouleye Ndoye's Contact Information
Twitter: @ouleye_ndoye
LinkedIn: www.linkedin.com/in/ouleyendoye/
Official Website: ouleye.org/
Now you know the age of Ouleye Ndoye (formerly) Ouleye Warnock. She was born in 1985 and is currently 38 years of age.
If you need any other information about Ouleye Warnock, don't hesitate to get in touch with us below.
Recommended:
How Old is Marina Squerciati? – Biography of Marina Squerciati 2023