How much can you earn a day with Doordash? That is such an interesting question. And we provide the answers right here.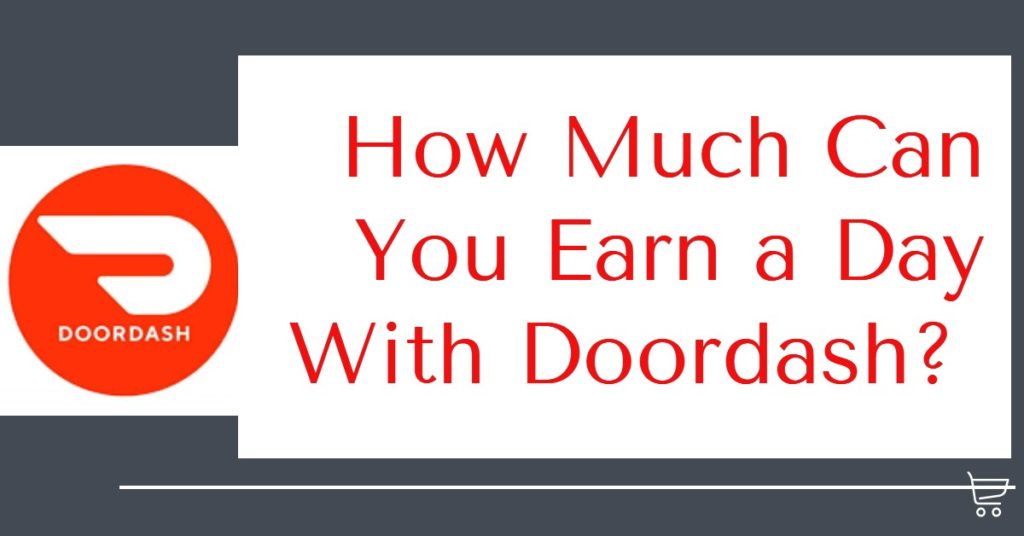 If you've ever driven for DoorDash or are considering it, you'll be among hundreds of thousands of couriers across the United States. A DoorDash rider is called a Dasher. You can earn great cash working as a Dasher with DoorDash.
Deliver With DoorDash – How Much Can You Earn a Day With DoorDash?
When you deliver with DoorDash, you deliver with the #1 Food and Drink app in the U.S. with a network of top-rated restaurants and convenience stores across the U.S., Canada, and Australia.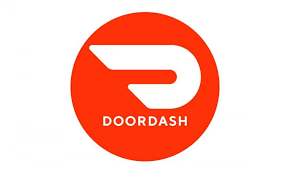 Also, you decide when, where, and how much you work. And whether you 'Dash Now' or schedule when you deliver, you can forget about reporting to an office – or a boss.
You can also choose whether or not to accept deliveries, find demand near you, and earn more with promotions like Challenges and Peak Pay in the Dasher app.
DoorDash is a popular food delivery service that operates in over 5,000 cities across North America. DoorDash is a restaurant and more. They deliver to your door. And as a delivery driver, you'll make reliable money – working anytime, anywhere.
DoorDash submitted that Dashers nationally earn $25 per hour they work, including 100% of tips. So one can make about $125 to $200 per day if one works for 5 to 8 hours daily with DoorDash.
What you make as a Dasher depends on where, how much, and what time of the day you choose to deliver. So your earnings are sure and entirely in your hands.
If you worked 4 hours and worked smart, you could make at least $60-$100/day. That would be as if DoorDash was a part-time job. If you worked it like a full-time job, working 8 hours a day, you could make around $160-$200/day.
How Much Can You Earn a Day With Doordash?
According to DoorDash, drivers earn $25 per hour on average.
About DoorDash Earnings
How much you earn at DoorDash is based on the formula below:
Total Earnings = Base Pay + Promotions + Tips
Base Pay
You'll always earn Base Pay for any delivery. Base Pay is calculated based on the order's estimated time, distance, and desirability.
Tips
Customers can tip you anytime you choose to accept the delivery – and most deliveries include a tip. You'll always receive 100% of the tips that customers leave you.
Promotions
Promotions like Peak Pay and Challenges help you earn more per delivery when it's busy.
Challenges let you earn extra money for completing a certain number of deliveries in a set amount of time.
So we have seen that:
Base Pay is dependent on Time, Distance and Desirability
Promotions depend on Peak Pay and Challenges.
You will earn 100% of customer tips on top of Base Pay and Promotions.
You will earn Base Pay. Promotions and Tips vary by delivery.
Read Here: How Much Can You Make With Postmates?
How to Track Your DoorDash Earnings
The Dasher app shows earning opportunities near you and tracks what you make.
Open the app and tap "Earnings" to see what you make on a particular day, cash out your earnings with Fast Pay, or view your Earnings History.
How to make the most of your dash
Follow the following reliable directions to earn big on DoorDash:
Plan your dashing around mealtimes, weekends, sporting events, and late nights.
After logging in to dash, tap "Promos" to find Peak Pay near you. If you don't get an order immediately, head toward popular restaurants.
As a driver delivering with DoorDash, you'll often see Promotions in your Dasher app, which are extra ways to earn more. You can find Dasher Promotions by tapping 'Promos' in the Dasher app.
Read: Top 10 Best Places to Refinance Student Loans 2023.
How Much Can You Earn a Day With Doordash? – Other Sources
ZipRecruiter submitted that as of Aug 8, 2022, the average annual pay for an International Doordash Delivery Driver in the United States is $43,297 yearly.
Just in case you need a simple salary calculator, that works out to be approximately $20.82 an hour. This is the equivalent of $832/week or $3,608/month.
See the figure below for appropriate data.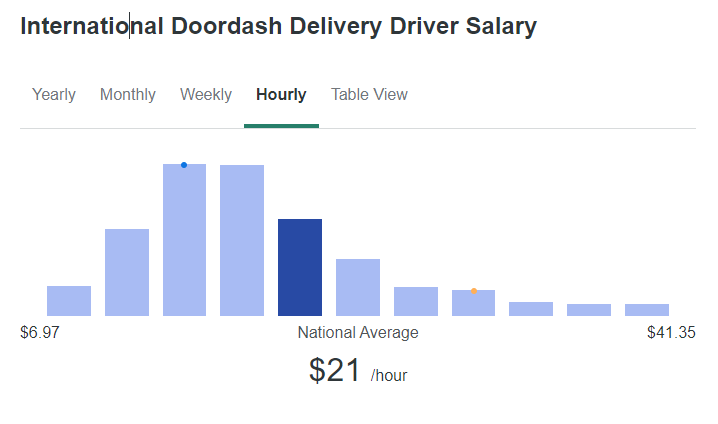 Note: ZipRecruiter salary estimates, histograms, trends and comparisons are derived from employer job postings and third-party data sources.
Using Ziprecruiter data of $21/hour and, assuming an 8-hour work day, one can earn:
$21 multiplied by 8 hours = $168 per day.
If you work for 5 hours per day, you can be sure to make approximately $105/day.
Just 3 hours of work with Doordash guarantees you about $60/day.
Must Read: How Much Can You Earn A Day As A Bolt Driver in Nigeria? (2023 Report)
What Doordash Couriers Say
Let me share with you a particular Reddit thread with a lot of couriers sharing info about how much they make per week on average.
Here are some of the numbers:
$120 in a week from about 5 hours of random DoorDashing.
$300-$400 working 7 days a week in a lower-paying area. That was from working around 42 hours per week!
A user from Toronto, Canada, was working 50-hour work weeks with DoorDash and made a solid $1000 after hustling downtown.
After seeing a variety of different numbers, hours, and locations, it's clear that the amount you can make driving for DoorDash per day is, to some extent, determined by how much you work and the market you're in.
There was a lot of discussion about where people live in the comments. Some claimed to make $400 in the same number of hours that another claimed to make $900.
If you look deeper on Reddit, you'll discover that some couriers are making a lot of money by delivering for DoorDash.
In another Reddit thread, for example, a DoorDash courier shares how they made nearly $1,700 in a single week with DoorDash!
This took 64 dashes and 56.4 hours, bringing the weekly hourly pay to around $30.
So it's clear that how much money you make per week working for DoorDash depends on the hours you put in, your market, and, of course, things like peak pay or new driver promotions.
How to Make $1,000 a Week With Doordash
You can make $1,000 per week with DoorDash. All you need to do is work smart.
First, you need to understand your market and the factors that drive it in this ever-changing economy.
Here are 12 few tips for working smart:
Target the best DoorDash work times (lunch, dinner, and late-night weekend rushes)
Work during peak pay
To work smart, you need intelligence.
Be selective about accepting orders.
Work for bigger tips and higher ratings.
Cash in on bonuses and referrals.
Be smart about your finances.
Doubling up on other delivery apps like Amazon Flex, Instacart and Cornershop
Working on your customer service to land more tips
Aiming for $1 per mile you drive and declining cheaper orders
Use apps like Para to track your income and get tip estimates so you know how much orders are paying
Learn what restaurants in your area are worth it or are always skippable.
---
How much can you earn a day with DoorDash? This depends entirely on you and your ability to hustle with the right strategies outlined in this article.
Let us know in the comment section how much you earn daily on DoorDash if you are a dasher or if you know someone who is.
Don't forget to share this article with others. Thank you.
Recommended:
How Much Can a Student Earn While Studying in Canada?