Bolt Car Requirements – Bolt does not accept any car to be used for ride-hailing; they have standards and requirements a car must meet, which you'll see in this post.
Bolt's was founded in 2013 by Markus Villig, a 19-year-old high school student who saw that the taxi sector was in severe need of an overhaul at the time.
At the time, poor customer service, long waits, and exorbitant prices were the norm.
In addition, as a ride-sharing service, Bolt is a game-changer in the transportation industry.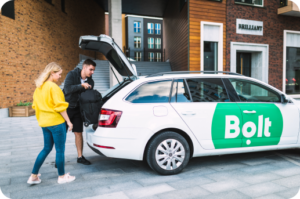 It's one of the best when it comes to giving consumers a relaxing trip in a classic car. Using the Bolt app on your smartphone, you can book a ride from the convenience of your own home.
Customers' comfort, safety, and pleasure are of the utmost importance to Bolt. Therefore, Bolt created the requirements for its cars to achieve the above importance.
Car Requirements for Bolt
Make sure your automobile fits this Bolt car criterion in order for it to be accepted:
Basic Car Requirements
For the most part, you'll want a four-door sedan or SUV from 2003 or later or a minivan from 2004 or later. Additionally, the car must be in working order and equipped with air conditioning.
Excellent working condition.
Certificate of Road-Worthiness.
Insurance Certificate.
Minimum of 4 doors.
Autogenius Vehicle Inspection Report.
Proof of Ownership.
Vehicle licence.
Bolt-approved Cars
Car older than 14 years are not permitted.
The car is a 4-door sedan or SUV.
The car is in good condition.
The car can seat at least 4 passengers.
2-door sedans and hatchbacks are not acceptable.
Recommended: Bolt Driver and Car Requirements
A Bolt Driver's Requirements
Have a valid driver's licence.
Be at least 21 years of age.
Take advantage of Bolt's driver's training program and learn how to provide excellent ride-hailing service and utilize the app.
Also, additional documents depend on the city.
Where does Bolt operate?
More than 400 cities are covered by Bolt's rapid and inexpensive journeys. Also, Bolt operates in four continents in the world, which include: Europe, Africa, Asia, and Latin America.
In addition, you can contact Bolt depending on the city you are in. Click here to view the available cities and their respective contacts.
How to get your Car Registered with Bolt
You must first register your car with Bolt if your car fits the requirements above. Here is how to accomplish it:
Get your car inspected by the inspection centres recognized by Bolt.
Upload a valid Car licence.
Upload your Insurance certificate.
Upload a Proof of ownership.
Upload a Certificate of road worthiness.
Upload Car Inspection Report.
If your windows are tinted, a tint permit is needed.
How much do I pay Bolt?
You only pay for completed trips; there are no monthly fees. Also, you should expect to pay anything from 10% to 20% of the total fare, depending on the city you are in.
How do I get paid?
Cash or Bolt are the two most common payment methods used by customers. Week after week, Bolt transfer funds to your bank account.
What if I don't have a Car?
The Bolt city staff can assist you in finding cars from their partner fleets or rental firms that are accepted on their platform at reasonable rates. Financing packages are available to long-term drivers in various cities.
I hope you find this information helpful. Please use any of the share buttons below to share this information.
Feel free to drop any questions or contributions regarding this article in the comment section below.