Bolt Car Requirements – As you'll see in this piece, Bolt doesn't just let any automobile serve as a ride-hailing vehicle; they have specific standards and requirements a car must meet.
Markus Villig, then a 19-year-old high school student, established Bolt in 2013 after realizing the taxi industry desperately needed innovation. There was a time when poor service, long wait times, and high costs were the norm.
Further, Bolt is revolutionary because of its impact on the transportation sector as a ride-sharing business.
It is among the best in providing customers with a peaceful classic automobile ride. Also, to arrange a ride, simply use the Bolt app on your Android or iOS devices.
Bolt places a premium on its customers' convenience, security, and satisfaction. To achieve the importance mentioned above, Bolt, therefore, set the requirements for its cars.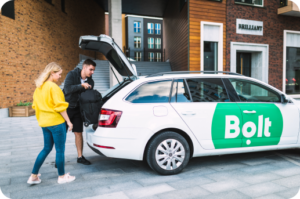 Bolt Car Requirements
Make sure your automobile fits this Bolt car criterion for it to be accepted:
Basic Car Requirements
Excellent working conditions.
Certificate of Roadworthiness.
Insurance Certificate.
Minimum of 4 doors.
Proof of Ownership.
Vehicle licence.
Additional documents depend on the State.
Bolt-approved Vehicle
Vehicles older than 14 years are not permitted.
The vehicle is a 4-door sedan or SUV.
The vehicle is in good condition.
The vehicle can seat at least four passengers.
2-door sedans and hatchbacks are not acceptable.
The vehicle is a model between 2002 and 2004 (For Bolt Lite).
The vehicle is no older than ten years (For Bolt Comfort).
The vehicle is no older than 15 years (For Bolt XL).
The vehicle is an SUV or minivan (For Bolt XL).
The vehicle must accommodate at least six passengers (For Bolt XL).
In general, your car should be a four-door sedan or SUV from 2003 or later or a minivan from 2004 or later. Additionally, the car must be in working order and equipped with air conditioning (AC).
Recommended: Bolt Driver and Car Requirements
Bolt Driver's Requirements
Hold a valid driver's licence.
Be at least 21 years of age.
Take advantage of Bolt's driver's training program and learn how to provide excellent ride-hailing service, and utilize the app.
Also, additional documents depend on the State.
How to get your Car Registered with Bolt
You must first register your car with Bolt if your car fits the requirements above. Here is how to accomplish it:
Get your car inspected by the inspection centres recognized by Bolt.
Upload a valid Vehicle licence.
Upload your Insurance certificate.
Upload Proof of ownership.
Upload a Certificate of roadworthiness.
Upload Vehicle Inspection Report.
If your windows are tinted, a tint permit is needed.
Additional documents depend on the State.
FAQs
Where does Bolt operate?
More than 500 cities are covered by Bolt's rapid and inexpensive journeys. Also, Bolt operates in four continents, which include: Europe, Africa, Asia, and Latin America.
In addition, you can contact Bolt depending on the city you are in. Click here to view the available cities and their respective contacts.
How much do I pay Bolt?
You only pay for completed trips; there are no monthly fees. Also, you should expect to pay anything from 10% to 20% of the ride fee, depending on the city you are in. Get in touch with Bolt if you want additional details.
How do I get paid?
Clients pay you in cash or via Bolt. Bolt pays out to your bank account every week.
Again, your pay is mostly determined by your performance and efficiency. Location, surge, incentives/bonuses, tips, and ratings also have a role in your earnings as a Bolt driver.
What if I don't have a Car?
The Bolt city staff can assist you in finding cars from their partner fleets or rental firms that are accepted on their platform at reasonable rates. Financing packages are available to long-term drivers in various cities.
Which Cars does Bolt Accept?
The official year of accepted cars/vehicles is 2004 and above. Here is the comprehensive list of cars accepted by Bolt:
Acura CSX
Acura ILX
Acura MDX
Acura RDX
Acura RL
Acura RLX
Acura TL
Acura TLX
Acura TSX
Acura ZDX
Audi 100
Audi A1
Audi A2
Audi A3
Audi A5
Audi A6
Audi A6 Allroad
Audi A7
Audi A7
Audi A8
Audi A8
Audi A8L
Audi Q2
Baic BJ
Baic D20
Baic M20
Baic X25
BMW 1 Series
BMW 2 Series
BMW 3 Series
BMW 4 Series
BMW 5 Series
BMW 6 Series
BMW 7 Series
BMW i3
BMW XI
Buick Enclave
Buick Encore
Buick LaCrosse
Buick Lucerne
Buick Regal
Buick Verano
Cadillac ATS
Cadillac BLS
Cadillac CTS
Cadillac CTS-V
Cadillac DTS
Cadillac Escalade
Cadillac SRX
Cadillac STS
Cadillac T6
Chevrolet Ace
Chevrolet Avalanche
Chevrolet Aveo
Chevrolet Bolt
Chevrolet Captiva
Chevrolet Cavalier
Chevrolet Chevy
Chevrolet Cobalt
Chevrolet Cruze
Chevrolet Geo Prizm
Chevrolet HHR
Chevrolet Kalos
Chevrolet Kezzo
Chevrolet Laceti
Chevrolet Malibu
Chevrolet Nubira
Chevrolet Optra
Chevrolet Silverado
Chevrolet Spark
Chevrolet Suburban
Chevrolet Tahoe
Chevrolet Trailblazer
Chevrolet Traverse
Chevrolet Trax
Chevrolet Volt
Chrysler 200
Chrysler 300C
Chrysler 300M
Chrysler Grand Voyager
Chrysler PT Cruise
Chrysler Sebring
Chrysler Town & Country
Chrysler Voyager
Dacia Logan
Dacia Sandpro
Daewoo Cielo
Daewoo Espero
Daewoo Gentra
Daewoo Lanos
Daewoo Leganza
Daewoo Matic
Daewoo Nexia
Daewoo Nubira
Daewoo Runna
Daewoo Sens
Daewoo Sirion
Daewoo Tacuma
Daewoo Tosca
Datsun GO
Datsun On Do
Dodge Caliber
Dodge Charger
Dodge Dart
Dodge Durango
Dodge Grand Caravan
Dodge Journey
Dodge Journey
Dodge Magnum
Dodge Neon
Dodge Nitro
Dodge Vision
Ford B-Max
Ford C-Max
Ford Connect
Ford Crown Victoria
Ford Ecosport
Ford Edge
Ford Escape
Ford Escort
Ford Everest Titanium
Ford Expedition
Ford F-150
Ford Fairmont
Ford Falcon
Ford Falcon BFIII XJ
Ford Falcon XR6
Ford Fiesta
Ford Figo
Ford Flex
Ford Focus
Ford Focus C-Max
Ford Freestyle
Ford Fusion
Ford G6
Ford Galaxy
Ford Ikon
Ford K
Ford K+
Ford Kuga
Ford Mondeo
Ford Ranger
Ford S-Max
Ford Taurus
Ford Territory
Ford Tourneo
Ford Transit
Ford Transit Custom
Ford Vignale
GAC GA5
GAC GS5
GAC Trumpchi
General Motors Pontiac
Genesis G70
GMC Acadia
GMC Canyon
GMC Enjoy
GMC Savana
GMC Sierra
GMC Terrain
GMC Yukon
Honda Accord
Honda Airwave
Honda Aria
Honda Ballade
Honda Brio
Honda Brio Amaze
Honda Brio Mobilio
Honda BR-V
Honda City
Honda Civic
Honda Clarity
Honda Crossroad
Honda Crosstour
Honda CR-V
Honda Edix
Honda Element
Honda Elysion
Honda Fit
Honda Fit Aria
Honda Freed
Honda FR-V
Honda Hybrid
Honda Insight
Honda Inspire
Honda Jazz
Honda Legend
Honda Life
Honda Odyssey
Honda Partner
Honda Pilot
Honda Ridgeline
Honda Shuttle
Honda Stepwagon
Honda Stream
Honda Passport TrailSport
Hummer H2
Hummer H3
Hyundai Accent
Hyundai Atos
Hyundai Avante
Hyundai Azera
Hyundai Creta
Hyundai Elantra
Hyundai Eon
Hyundai Equus
Hyundai Galloper
Hyundai Genesis
Hyundai Getz
Hyundai Grand I10
Hyundai Grandeur
Hyundai I10
Hyundai I20
Hyundai I30
Hyundai i30 Combi
Hyundai I40
Hyundai i45
Hyundai Icona
Hyundai iMax
Hyundai IONIQ
Hyundai IX20
Hyundai IX55
Hyundai Matrix
Hyundai Santa Fe
Hyundai Solaris
Hyundai Terracan
Hyundai TQ H-1
Hyundai Trajet
Hyundai Tucson
Hyundai Veloster
Hyundai Veracruz
Hyundai Verna
Hyundai Xcent
Hyundai XG30
Infiniti EX35
Infiniti FX35
Infiniti G25
Infiniti G37
Infiniti I30
Infiniti JX35
Infiniti M
Infiniti QX30
Infiniti QX56
Infiniti QX60
Infiniti QX80
Innoson IVM
Isuzu Axiom
Isuzu D-Max
Isuzu Gemini
Isuzu Mux
Jac Motors J6
Jac Motors JAC
Jac Motors JAC J5
Jac Motors S2
Jac Motors S3
Jaguar F-Pace
Jaguar S-Type
Jaguar XE
Jaguar XF
Jaguar XJL
Jeep Cherokee
Jeep Cherokee Trailhawk
Jeep Commander
Jeep Compass
Jeep Liberty
Jeep Patriot
Jeep Renegade
Jeep Wrangler
Kia Avella
Kia Cadenza
Kia Carnival
Kia Ceed (known as the Kia Cee'd before 2018)
Kia Cerato
Kia Forte
Kia Klarus
Kia Magnetics
Kia Mohave
Kia Morning
Kia Niro
Kia Picanto
Kia Pride
Kia Ray
Kia Rondo
Kia Sedona
Kia Sephia
Mazda Millenia
Mazda Premacy
Mazda Verisa
Mazda Xedos 6
Mazda Xedos 9
Mercedes-Benz C200 Kompressor
Mercedes-Benz 190
Mercedes-Benz 270
Mercedes-Benz A-Class
Mercedes-Benz C200
Mercedes-Benz C-Class
Mercedes-Benz E-Clas
Mercedes-Benz GLA
Mercedes-Benz GLE
Mercedes-Benz S-Class
Mercedes-Benz Viano
Mercedes-Benz Vito
Mercerdes-Benz V-Class
Mitsubishi L200
Mitsubishi Lancer
Mitsubishi Montero
Mitsubishi Pajero
Mitsubishi Space Star
Nissan Almera
Nissan Altima
Nissan Armada
Nissan Maxima
Nissan Primera
Nissan Quest
Nissan X-Terra
Opel Omega
Opel Vivaro
Opel Zafira
Peugeot 308
Peugeot 607
Peugeot Pars
Peugeot Traveller
Range Rover Evoque
Renault Symbol
Renault Talisman
Renault Traffic
Saab 9-5
Skoda City Go
Skoda Octavia
Skoda Proace
Skoda Rapid
Skoda Superb
Skoda Yeti
Toyota 4 Runner
Toyota Avalon
Toyota Avensis
Toyota Avensis Verso
Toyota Camry
Toyota Carina
Toyota Corolla
Toyota Corolla Verso
Toyota Corona
Toyota Cresta
Toyota Gaia
Toyota Hiace
Toyota Highlander
Toyota Hilux
Toyota Ipsum
Toyota Isis
Toyota Land Cruiser
Toyota Land Cruiser Prado
Toyota Matrix
Toyota Picnic
Toyota Prado
Toyota Previa
Toyota Proace
Toyota Rav 4
Toyota Ruckus
Toyota Scion
Toyota Sequoia
Toyota Sia
Toyota Sienna
Toyota Sienna
Toyota Spacio
Toyota Starlet
Toyota Succeed
Toyota Tacoma
Toyota Tarago
Toyota Tercel
Toyota Tundra
Toyota Urban Cruiser
Toyota Vellfire
Toyota Venza
Toyota Verso
Toyota Vios
Toyota Vista
Toyota Vitz
Toyota Voltz
Toyota Voxy
Toyota Will
Toyota Yaris
Toyota Yaris Verso
Volga Retro Gaz 24
Volkswagen Bora
Volkswagen E-Golf
Volkswagen E-Up
Volkswagen Fox
Volkswagen Gol
Volkswagen Golf
Volkswagen Golf Plus
Volkswagen Jetta
Volkswagen Jetta Classico
Volkswagen Multivan
Volkswagen Passat
Volkswagen Passat CC
Volkswagen Passat Combi
Volkswagen Phaeton
Volkswagen Pointer
Volkswagen Polo
Volkswagen Polo Vivo
Volkswagen Sharan
Volkswagen Tiguan
Volkswagen Toureg
Volkswagen Transporter
Volkswagen Up
Volkswagen Vento
Volkswagen GTI
Volvo S60
Volvo S70
Volvo S80
Volvo S90
Volvo V40
Volvo V50
Volvo V60
Volvo V70
Volvo V90
Volvo XC60
Volvo XC70
Volvo XC90
Zaz Forza
Zaz Lanos
Zaz Sens
Zaz Vida
Also see: Official Cost of Renewing Car Papers in Nigeria (2023 Guide)
We hope you find this information helpful. Please use any of the share buttons below to share this information.
Feel free to drop any questions or contributions regarding this article in the comment section below.