How to Factory Reset Samsung Chromebook – Factory resetting your Samsung Chromebook is a good idea whether you plan on selling it or are experiencing technical difficulties.
As the name implies, Samsung Chromebooks are designed for internet browsing. A faster, simpler, and more secure user interface is the goal of Samsung's Chromebook.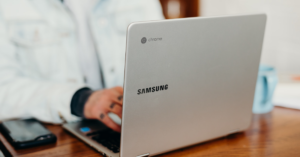 Laptops like the Samsung Chromebook rely on cloud services to store their data and run the Chrome operating system, designed with web apps in mind.
Samsung company refers to resetting a Samsung device to factory defaults as a Powerwash; this will delete all your data and settings, so ensure you have a copy of anything crucial that isn't on Google's servers before you do this.
When you perform a Powerwash factory reset, your Samsung Chromebook's hard disk and all of its data are completely erased. The factory reset will not affect Google Drive and external hard drives.
Please remember to back up your files on Google Drive or an external hard drive before conducting the Reset. Google Drive and external storage devices will not be wiped clean.
How to Factory Reset Samsung Chromebook
Just follow the step-by-step procedures below to successfully factory reset or powerwash your Samsung Chromebook with ease:
Sign into your Chromebook (Resetting a Samsung Chromebook while it's being used at work or school is impossible. To get help, contact your administrator),
Click the Taskbar on the bottom right,
Then click Settings,
Click Advanced at the bottom,
Scroll down to the Reset settings section,
Then click Powerwash > Restart,
After the Restart, in the box that appears, click Powerwash,
Then click Continue.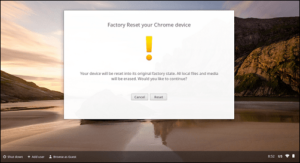 How to Factory Reset Samsung Chromebook with the Shortcut Keys
Click the Taskbar on the bottom right corner,
Then click Sign out,
Press and hold Ctrl + Alt + Shift + R,
Then click Restart,
When a popup box appears, click Powerwash > Continue.
How to Factory Reset Samsung Chromebook without Password
Restart your device, and on the login screen, press and hold Ctrl + Alt + Shift + R keys at once,
A Reset window will immediately open up. Click Powerwash,
Then select Reset.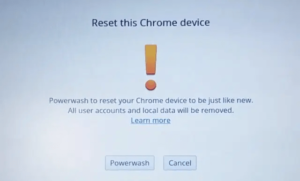 How to Hard Reset Samsung Chromebook via Recovery Mode
When your Samsung Chromebook doesn't start or freezes in the middle of the boot process, a Hard Reset may be necessary.
Now without further ado, here is how to hard reset your Samsung Chromebook:
Turn off your Samsung Chromebook completely,
Press and hold the Refresh key (usually above 4) and the physical Power button simultaneously (If it's not showing any screen, then press Esc too with the other two keys),
Try pressing the keys listed above while your Samsung Chromebook is connected to a power source if it won't boot.
Release all keys as soon as the Samsung Chromebook displays the Chrome OS missing/damaged screen,
Press Ctrl + D to open the Chrome Recovery Screen,
Then, if you follow the on-screen instructions, your Samsung Chromebook will be hard Reset successfully.
Also, it is possible to hard reset some older Samsung Chromebooks by pressing a dedicated reset button (usually at the back).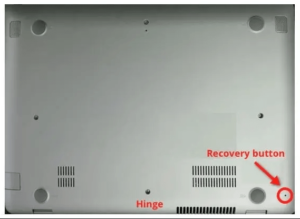 Follow the on-screen instructions to set up the Samsung Chromebook and enter your Google account. After resetting your Samsung Chromebook, the account you use to log in will be the new owner account.
I hope you find this information helpful. Please use any of the share buttons below to share this information.
Feel free to drop any questions or contributions regarding this article in the comment section below.