Types of Buttocks on Females:
Ladies and Guys, may I share something interesting with you?
There are two types of women in the world. The first are those who are concerned with their bust, and the second are those who worry about their buttocks.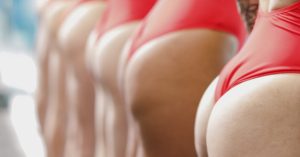 If your butts is your concern, you don't need to worry anymore. No two individuals are created equal. Therefore, no two butts are created equal. But we must know that all bodies are beautiful.
Types of Buttocks on Females
From research, it has been proven that your butt shape is determined by the following factors:
placement of your pelvis and hip bones
the amount of fat you have and its distribution
the size of your underlying gluteal muscles, and
the way your butt muscles attach to the thigh bone.
The result is a butt that can be classified into one of five kinds.
Do you know that knowing the shape of your buttocks can help you determine which underwear styles fit you best? This post will help you make that choice and also show you recommended exercises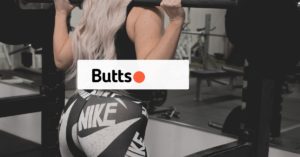 Here are the five main types of female buttocks:
1. SQUARE-SHAPED BUTTOCKS
Fat is spread across the upper half of your glutes in square-shaped buttocks, while the bottom part is heavier. You know your butt is square if the line between your hip bone and outer thigh runs perpendicular to the ground. This shape means that you are stress-resistant and have a stable immune system.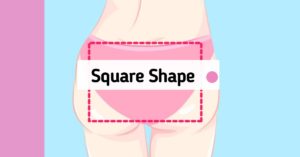 Recommended bottoms for you:  boy shorts, bikinis, tangas, and thongs can be comfortable and flattering for women with square, flat butts. Just stay away from panties with elastic-edged leg holes, as they tend to have additional fabric that can bunch up.
2. ROUND-SHAPED BUTTOCKS
Fat is stored in the upper section of the gluteal muscles in the round shape rather than on the sides as in the square shape. Men usually say that this figure type attracts them the most, as the body has "right" proportions. How wrong they are. Every shape is attractive.
In addition, women with this pelvis shape are said to have an easier time giving birth.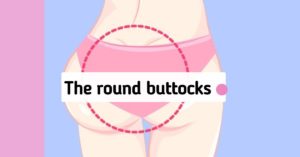 If you want a rounder butt, then strengthening the butt muscles can offer your behind "more projection" without you undergoing surgery!
Recommended bottoms for you: A round backside requires extra fabric in the back for full coverage — otherwise, the crotch of your underwear will just shift backward, which can lower the front waistband and trigger a frontal wedgie. Tangas and thongs, as well as briefs and boy shorts with four-way stretch, a center back seam, and ruching along that seam, are ideal for contouring your butt cheeks.
3. THE HEART-SHAPED BUTTOCKS
The heart shape, like round booties, has a curve to the outer hips but with more volume in the lower part of the hip. An hourglass-shaped body produces this butt shape. It is also a very desired form as the round shape. It's the fullest at the bottom and gets more narrow closer to the waistline.
There's a high probability that as the person gets older, the gluteal muscles in this shape will start sagging. Therefore, if you have this great type of shape, you may need to work them out on a consistent basis.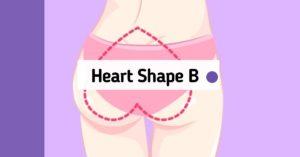 Recommended bottoms for you: Because your butt and hips are full and your buns are set low, our recommended undies are briefs, boy shorts, hipsters, or bikinis with a lower-cut leg opening. Indeed, high-cut leg holes might not give your butt cheeks quite enough coverage. Are you worried about looking saggy? Just make sure your underwear's leg openings cup the buns, hitting right below your butt crease for the illusion of an instant butt lift.
4. V-SHAPED BUTTOCKS
V-shaped buttocks come as a result of the angling of the line between your pelvis and hips. It is a proven fact that this butt shape is common among women with broad shoulders and very narrow hips. Your body's oestrogen hormone and its levels are partially responsible for this shape. Oestrogen hormone level starts decreasing after menopause. As a result, fat storage moves to other parts of the body, especially the waistline. Your buttocks may consequently start losing volume, but building them back up is not that difficult. Your regular exercise classes will be just fine.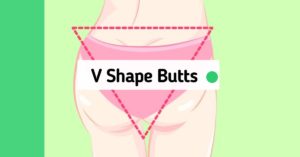 Recommended bottoms for you: Maintain briefs, boy shorts, hipsters, or bikinis without high-cut leg holes, which won't provide quite enough coverage for your butt cheeks. You know a V-shaped butt can make your cheeks look like they're sagging, make sure your underwear's leg opening cups the bottom of your buns for extra definition. This will make you so amazing, trust me.
5. A SHAPED BUTTOCKS
"Pear-shaped" women tend to have A-shaped butts that widen below the hip bones. A-shaped butts come as a result of wide hips in relation to the upper part of the body. Women with this shape look so attractive to most men. If you'll like to disguise this figure a bit, give careful attention to details.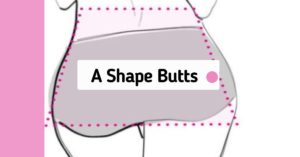 Recommended bottoms for you: Because A-shaped butts tend to stem from fuller thighs, the most comfortable underwear styles have high-cut legs with larger leg holes. Stick with tangas, bikinis, or boy shorts made from stretchy lace or seamless, laser-cut edges. Steer clear of styles with elastic-edged leg holes, which can be binding and uncomfortable.
Conclusion:
What shape are you? I must tell you, you are beautiful the way you are. Follow the above recommendations and further tips from your gym instructor, and you're good to go.
We hope you have understood the 5 types of buttocks on females. Don't forget to share this article with other females.
Recommended:
10 Best Body Lotions for Chocolate Skin
Lyle Lovett's Wife (2023 Report)
English Dress Styles (2023 Collections)