John Mulaney Quotes – John Edmund Mulaney is a stand-up comic, actor, writer, and producer based in the United States. Without a shadow of a doubt, Mulaney is one of the most talented and entertaining comedians of our time.
Also, Mulaney's stand-up performances and appearances on SNL (Saturday Night Live) have made him a household name since 2008.
John Mulaney's quotes here are good for more than just belly laughs; they can also serve as a source of inspiration.
Consequently, this collection of Mulaney's quotes is worth perusing if you're looking for a dose of laughter with a side of wisdom to help you get through tough times.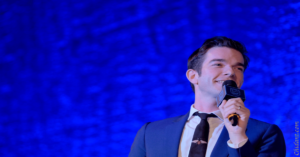 Mulaney's Parents and Siblings
Mulaney's parents, Ellen Mulaney (née Stanton), a professor at Northwestern University's Pritzker School of Law, and Charles "Chip" Mulaney Jr., an attorney and partner at Skadden Arps, welcomed him into the world on August 26, 1982, in Chicago, Illinois. His Catholic parents hail from Irish ancestry.
As a child, Mulaney served as an altar boy. In a family of five, he is the third. He was predeceased by a newborn sibling and had an older sister, an older brother, and a younger sister.
Mulaney's Career
After receiving his degree from Georgetown University in 2004, Mulaney relocated to New York City to pursue a comedy career. He eventually found work as an administrative assistant at Comedy Central.
One year later, he and fellow comedian Nick Kroll developed the concept for I Love the '30s, a spoof of the I Love the '80s. When Dave Chappelle left the network unexpectedly, Mulaney was there.
The network was going to fly Mulaney out to L.A. to get the tapes for season three of Chappelle's eponymous program. Still, he decided it would be a "hindrance to being a comedian," so he left and started freelancing instead.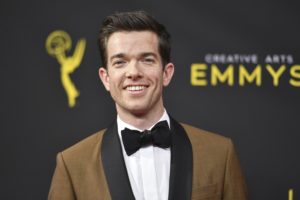 John Mulaney's Marital Life
After publicly declaring their separation in May 2021, John Mulaney and Anna Marie Tendler finalized their divorce.
Legal documents acquired by TMZ reveal that the couple finalized the dissolution of their six-year marriage on January 6, 2022, five months after the comedian first filed.
Just one week after publicly announcing their split, it was reported that actress Olivia Munn, who formerly described herself as an "obsessed" fan of Mulaney, was seeing the comedian.
Soon after, it was announced that Munn was expecting her and Mulaney's first child together less than two months later. In November 2021, despite split rumors, the couple welcomed a boy they called Malcolm Hiệp Mulaney.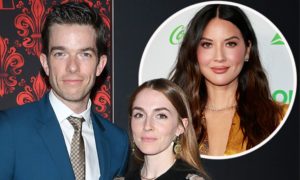 John Mulaney Quotes
Here are quotes from comedian John Mulaney about all aspects of life: love, friendship, finances, and school:
When you have something that you did so many jobs on and were so front, and centre on, and then people dislike it, you want to learn lessons from it, and you want to move on, and you want to move on too fast.
If something is very, very funny but possibly controversial, if it's truly funny, then it's worth doing. Things aren't worth doing for the sake of being controversial.
I like making fun of myself a lot. I like being made fun of, too. I've always enjoyed it. There's just something really, really funny about someone tearing into me.
It's important to remember that life is a joke, and that outlook grants a lot of perspectives, but I don't think comedy should change and become political due to other things. It should just laugh at that cosmic joke that life is all the time.
I plan to join the SNL band as a maraca player and stand behind saxophonist Lenny Pickett. That way, they will at least cut to me before commercial breaks. I'll be sure to look right into the camera.
I have too many influences to name. I like a wide variety of stuff, which I think has been helpful. I liked every comedian I saw on TV growing up in the '80s. Every comedian.
I'm pretty self-critical about everything I've ever done: stand-up, 'SNL.'
Things have to be funny first, and if they want to have a point, that's awesome.
The difficulty of getting a movie made through a major studio is so extreme that when a movie comes out, everyone should give it four stars because it was accomplished.
I don't make plans anymore. So I'm not living minute to minute.
I love comedians that dive into politics. I personally don't feel comfortable, with my background, weighing in unless I have a take that I think is funny enough that I would put it in front of an audience.
I've seen most of the major, important shows, but I watch them all at once, like movies, so my TV relationships are still with shows like 'Law And Order: SVU,' 'Shark Tank,' and HGTV.
If someone had written a review saying," Oh, Hello' is stupid,' we would have said, 'Yeah, it is. You're absolutely right.' That people liked it was extremely cool.
You can do good work simply by staying up all night and eating nothing but junk food, but probably not in the long term.
My dad is and was very funny and had a really dry sense of humour, which, as a kid, seemed un-fun. But in retrospect, it's kind of hilarious.
I never knew you were supposed to push off of your feet when you walked. And I tried it, and I walked much faster.
As I got into high school and after puberty, I was a little more inward. I was a real extrovert when I was little, but I don't know; I just got quieter… With my friends, I was still an extrovert.
All my money is in a savings account. My dad has explained the stock market to me maybe 75 times. I still don't understand it.
Being president looks like the worst job in the world.
It's been very funny to try to act like an adult. Even getting dressed. Every day, I'm like, 'Should I wear a blazer and walk around with an umbrella? Do I carry a briefcase?' Because I'm trying to be some image of the adults I saw on TV growing up.
You can't always see both sides of the story. Eventually, you have to pick a side and stick with it. No more equivocating. You have to commit.
Going on the road for long stretches can seem daunting, and I certainly miss being home sometimes, but the chance to see so many different cities, let alone perform in them, is something I am really grateful for.
It is 100% easier not to do things than to do them, and so much fun not to do them – especially when you were supposed to do them. In terms of instant relief, cancelling plans is like heroin.
The more you do stuff, the better you get at dealing with how you still fail at it a lot of the time.
I look back on being 17 and think, 'Oh my God, how did I not die?'
My childhood was completely dominated by Bill Clinton and the OJ trial. I don't think we had a family dinner where one didn't come up.
I think eventually, everything's gonna be okay, but I have no idea what's gonna happen next. And neither do you. And neither do your parents.
My vibe is like, 'Hey, you could probably pour soup in my lap and I'll apologize to you.'
I had a lot of fun writing things that died during dress rehearsal. Sometimes, I remember the crazy ones that died even more fondly than the ones that did really well.
An episode that is near and dear to my heart is the entire cast in one room for the night because we get bed bugs in our apartment building, so we have to stay with Martin Short.
The best-case scenario is everything goes perfect and smooth, but we're also a new and weird show. So all my conversations were, 'Hey, last night didn't go perfect, but we kind of know what we've got in store for everybody episode-wise.'
I've always believed that you often need less. You don't need to hear why people are friends, and you don't need to hear why people are roommates. You don't need to hear why someone would help a friend to do something.
I was always the squarest person in the cool room, and alternatively, sometimes the weirder person at the mainstream table.
Email viruses bring people together in amazing ways.
If you're comparing the badness of two words and you won't even say one of them, that's the worse word.
I'll keep all my emotions right here, and then one day, I'll die.
You have an imagination; you have a movie theatre in your mind that plays arguments!
8th graders will make fun of you but in an accurate way. They will get to the thing that you don't like about you. They don't even have to look at you long.
It seems like everyone, everywhere, is super mad about everything all the time.
I never turn on the crowd. Sometimes, you think it's a terrible show, and then afterwards, sometimes people say they really liked it. So turning on the crowd is only going to alienate the few people who might like it.
My stand-up persona is like, 'I'll heighten things, but I'm observing the world as it is in sort of a heightened emotional state.'
I wish I could go tell the 12-year-old me, like, 'Don't worry that you just fainted in front of all the girls, one day you'll be able to make this into an episode of TV.'
I'm a very straightforward person, but that's fine for a comedian. Because a lot of times, you're talking about everyone else.
I have found that people who really want to work at 'Saturday Night Live' and pursue it gets pretty close. You have to be funny – but everyone who works there, it was their dream to work there. So it's kind of nice in that way – there's a lot of people who say, 'I just always wanted to do this, and now I'm doing it.'
Sometimes I – with comedy, it's like someone liking you in high school. They either do, or they don't. And when they don't, they don't. And that's it. There are no appeals. You show up, and you're like, 'Hi! I'm – 'and you stumble, and they're like, 'It's over.'
Comfort is everything. You start doing something, and you want it to be perfect right away, but most babies are born ugly, and then they shake it out, and you get beautiful toddlers.
You all have a relative who is an expert, even though they really don't know what they're talking about.
There are a lot of great jokes you can sit down and write, but that's just a written joke versus the comedy of the situation. Ideally, you're pulling as much comedy out of the situation as you can.
If you are a school student, your opinion does not matter.
I really set out to do this traditional-looking and traditional-sounding multi-cam sitcom but then make the world as elastic as an animated show could be. Make the world as surreal as we wanted it to be.
According to the Girl Scouts' website, you cannot buy Girl Scout cookies online. Do you know what you can buy online? Everything.
Irish people don't want comfort. Look at a sweater made in Ireland. It's like a turtleneck made out of Brillo pads.
The world is run by computers. The world is run by robots, and we spend most of our day telling them we're not a robot just so we can log on and look at our own stuff.
I am now gross. I am damp all the time. I am damp now, and I will be damp later. Like the back of a dolphin, my back. The butt part of my pants is damp a lot. I don't think it's anything serious, but isn't it, though? I'll be in a restaurant, and I'll get up and be like, 'What did I sit in?' And it was me.
And now there's new Nazis! I don't care for these new Nazis, and you may quote me on that.
13-year-olds are the meanest people in the world.
Sometimes, people would say, 'What do you think you're doing?' But that just meant, 'Stop.'
Understudies don't normally get invited to openings.
Just because you're accurate doesn't mean you're interesting.
You should be able to say, 'I don't know.' That should be an acceptable answer on a test.
John Mulaney, however, has many other talents outside of comedy. He's always been forthright about his battle with addiction, and he's used that honesty to connect with and aid others.
Lastly, life isn't always going to be rosy and carefree, but if we treat difficulties as opportunities to grow, we can look back on them with a more optimistic perspective.
We hope you find this information helpful. Please use any of the share buttons below to share this information.
Feel free to drop any questions or contributions regarding this article in the comment section below.
Also see:
Stunning Quotes About August that You've Never Heard Of