We specially made this post for those who want to learn how to make money on Tiktok. Follow through to learn how to leverage TikTok's massive user base in building your audience and making money.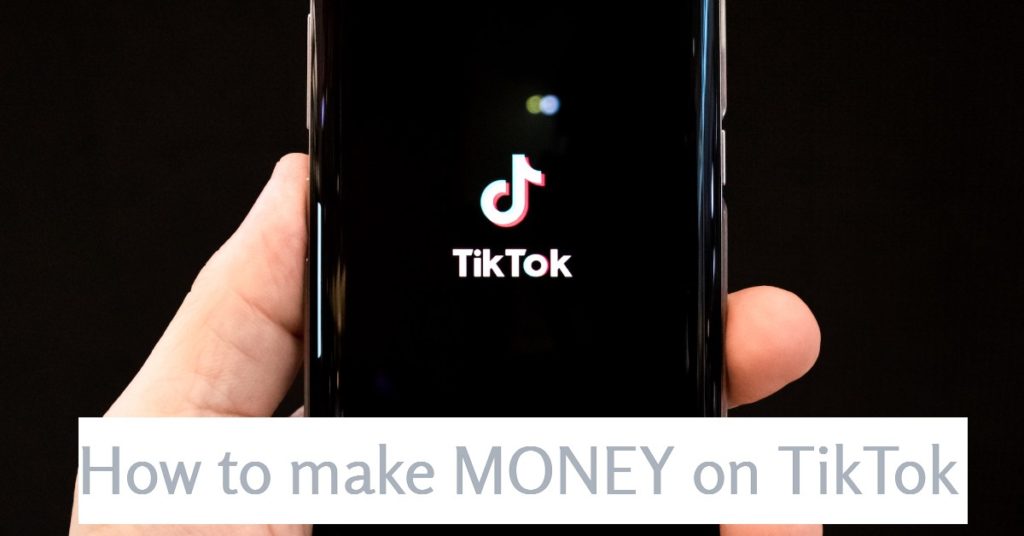 Learning how to make money on TikTok might convert your passion into a full-time profession. We present you with the greatest ways to make money on the app.
TikTok is the world's sixth most popular social media website, having over 1 billion active users as of January 2023. That's a large market and a great platform to make money.
To restate this fact: TikTok is available in over 150 countries. It has over 1 billion users and has been downloaded over 210 million times in the United States alone.
Many people have discovered how to make money on TikTok, and some even consider it a full-time job. Continue reading for the most awesome ways to make money on the app.
Can you make money on TikTok?
Yes. That is a quick response to the question. You can make money on Tiktok.
TikTokers with more than 100,000 followers earn $200 to $1,000 per month from TikTok's Creator Fund, while those with more than a million followers get $1,000 to $5,000 (or more) each month. When working with big-name brands, a limited few can earn up to $100,000 to $250,000 for every single post.
To generate money directly on TikTok, you must be 18 years old or older, have more than 10,000 followers, and have received at least 100,000 views in the last 30 days. Then, within the app, you can apply to the TikTok Creator Fund.
Making money on TikTok demands a bit of creativity, foresight and intelligence. While there are official, app-funded ways to earn money on the network, there are lots of other ways to make money on the platform – even if you don't have a lot of followers.
Any brand can use TikTok ads to attract visitors to their ecommerce site, but you will need to devote more TikTok time in order to make money through TikTok's Creator Fund or by becoming a brand ambassador.
You either have a business you promote through TikTok—or you are the TikTok business. That is how to make money on TikTok.
Do you get paid for uploading videos on TikTok?
TikTok does not directly compensate creators for creating and uploading videos. TikTok does provide cash for creators through the TikTok Creator Fund (more on that later). However, payout varies depending on factors such as the number of video views, level of engagement, and the authenticity of users engaging with the post.
While advertisers may pay a successful influencer to create videos in some situations, TikTok's highest-paid users typically monetize their accounts through various income streams.
Multiple income streams provide greater security, but the most important aspect to consider when selecting how to make money on TikTok is your audience. Your audience is key. Hence you must provide meaningful and engaging content all the time.
How to make money on TikTok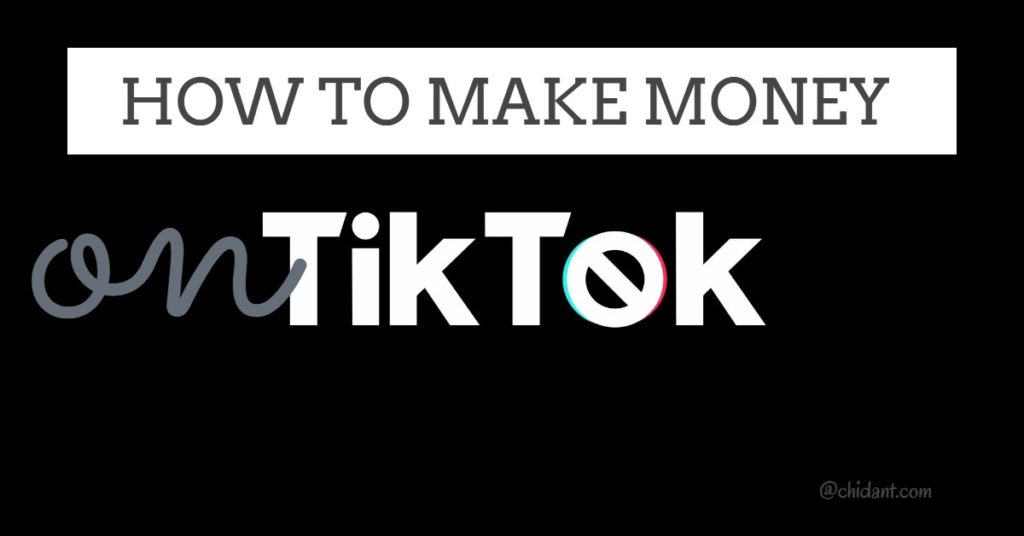 They are many ways to make money on Tiktok. Here are 10 strategies on how to make money on Tiktok:
1. Partner with a trusted brand to make sponsored content
Sponsored content on TikTok is defined as content for which you receive something of value.
And brands are very much interested in entering such paid collaborations. By partnering with brands you trust and making content for them in exchange for money, you can make real cash from TikTok. This act is known as influencer marketing.
A study on influencer marketing found that in December 2019, 16% of US marketers planned to use TikTok for influencer campaigns; however, by March 2021, that figure had risen to 68%. To put it another way, influencer marketing is exploding on the platform. So many brands and marketers are using TikTok to pull traffic.
Here are some pieces of advice to help you get started with sponsored content and influencer marketing:
i. Only reach out to brands or organizations you really love
Love and trust are the keywords. You don't want to mess around with brands that mean nothing to you. You must understand that it's first about your audience, not the amount of money you make.
ii. Make a press kit for your TikTok account
A press kit is similar to a personal movie trailer. It promotes all of your great qualities (and gives brands good reasons to work with you) and includes contact information, photos, and notable accomplishments. Make one for yourself.
iii. Create a few non-sponsored posts
As we said, your audience is key. Create a few non-sponsored posts. No one likes following a TikTok account with only advertisements and commercials.
iv. Use the Branded Content Toggle
TikTok developed the Branded Content toggle to ensure that users were being honest.
The Branded content toggle helps you communicate clearly when a commercial relationship exists between you and a business.
Note: Branded content on TikTok is defined as content that promotes goods or services where you will receive (or have already received) something of value from a third party, such as a brand, in exchange for your post or which you might otherwise need to disclose in accordance with your local laws or regulations.
It could be a brand endorsement, partnership, or another kind of promotion for a product or service.
Always use the branded content toggle for each of your sponsored posts.
2. Partner with an influencer
Reach out to an influencer whose content aligns with your brand if you are an established business looking to grow your presence (and make money) on TikTok.
According to a study by Tomoson available here, every dollar spent on influencer marketing generated an average return of $6.50 for the company, with the top 13% reporting a return of $20. Furthermore, half of the marketers believe that customers gained through influencer marketing are of higher quality than customers gained through other channels such as email marketing or organic search.
To make more money on Tiktok for your business, consider partnering with an influencer.
3. Use Tiktok to advertise your products
How to make money on TikTok if you already have a business? Use TikTok to advertise your products.
This is the most obvious way to make money: make TikTok videos that showcase your products, including all of the details that make them unique.
Make sure your bio includes a link to your shop.
4. Get TikTok's Creator Fund payouts
TikTok creator fund is the app-approved moneymaking method we introduced earlier.
TikTok announced its new Creator Fund on July 22, 2020, pledging $200 million to "encourage those who dream of using their voices and creativity to spark inspirational careers."
The internet ate it up, and a week later, they announced that the fund would grow to $1 billion by 2023. So, how do you make money on TikTok from the TikTok Creator Fund?
Before you can apply, you must note that:
Only creators who meet the following criteria are eligible to apply to the Creator Fund:
Be located in the US, UK, France, Germany, Spain or Italy
Be at least 18 years of age
Have at least 10,000 followers
Have at least 100,000 video views in the last 30 days
Have an account that abides by TikTok Community Guidelines and terms of service
You are aware that the best things in life are not free. As a result, as long as you have TikTok Pro, you can apply for the Creator Fund through the app.
5. Sell Products Through TikTok Shopping
How to make money on TikTok? Sell your products through TikTok shopping.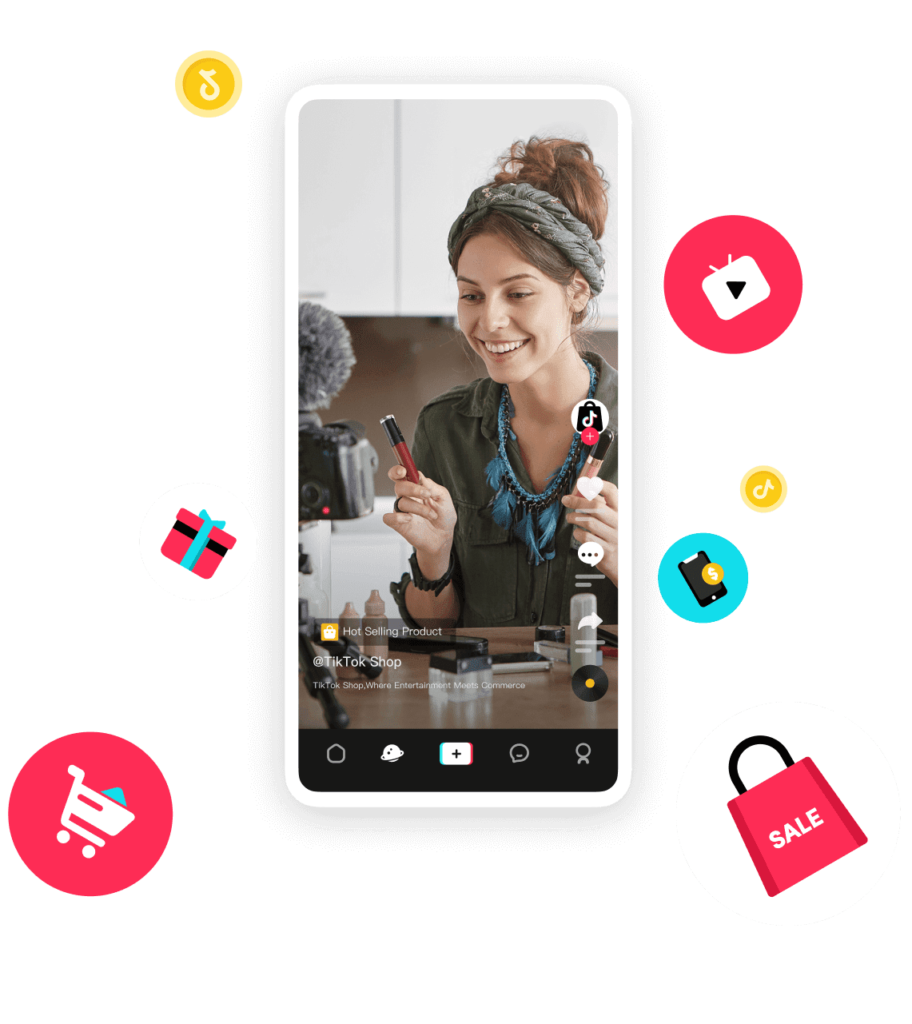 TikTokShop is where Entertainment Meets Commerce. TikTok shopping lets your customers discover and buy your products the fun way.
TikTok introduced TikTok Shopping in 2021 to allow businesses to sell products directly on the platform, eliminating the need to send followers elsewhere to purchase your goods. The TikTok Shopping feature enhances your profile with a shopping tab that allows users to view products from your Shopify catalogs. You can also tag your products in organic content to direct viewers to your store.
Don't be embarrassed. Mention your products to your target market. Try not to be too promotional, but remember to give your TikTok store a shoutout every now and then.
6. Drive Sales with TikTok Ads
We are still exploring how to make money on TikTok. You can drive sales with TikTok ads.
TikTok ads can be used to drive traffic back to your website, ecommerce store, or TikTok Shopping tab. You could run in-feed image ads promoting your products, or you could get creative with TopView ads (fullscreen takeovers) to increase your TikTok following—either way, you can make money on the platform.
TikTok can also be used as a top-of-funnel resource to entice users to join your email list or SMS campaigns. This method can help your TikTok account appear less salesy while still being a powerful revenue generator.
7. Use Your TikTok Account to Promote Songs
Get paid to include music in your videos. Almost every video on TikTok has a background song for creators to lip-sync and dance to, and artists recognize the value of this. Musicians will pay you to promote their music in your TikTok videos if you have a large enough following and engagement. That's one strategy on how to make money on TikTok.
Musicians understand that if your video goes viral, so will their song, which means more downloads, concert tickets, and merchandise.
TikTok can help you promote your music if you're a musician (or aspiring musician). TikTok is a platform for singing and dancing, so it only makes sense to upload your own beats.
8. Start a Patreon
Offer free content on your TikTok account, but encourage your followers to support you on Patreon in order to access premium content. This could be:
Behind-the-scenes peeks
Exclusive content
SWAG
Personal time with you
Live chats and hangouts
Community access
Public shoutouts
Be inventive. When you have a devoted following, they will want everything you have. However, make sure you put in the time to make your Patreon content valuable and worthwhile. You don't want anyone to sign up and then regret their purchase.
9. Receive Donations Through Live Gifting or Collect Tips
When you live stream on TikTok, your viewers can donate coins to you (which can be traded for cash). Create incredible live streams, attract a large audience, and watch the coins pour in.
However, according to TikTok's community guidelines, actively soliciting gifts is a big no-no. The exchange must be organic and natural.
To go live on TikTok, you must have 1,000+ followers (and be at least 16), and you must be 18 or older to earn gift points.
Better still, if you don't have projects or products in mind, consider asking for tips. It's an excellent way for your audience to support your account and keep the content flowing.
10. Raise Money Through Crowdfunding
People enjoy taking part in crowdfunding campaigns, whether it's financially supporting your project on Kickstarter or donating to a cause on GoFundMe.
In 2021, North America alone contributed $17.2 billion in crowdfunding.
We recommend (when possible) starting a crowdfunding campaign based on the content of your TikTok account. It's odd when a horse-obsessed profile attempts to raise funds for a revolutionary new board game on Kickstarter.
However, nearly any brand can raise funds for those in need. Nobody will criticize your brand for attempting to raise funds for an orphanage, even if your account focuses on country music lip-syncing.
7 TikTok earning strategies
How to make money on Tiktok? Follow these tips for getting paid on TikTok and earning big:
1. Always Engage Your Audience
As we have submitted on how to make money on Tiktok, audience engagement is key.
TikTok provides a plethora of unique ways to interact with your audiences, such as its Q&A feature, duets, and video replies to comments.
TikTok users expect a more "personal" touch, so make full use of these features.
Users appreciate good content, so it might help to take a "content-first" approach.
2. Frequent posting
A steady stream of content will keep you at the top of your followers' minds, add value to your content in the eyes of TikTok's algorithm, and give you more chances to go viral and broaden your audience.
3. Be authentic
A 2019 study by Nosto submitted that although 90% of the 1,590 adults polled said that authenticity is important online, 51% believe that less than half of brands create work that resonates as authentic.
So, whether you're following a dance craze or flaunting your products, stay true to yourself. It's the most certain way to gain followers who will stick with you—and, hopefully, earn some real money.
The most popular TikTokers have a wide range of talents, from dancers to comedians to philosophers, but they all have one thing in common: they are willing to be their true selves.
4. Be transparent
TikTok's branded content toggle adds a disclosure for you (#Ad), so make sure you use it when appropriate.
Always be transparent.
5. Look to your favorite creators for guidance
Look to your favorite TikTok creators for guidance.
A lot of people are making money from TikTok. Check out what they are doing – brand deals, promoting T-shirts, spelling their Venmo in alphabet soup – and try to replicate their strategies.
6. Don't ditch your regular content
Your followers will lose interest if every single one of your TikToks is sponsored content or promoting something. You have to keep your cool.
It's not always about the money.
The tricky part about using social media to sell products is not using too much promotional material. Your fans understand that you require funding to continue creating the content they enjoy, but no one wants to follow an account that constantly advertises.
This is especially true with TikTok because the platform is designed to help you form personal connections with your audience.
7. Don't give up
How to make money on TikTok consistently? Don't give up. Making money on this social network isn't easy.
If you get shut down by one brand or influencer, keep trying. Hard work pays off – literally.
Read: Top 20 Richest Rappers in the World (2023)
How to make money on TikTok (Summary)
Join the TikTok Creator Fund
Sell merch to your fans
Go live and collect virtual gifts
Partner with influencers or other brands in the TikTok creator marketplace
Create in-feed ads with the TikTok ads manager
Crowdfund projects by collecting donations from fans
Collect "tips" from your audience
Start a Patreon and offer fan subscriptions
How much do TikTokers make in 2023?
As previously stated, there are numerous ways to earn money on TikTok, and how you choose to monetize your content will determine your earnings.
TikTok brand partnerships can earn you up to $80,000 per month. That's right — if you're a big enough creator (with a large and engaged audience and a track record of success on the platform), your earnings from a single video can buy you a nice car.
For every 1,000 views, you can earn between 2 and 4 cents through the TikTok Creator Fund. This means that after a million views, you can expect to earn $20 to $40.
Who makes the most money on TikTok?
1. Charli D'Amelio: $17.5M estimated annual earnings.
@charlidamelio: Her viral dance videos and licensing deals with brands like Hollister, Procter & Gamble, and even Dunkin Donuts have helped her build an incredible following (and earnings). She has 148.7 million followers.
2. Addison Rae: $8.5M estimated annual earnings.
@addisonre is another example of dancing your way to the top. Her sponsorship deals include Reebok, Daniel Wellington, and American Eagle, not to mention her own extensive personal branded merchandise and makeup line.
3. Khabane Lame: $5M estimated annual earnings.
@khaby.lame: In June 2022, @khaby.lame became the most-followed TikTok account. The comedian and Life Hack expert have sponsorship deals from Xbox, Hugo Boss, Netflix, Amazon Prime, and Juventus F.C.
Others:
How to make money on TikTok – FAQs
Can I make money on TikTok?
Yes, you can make money on TikTok! With the right tools and a solid strategy, anyone can make money on TikTok. If you want to make money on TikTok, consider the tips above and decide which strategies are best for you.
How do I make money on TikTok through the Creator Fund?
If you'd like to apply to the TikTok Creator Fund, simply follow these steps:
Open the TikTok app.
Go to your account settings.
Click Creator Tools.
Select TikTok Creator Fund and follow the prompts.
How do creators make money on TikTok?
The most successful TikTok users earn money from a variety of sources, including sponsorships, fundraising drives, product sales, and collaborations with brands and influencers.
How do I get 1,000 TikTok followers?
TikTok is more personal than other social media platforms such as Instagram or Snapchat, so be authentic, engage with your followers, post content consistently, go live frequently, and post "duets" with other famous users.
---
That is it on how to make money on TikTok. I hope we have been able to answer your questions on "How do I start making TikTok money?", "How much does TikTok Pay?", "How many views on TikTok do you need to make money?", and the like.
If you have any questions or concerns, please use the comment section below to reach out to us.
Recommended:
How to Join Someone's Live on Tiktok