Meetville is a dating site developed to help local singles find their soulmates. Do you want to discontinue the Service? Learn how to cancel Meetville subscription below.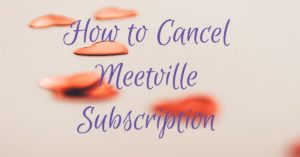 Why Subscribe to Meetville in the First Place?
Meetville gives you a unique platform for dating the right people. Not just dating, but dating for a successful, long-lasting and happy relationship.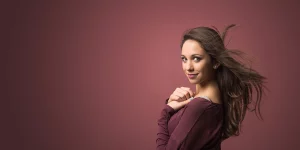 Meetville currently has about 41 million users.
Try Meetville to meet the right person with similar values and common interests and bring more bright colors to your life.
Download the Meetville app here.
Download Meetville from App Store here.
Meetville can be used by people from countries such as the United States, Canada, Indonesia, Saudi Arabia, Germany, India, Australia, United Arab Emirates, Qatar, France, Malaysia, United Kingdom, Mauritius, New Zealand and Spain.
Must Read: Dating on Meetville 2023 (Connect With Local Singles Near You)
Meetville Membership and Subscription Plans
You may register as a Member of the platform at no cost.
A free subscription allows you to use some, but not all, of the features and services available within the Service.
To access or use additional features and services, including the ability to communicate with other Members that are subscribers, you must become a paying subscriber to the Service.
The Meetville app is free to download and use.
The following are the optional subscription packages on offer:
$39.99 per 1 month
$59.99 per 3 months
$79.99 per 6 months or
$99.99 per 1 year.
When you make a purchase for any of the above offers, payment will be charged to your App Store/Play Market Account or Credit card/Paypal account at confirmation of the purchase.
You must also note that your subscription automatically renews unless auto-renew is turned off at least 24 hours before the end of the current period.
Other Meetville Subscription Offers
Also, Meetville offers you the following:
1. Opportunity to buy a VIP subscription.
Meetville VIP includes various benefits, such as sending unlimited messages, unlimited likes, unlimited gifts, seeing who's interested in you and who viewed your profile, and other opportunities.
Meetville VIP can be purchased after you register, and you may subscribe to subscription plans for various lengths of time. Once you have paid for any VIP subscription, it is non-refundable.
2. Possibility to pay for different services provided on the site.
3. Spy Kit plan
The spy kit plan allows you to boost your profile status and turn on the Incognito mode to view other users' profiles without being seen by them.
It also includes a Premium Support feature.
How to cancel a Sky Kit subscription
You may cancel your "Spy Kit" subscription at any time by emailing the Company written notice of cancellation at support@meetville.com.
You may also cancel it in the "Edit basic information" section.
Suppose you cancel the "Spy Kit" subscription. In that case, you will be able to use subscription features until the end of your then-current subscription commitment, following which your subscription benefits will expire.
Note that once you have paid for the "Spy Kit" subscription, it is non-refundable.
---
In addition, Meetville charges additional fees such as a Cancellation fee, Validation fee and Refund fee of $0,50.
Please note that an immediate refund will be issued for these charges to your credit card. You understand that Meetville applies a Cancellation fee and Refund fee to prove that cancellation or/and refund is completed successfully.
Also, deleting your account on Meetville or deleting the Meetville app from your device does not cancel your subscription.
What this means is that Meetville will withdraw money from your card until you cancel your subscription.
How then can you can manage your Meetville subscription and switch off the auto-renewal?
You can manage your subscription by accessing your Account Settings after purchase. That simple.
Login to your Meetville account.
Enter your email and password.
Access My Account.
Click on the Manage My Account tab.
Access Edit basic information section; edit where appropriate.
Must Read: Facebook Dating App for Singles | Free Dating Website.
How to Cancel Meetville Subscription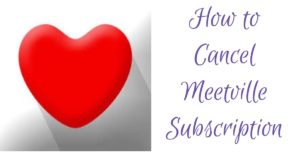 Let's now discuss the detailed procedure on how to cancel Meetville subscription.
You can cancel your Meetville subscription using a number of platforms. They are discussed below.
How to Cancel Meetville Subscription From Your Account Login Page
Open your Meetville account.
Click on Manage My Account.
Then click on Cancel Subscription.
Enter your billing information and click Confirm.
You have successfully canceled your Meetville subscription.
Cancel Meetville Subscription Through Customer Support
Login to the Meetville website.
Enter your login email address and password.
Click on the Support tab.
Click on the Help & FAQs option.
Scroll down to locate the Contact Us tab.
On the Contact Us page, type your name and email address.
Click on the Send Message option.
You should now be able to send a message to the Meetville customer service department. Request for cancellation of account.
Submit your request.
How to cancel Meetville subscription via email
Send a 'Request to cancel my Meetville account' mail to support@meetville.com with your registered email address.
Make sure you include all the details of your Meetville account and subscription plan.
And don't forget to keep the confirmation mail and the confirmation code or email for future records.
How to cancel a subscription on Meetville through the Mobile app
Both iPhone and Android users can cancel their accounts through the Meetville Mobile App.
Follow the process below.
Open the Meetville Mobile App
Click on the Menu icon (with three straight lines) at the top left corner
Tap on the My Profile section
Click on the Settings tab
Select Account Settings
Click on the Delete Account option
Specify the reason for the cancellation of the account
Hit the Delete tab to get your account finally canceled.
Details Needed for Account Cancellation
Before canceling your Meetville subscription, you should have a list of information and details ready to use during the process, namely:
Full Name
Contact Number
Date of Birth
Email Address
Username of the account
Password
Address on billing
City
Province/State/Region
Postal Code/ZIP Code.
Country
Last four(4) digits of the card
The date of last charged
The amount that was last charged
Reason for cancellation of the membership.
That's it on how to cancel your Meetville subscription. We hope you found this guide helpful. Please share with your friends. Thank you.
Recommended:
How to Cancel Brainable Subscription | Fast and Secure Method