How to Cancel Brainable Subscription: Dependable, safe, and secure method of terminating a Brainable subscription without being billed the following month.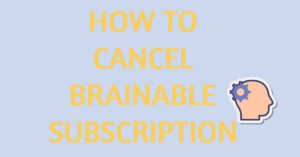 With this guide on Brainable, you can upgrade or cancel your account at any time with no further obligations.
What are brain games? – Brainable
Brainable is an IQ test game website/application. It is like a gym for your brain. It provides many fun and stimulating games designed to challenge your memory. Brainable put your mental skills to the test. It is an opportunity for one to enjoy challenging himself with daily 15 minutes mental workouts!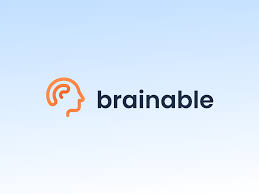 Test and improve your memory, speed, concentration, reaction, and logic. Sharpen your cognitive skills with over 20 carefully crafted games designed to test and improve your mental abilities.
Brainable games are designed to test your mental abilities in short workouts. The interactive charts section tracks your daily progress, keeping you motivated to master all of the games!
Your personalized training schedule consists of 5 daily games designed to be completed in under 15 minutes. Brainable games may start off easy but get harder over time as you master each one.
Brainable Games
The following are interesting, fun and activity games available at Brainable:
Memory Games
Colored Tiles
Memory Tiles
Bird Watching
Avoid the Mines
Scroll and Match
Reaction Games
Luggage Master
Word Colors
Fruit Catcher
Shape Clicker
Concentration Games
Even, Odd, or Color
Sort Your Shelf Out
Moving Numbers
Avoid the Obstacles
Match the Pairs
Logic Games
Match Wizards
Number Crunch
Mineral Miner
Metro Navigator
Mow the Lawn
Sub Rescue
Minesweeper+
Speed Games
Maze Runner
Origami Organize
Confusing Concoctions
Tidy Hive
Whack a Mole
Sushi Master
How to Cancel Brainable Subscription
Now to the cruse of the discussion – how to cancel Brainable subscription. You may want to discontinue using the service for whatever reason. Here is a simple guide to canceling your Brainable sub:
If you have signed up for the service on a trial basis, you may cancel your subscription at any time during the Trial Period by contacting the Brainable support team by phone at 855-400-0577 or via email at support@brainable.com.
Note that if you do not cancel during the Trial Period, your subscription will automatically renew, and you will be billed the recurring subscription fee shown during the sign-up process on a recurring monthly basis until you cancel your subscription by contacting the support team by phone at 855-400-0577 or via email to support@brainable.com.
If you cancel before the end of a billing cycle for which you have already paid, you will have access to the service until the end of that billing cycle.
Ways to cancel Brainable Subscription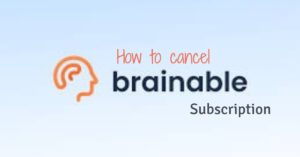 You can cancel your Brainable subscription anytime:
1. By contacting support
Contact the Brainable support team at 855-400-0577 or via email at support@brainable.com.
Ask for your account subscription to be canceled.
Provide your account information.
Wait for confirmation of the cancellation request.
2. Through your account dashboard.
Log in to your account by clicking on the account login page here.
Enter your email address and password.
Click on Accounts
Navigate to request for account subscription cancellation.
You can contact the support team via your account dashboard and request to cancel your subscription.
Visit your Account page to update your billing information.
When you cancel your Brainable subscription, you will continue to have access to your account until your current subscription expires.
Brainable Refund Policy
If you request a refund within 30 days of your initial purchase, you will be given a full refund.
Once your refund request is received, the Brainable team will send you an email to notify you.
You can make your refund requests via phone or email (855-400-0577; support@brainable.com). A
Brainable Subscription Plans
The following are the subscription packages available. Choose the plan that best suits you:
Starter
Monthly Package
$19.95/month
Over 20 games
Personalized training
24/7 Support
30-days refund
BI-monthly trial
$1.99 for seven days
Then $39.95 every two months
Over 20 games
Personalized training
24/7 Support
30-days refund
How Can I cancel my subscription to Brainable?
You can cancel your subscription anytime by contacting the Brainable support team (or through your account dashboard).
The other interesting thing is you have up to 30 days to request a refund.
Other Brainable Alternatives
Are there alternatives to Brainable? Absolutely. If you enjoy Brainable, you might like some of these other options.
I hope we have been able to answer your question on how to cancel Brainable subscription.
Do well to share this guide with others.
Related:
3 Quick Methods on How to Cancel Bubble Subscription
Direct Express Pending Deposit: How to Track and Rectify Issue