Wedding Preparation List: Planning a wedding in Nigeria? You don't need to stress yourself anymore.
In this post, I will give you a 27-step checklist. All you need do is duplicate it or twist it a bit to your style, and you will have one of the most glorious weddings ever witnessed.
No time for stories. Let's go straight to business…
Wedding Preparation Checklist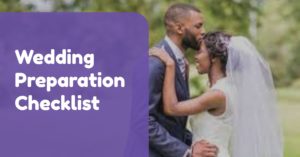 Here is a 27-point Wedding Preparation List.
Wedding Preparation List (Part 1)
1. Select the wedding/Tradition Marriage date and venue and confirm the date with family and Church (or Religious) leaders.
2. Choose a date for your Introduction and visit fabric vendors to choose your Introduction outfit.
3. Discuss a wedding budget and how expenses and duties will be shared between the two families.
4. Draft a preliminary guest list to get an estimate of guest numbers. Doing so as soon as possible will prevent you from searching for inadequate venues and giving vendors wrong quotes.
5. Select bridal party members and inform them.
7. Start hunting for the wedding reception venue and secure this as soon as possible.
8. Select wedding theme and wedding color schemes, including aso-ebi colors and wedding reception colors.
11. Select and secure a Wedding Photographer and Videographer for both white and traditional weddings.
12. Buy the Wedding Dress and undergarments.
13. Choose aso-ebi for family members, friends and guests attending the white wedding and traditional wedding.
14. Choose the bride and groom's attire(s) for the traditional wedding.
Wedding Preparation List (Part 2)
15. Take engagement photos to be displayed at your wedding, on your social media handles and on party souvenirs.
16. Research and secure Makeup Artist, Hair Stylist for both weddings.
17. Book the Master of Ceremonies (MC) for your reception.
18. Book a DJ for the Traditional Marriage and wedding reception and inform him of Father/Daughter song, First dance song, specific processional music and any other must-play songs.
19. Choose a Caterer for both weddings and decide on a menu.
20. Choose an Event Decorator and florist that best suits your requirements.
21. Order English and Traditional Wedding Cakes.
22. Make necessary reservations and shop for Honeymoon
23. Get the traditional wedding list and start buying items on the list (engagement list only relevant to the groom's family).
24. Order and print wedding invitation cards, programs and other personalized stationery.
25. Choose white wedding hair accessories for the bride.
26. Buy white wedding shoes, purses and jewelry (earrings, chains and bracelets).
27. Choose the Groom and Groomsman attires and ties.
Conclusion:
If you do all of these, you are sure to have a superb wedding and a happy married life! To your congratulations!
Recommended:
English Dress Styles (2023 Collections)
How to Choose the Perfect Relationship Partner (Dating and Marriage Guide 2023)
The 5 Types of Men in a Relationship (Know Your Man Better)
Personal and Deep Questions to Ask a Lady on a First Date (2023 Review)