Isoko Wado! Iyeah! Are you looking for Isoko names and meanings?
The Isoko people though not too large in number, have a unique language known all over Nigeria. This article presents an amazing collection of Isoko names and meanings.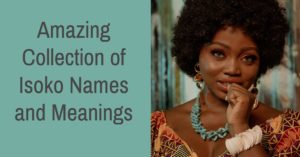 The Isokos are predominantly Christians and name their children after the acts and attributes of God. God is called "Oghene" in the Isoko language, and as such, you will find most Isoko names beginning or ending with Oghene.
The Isoko People
According to Wikipedia, the Isoko are a Nigerian indigenous ethnic group who live in the Isoko region of Delta and Bayelsa states.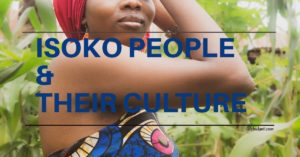 The Isokos speak the Isoko language, a language of the Kwa branch of the Niger-Congo family, which is also very linguistically similar to the Urhobo language, Epie-Atissa language and Engenni language.
The Isoko culture is related to several cultures in the Niger Delta – namely, Urhobo, Ijaw and Anioma.
Because Urhobo and Isoko are related in language and culture, invaders incorrectly labeled the Urhobo and Isoko cultural groups as "Sobo." If the Isoko tribe had been a man, Urhobo would have been his twin brother.
Because of the strong influence of Western civilization, the majority of the Isoko people have become Christians. Nonetheless, traditional worship continues to thrive among them.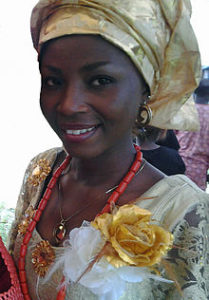 The Isoko ethnic group consists of nineteen clans: Uzere, Ozoro, Erowha, Owhe, Iyede, Okpe, Emede, Igbide, Emevor, Ofagbe, Ellu, Oyede, Umeh, Irri, Aviara, Olomoro, Enwhe, Okpolo and Oleh.
The Isoko region provides 28 percent of crude oil and gas to the Nigerian economy.
Must Read>>> How to Choose the Perfect Relationship Partner – Dating and Marriage
Isoko Names and Meanings
The Isoko people have beautiful names. Are you looking for a nice Isoko name for your child? Or perhaps, you just want to know the meaning of an Isoko name? We got you covered.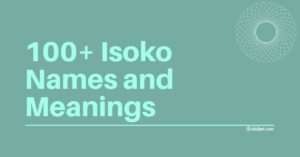 Below is a collection of Isoko names and meanings:
Aziakpono – I have come to life
Arerosuoghene – Trust in God
Okiemute – My time has come
Oghenekomeno – God has given me (God's gift)
Orevaoghene – God's will
Aghogho – Happiness
Oghoghozino – Happiness has come
Elohor – Meekness
Ewoma – Goodness
Ewomazino – Goodness has come
Elo – Light
Elozino – Light has come
Ogheneyole –God answers prayers
Igho – Wealth
Ighomituwo – My wealth has come home
Ovie – King
Oviemuno – A king has been crowned
Oghale – Blessing
Oke – Gift
Oghaleoghene – God's blessings
Evi – Multiplication
Evioghene – God's Blessings
Ese – Good Gift
Eseoghene – God's Good Gift
Oghenero – There is God (God dey)
Oghenerie (same as Oghenero) – God exists
Akpo – Life
Akpome – My life
Akporobaro – Life is ahead
Obaro – Forward, front or ahead
Iruo – Work
Iruoghene – God's work
Okeroghene – God's time
Avura – Let's leave it
Avurakoghene– Leave it for God
Ovuzorie – Everyone has his or her own destiny
Akpofure – Life is now peaceful
Oghenevize – God's sent
Okpako – Elder or senior
Ogheneovo – Only God
Udumebraye – My presence gives them heartache
Edewor – Traditional day of worship
Ufuoma – Peace
Ufuoma-oghene – God's peace
Onajite – This is sufficient
Enajite – These are sufficient
Akpotu – The world is for everyone
Oghagha – Power
Ogagaoghene – God's Power
Efe – Wealth
Meaning of Isoko Names (Cont.)
Dafe – Wealth
Odafe – Wealthy person
Efemena – This is my wealth
Efezino – Wealth has come
Dafezino – Wealth has come
Edefe – Wealthy people
Dafenone or Dafenine – Today's wealth
Dafeta – Talk of the rich
Oke-oghene – God's gift
Igho – Money
Ighofimoni – Money ends brotherhood
Ighomuedafe – Money Intoxicates the wealthy
Oghomena – This is my respect
Omovigho/Omonigho – Child is better than money
Onoriode – Who knows tomorrow
Ovokerie – Everyone has his own time
Uyoyo – Love
Egwolo – Love
Orezimena – This is what I desire
Majirioghene – Let us praise God
Ajiri – Praise
Ajiriogheno – Praise God
Mazino – We are here
Onome – This is mine
Usiwoma – Goodness
Orowo – Faith
Ejiro – Praise
Ejiro-oghene – Praise God
Mairo – Greatest or biggest
Oghenemairo – God is the greatest
Omo-efe – Child of wealth
Onanefe – This is wealth
Edeki – Market day
Eferobome – My own wealth
Efetobore – I now have wealth
Odirin/Edirin – Patience
Afoke – Leave it
Afoke-oghene – Leave it for God
Ochuko – Support
Ogheneochuko – God is my support
Mamuzo – Goodluck
Uzuazoraro – God dey front
Karo – First
Oghenekaro – God first
Onimaro – Mother is the greatest
Ogheneruona – God did this
Fegiro – Worthy to be Praised
Oghenefegiro – God is worthy to be praised
Fegho – Worthy to be worshipped
Oghenefegho – God is worthy to be served.
Tega – Good to be Served
Oghenemine – I'm looking unto God
Uzezi – Goodluck
Utobore – I've gotten my desire
Utobojuoona – I've gotten my desire
OgheneJite – My God is Sufficient
Adigheji – Pillar of the house
Akonawe – Let the teeth laugh
Edoghogho – Day of joy
Ejiroro – Let's discuss ideas
Erorezi – Good thoughts
Ogagaoghene – God's Power
Ogheneobakpororo – God's thinking is different from man's thinking
Oghenetega – God is worthy to be served
Oghenebrume – God decided in my favor
Oghenevwede – God owns the day
Odibo – Disciple (Servant)
Obiebi – Dark (Black)
Ofuafo – White
Okposo (Okposio) – Heavy rain
Conclusion:
Have you heard of any other Isoko name not on this list? Please, drop it in the comment section below.
We hope you found these Isoko names and meanings interesting and captivating. Drop your thoughts in the comment section, also.
You may want to share this article with your friends. Thank you.
Recommended:
500+ Beautiful Traditional Ijaw Names and Their Meanings