Full Sail University began as an audio recording workshop in Dayton, Ohio in 1979. It gave students a once-in-a-lifetime opportunity to gain real-world experience in professional studio environments while learning about the industry.
They also offer associate's, bachelor's, and master's degrees designed for the world of entertainment, technology, arts, and media.
Also read: Top 10 Best Online Universities in Nigeria
For students, Full Sail University's innovative approach to education provides a fast-paced, immersive, and adaptive learning experience that parallels today's swiftly changing industries.
Full Sail University Location
Full Sail University is currently located in Winter Park, Florida, United States of America.
From filmmaking to digital media, to the entertainment sector, it's project-based, the vital educational concept was easily adopted by other entertainment and media disciplines, which blended time working in real-world settings with guidance from industry professionals.
Click here to visit Full Sail University's official website.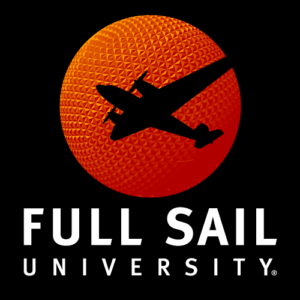 Full Sail University's major mission is to provide students with a creative style of education, delivered by a staff of trustworthy individuals, that addresses the career opportunities available in an ever-expanding, constantly evolving industry.
Yeah, they do this by developing exceptional curricula that combine elements of creativity, art, business, life skills, technical prowess, and academic achievement.
Full Sail University Campus and Online Programs
Also, their education is delivered via hypnotizing teaching strategies, both in Full Sail's real-world production studios and classrooms, as well as through their online learning setting.
Each one of their degree programs is designed to provide students with the knowledge and real-world experience that will help them realize their career goals in the entertainment and media industry. Click here to request more information about their programs.
Their fundamental philosophy also emphasizes the importance of creative thinking and hands-on experience, and they put this into practice by focusing on problem-solving, learning by doing, and allowing their students to produce their own concepts and ideas.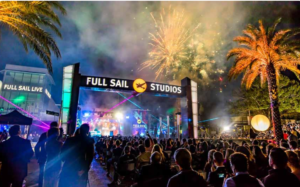 Full Sail feels like a creative studio. Their facilities are built for hands-on learning, allowing students settings, technology, and production tools to bring ideas to life.
Full Sail University has online programs. They've taught online for 12 years using their custom-designed platform and pioneered the road for innovation. They're not just committed to Winter Park's creative community.
They Livestream in-person panels and speaking events and create virtual chances for mentorship and networking.
Full Sail University Tuition
Full Sail University's tuition includes Project LaunchBox, a bespoke technology bundle personalized to each degree, textbooks, manuals, media, production supplies, laboratory fees, technology fees, and other related expenses.
Click here to view the detailed list of the current tuition pricing for all campus and online degree programs.
Full Sail University Admission Requirements
In the event that you are a potential undergraduate, graduate, or international student, the Admissions unit at Full Sail University is willing to assist you to begin your course toward a degree in entertainment, media, arts, and technology.
Undergraduate Admissions Requirements
Full Sail University does not specify SAT/ACT or GRE/GMAT scores as part of its eligibility requirements.
Math assessment is required for certain courses, including game development, mobile development, computer science, and simulation & visualization. The minimum math score required is 72.
Applicants must submit the following to be considered for admission:
Application for Admission
Admissions Interview
Documentation of High School Graduation, General Educational Development (GED) scores, or other equivalents, state-approved diploma examination
Confirmation the student is at least 16 years of age (or beyond the minimum age of compulsory high school attendance) at the time of enrollment.
Government Issued Photo Identification
Completion of the Technology Assessment for the applicant's program of study.
Language Proficiency test results
Domestic/United States applicants with international/foreign transcripts will need those transcripts to be translated and evaluated by a third party.
Computer Animation and Game Arts Degree Program applicants should possess artistic skills.
Game Development, Computer Science, Mobile Development, and Simulation and Visualization Degree Program applicants must demonstrate knowledge of Algebra II, Pre-Calculus, Trigonometry, and Calculus.
International Undergraduate Admissions Requirements
International undergraduate applicants must meet all of the University's admissions requirements above and also the following documents are requested from them; which include:
Language Proficiency: Applicants whose native language is not English must show the required level of language proficiency by providing documentation of one of the following:

TOEFL: Paper and pencil test: minimum score accepted is 550, Computer-based test: minimum score accepted is 213, and New internet-based test: minimum score accepted is 79.
IELTS: The minimum required score is 6.
Accuplacer: Applicant who acquires appropriate official scores from a certified independent online-based English Language assessment test may be accepted.

Financial Guarantee
Documentation of High School Graduation
Foreign School Credentials
English Translation
Obtain Visa
Completion of the Technology Assessment for the applicant's program of study
Graduate Admissions Requirements
Postgraduate applicants must possess one of the following to be eligible:
A Full Sail University Bachelor's Degree with a minimum cumulative GPA of 2.0.
A bachelor's degree or higher from an accredited university recognized by the U.S. Department of Education. The degree must be similar in scope and subject content to the Graduate School Degree Program and have a 2.0 transfer academic average.
Please note that Game Design, M.S. program applicants must possess a bachelor's degree or higher-level degree with a minimum cumulative GPA of 2.5.
Also, Creative Writing, M.F.A. applicant's career objectives would be considered when an admission decision is made.
Transcripts are required to include graduation date, final GPA, and degree earned. Also, basic admissions requirements are required.
Online Admissions
A technological exam will be required for online degree program applicants. During the screening process, students will be asked a series of questions to see if they have the knowledge, abilities and resources necessary to succeed in a distant learning environment.
For more details regarding the admissions requirements and required documents for an application, please click here.
General Notice: requirements for admission apply equally to all applicants regardless of race, colour, national origin, sex, disability, age, sexual orientation, or marital status. Also, for Intensive English applicants only: a language proficiency assessment is required prior to placement in the IE certificate.
If you are ready to get started, Click here to begin your application online.
Full Sail University Scholarships
Full Sail University knows that funding your education is a substantial investment; that's why they offer a variety of scholarships for qualified students. Click here to view the scholarship guide and also tap here to view the international scholarship guide.
Full Sail University Ranking
Full Sail University is ranked #2,453 out of 2,576 schools in the nation and ranked #75 out of the 87 colleges in Florida.
That's all about Full Sail University, hope this article would help. If you have any questions, please do well to drop them in the comment section below.